Community, Coming Together to Help a Pup in Need
Sometimes tragedy unexpectedly strikes our beloved pups, putting us in a position where the burden of costly medical care is far too much and we must call upon the goodwill of others to lend a helping hand. Many dog owners create pet surgery crowdfunding campaigns to raise money from their family and friend network in order to help cover unforeseen and costly pet surgery bills. However, sometimes even crowdfunding efforts fall short simply because one's social network might not have enough reach, or the costs are beyond what one's personal network can afford.As dog lovers we understand these challenges, and as a company founded on making dog ownership easier for everyone through a trust-based peer-to-peer service model, we've experienced first hand the amazing things that happen when community comes together.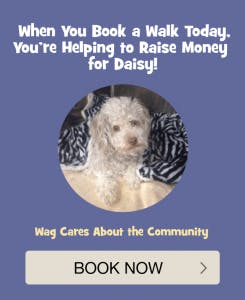 Wag! has created a vast community of dog lovers - a community that understands what it means to be a dog parent, is empathetic to what you're going through, and are willing to pitch in to help a fellow dog owner during a time of need. Recently, we've seen success in making donations towards a pup's crowdfunding campaign by tapping into the Wag! community. This amazing display of generosity showed us the Wag! community can make a real difference in helping more of our furry best friends get a second chance to live a happy and healthy life. So we decided to create a program where dog owners in special need can apply for help from Wag! and our community to amplify donations towards their pet's emergency surgery crowdfunding campaign.
How The Pet Surgery Crowdfunding Donation Program Works

If approved, Wag! will run a 1-day special promotional where we donate a set dollar amount towards your pup's crowdfunding campaign for every walk booked on Wag! in all of our locations that day. Donation amounts vary depending on your pup's need. Wag! will then donate raised proceeds to your pup's crowdfunding campaign, or directly to the veterinarian that will be performing the procedure.
Eligibility Requirements
Your pup's emergency medical procedure must cost more than $2,000 and a copy of a vet estimate is required. The funds must be for a pending surgery, or procedure, not to recoup expenses on previous vet bills. You must have a crowdfunding campaign already setup for your pup. A few great options include,
GoFundMe
, 
Plumfund
, or 
PetChance
. If you meet the above requirements, we encourage you to apply below, however please note that applying does not guarantee acceptance, as we can only help one pup at a time. By offering our community of dog lovers as a resource, we hope to help give more pups the second chance they deserve. Additionally, our friends at 
Vetary
are another great new resource worth looking into. They offer simple and transparent options to enable pet care for those who need it most.    
---
Oscar's Success Story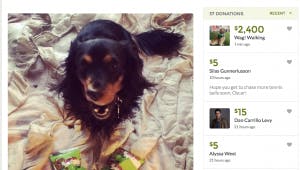 I'm excited to let you know that the Wag! community raised $2,400 to help Oscar's surgery fund and Oscar's mom, Katy, will now be moving forward with this expensive surgery.  It's amazing what we can do as a community and I want to thank you, as well as deliver a thank you message from Katy, Oscar's Mom:
"Thank you for helping Oscar get back on his feet again.  Your donations have helped save this little guy from being paralyzed so that he can one day walk again with Wag walkers.  We're so grateful to Wag, the community and all of the pooches for taking part."
---
Please share this page if you know someone with a pup in need!