Introduction
Ask several individuals why they choose a particular name for a new dog, and you will likely get a different answer from each person questioned. Some new pet parents may choose to honor a friend or family member by naming their pooch after a loved one. Other owners may name their dog according to personality traits of the dog. Still others may consult lists of popular names for ideas. Perhaps you already have a pet, and you want to give your new pup a name that goes with your existing pet's name. Your current pet's name might start with the letter "B", which would prompt you to choose another name that starts with the same letter.
Dog Names that Start with B in Pop Culture
Featured Famous Dog with a Name that Starts with B
Balto
Many small children have enjoyed the Disney movie
Balto
. Balto is the story of a wolf hybrid dog located in Nome, Alaska. Balto doesn't seem to fit in, and this part of the plot is important to Balto. Much like Rudolph the Red-Nosed Reindeer, Balto has an important destiny, yet he was picked on by his peers because of his unique nose. Balto's identity as a hybrid between a wolf and a dog instantly makes him an outsider; he is subject to mistreatment by both humans and animals alike. The only animals who treat Balto like he is a part of the family are two polar bears and a snow goose, whom the creators of the movie would like you to believe are surrogate parents to Balto. As a part of the tale, all the children of Nome fall ill with diphtheria, a deadly disease during the 1920s (the time period in which
Balto
is set). Balto hears that the doctor is out of the necessary antibiotics to treat diphtheria, and he decides to participate in a sled race to determine which dog is good enough to be a part of the sled dog team that will travel to Nenana to procure the medicine. Although he endures many trials on his way to deliver the medicine, Balto is finally successful. Like Rudolph, he finally earns the respect of those who ridiculed him for so long. 
There was a real dog named Balto, and the Disney movie is loosely based on his heroics. The real Balto was a Siberian Husky, not a wolf hybrid. Balto did lead a team of sled dogs to meet a transportation group in Nenana, Alaska; Balto and his group of dogs successfully travelled to Nenana and returned with lifesaving medicine for villagers affected by diphtheria. Had Balto failed to return, most of the villagers would have succumbed to the deadly illness. Balto the dog was named after Samuel Balto, a Sami explorer. 

In the film, Balto is credited with cutting the Iditarod Trail and in a way, running in the inaugural Iditarod Race. This is fictional. The Iditarod was cut by many native Alaskans over the years. The Iditarod Race is a commemoration of the Alaskan gold rush era, not a memorialization of Balto's race to Nenana to obtain a diphtheria antitoxin. The sled dog race was established in 1973, nearly fifty years after Balto's historic run from Nome to Nenana. 

Dog Names that Start with B Considerations
First, when considering a name for your dog, think about what experts have to say about naming Fido. Most dogs do best with a name that is short, generally only one or two syllables long. Scientific studies show that dogs are less likely to get confused with a short, monosyllabic or two-syllable name. Next, you should never give your new pup a name that sounds a lot like the most highly used commands your dog is likely to hear such as "sit" or "stay." Choose a short name that is both cute and easy for your pup to understand. After all, you will be using the name to call your dog multiple times a day for years to come - make it a name that both of you will be at ease while using. 
One great reason to choose a name for your dog that begins with "B" can also be attributed to science. Dogs tend to pay more attention to words beginning with sharp, hard consonant sounds. Consider the sound you make when simply saying the letter B, and you will see that you are easily following this guideline.
Finally, many pet owners name their new dog according to coat color or the personality of the pup. "Blackie" or "Brownie" most definitely fit the aforementioned guidelines as well as give a visual of the dog. 
Male Dog Names that Start with B
Votes
Name
Vote
8

Bandit

Meaning "one who steals," Bandit usually steals his owners heart

7

Beasley

Starred as Hooch in the Tom Hanks' film Turner and Hooch

6

Balto

Siberian Husky who led a group of sled dogs on a lifesaving mission

6

Benji

The lead character in a series of movies of the same name

6

Benedict

A dog named Benedict (a Saint Bernard) is the heaviest on record

6

Bear

Held a starring role in the movie Crimson Tide

6

Black Jack

Dog owned by President Teddy Roosevelt

6

Bear

Refers to any large, bear-like dog

5

Barry

Legendary Saint Bernard who worked as a mountain rescue dog in Switzerland

4

Beethoven

A Saint Bernard who starred in a series of movies by the same name

4

Barnard's Tom

A Boston Bulldog; predecessor of the modern Boston Terrier

4

Blanco

One of President Lyndon Johnson's two dogs while he was in office

4

Barkley

A dog "actor"

4

Bully

Mississippi State's mascot; a great name for any Bulldog

4

Beauregard

Akin to the name "Beau," meaning handsome

4

Big Mo

The mascot for Alpo food

4

Bingo

A traditional dog name; a song of the same name exists

4

Blue

A generic name for a dog with a blue or gray-blue coat

3

Boomer

Literally refers to the Baby Boomer generation; could also refer to a booming bark

3

Boston Beans

President Calvin Coolidge's Bulldog

3

Bam-Bam

Cartoon character "The Flintstones"

1

Baxter

Ron Burgundy's dog in Anchorman

1

Buck

The perfect name for a Labrador Retriever

1

Balboa

As in Rocky Balboa of the Rocky series of movies

0

Big Ben

President Herbert Hoover owned Big Ben

-2

Barney

"First dog" of the G.W. Bush family during their time in the White House

-3

Bat Hound

Although relatively unheard of, one of Batman's accomplices

-3

Belvedere

A cartoon character dog featured in the Looney Toons series

-4

Beagle

President Johnson's second dog while he was in the White House

-6

Barky Marky

A character on Warner Bros. Tiny Toons cartoons series
Female Dog Names that Start with B
Votes
Name
Vote
8

Brittany

Hailing from Britain

8

Bubbles

A flurry of activity

6

Bonnie

Gaelic; meaning "beautiful"

6

Brooklyn

Refers to a burrough in New York

5

Bluebell

A brand of ice cream; also the name of a flower

5

Basil

A cooking spice

4

Bindi

The late Steve Irwin's daughter is named Bindi

4

Beauty

Barbie's Afghan Hound

4

Bambi

A popular Disney character

3

Bella

Meaning "beautiful"

3

Buckles

A great name for a cuddle buddy

3

Babe

Usually a term of endearment

3

Bess

A variation of Elizabeth; meaning "pledged to God"

3

Briar Rose

A lead character in a novel of the same name

3

Brie

A type of cheese; also a popular girl's name

3

Belka

Visited space aboard Sputnik 5; this Russian name means "responsible"

2

Bobbie

Bobbie means "bright fame;" this name is befitting an elegant dog

2

Blossom

Referring to a flower; also a popular television show in the 1990s

1

Betty

A variation of Elizabeth

1

Beatrix

A fictional character, Beatrix Potter

0

Bitsy

Perfect name for a small, toy-sized dog

0

Beulah

A traditional Southern name; in Hebrew, Beulah means "bride"

0

Boogie

A dance; can refer to an energetic dog

0

Berta

A variation of Roberta or Bertha

0

Brandy

Meaning "burning wine;" a perfect name for the dark red Irish Setter

0

Bridget

Irish, meaning "exalted one"

0

Bonbon

A type of candy covered in chocolate

-1

Brownie

Can refer to a dog's coat color

-3

Brinkley

Meg Ryan's dog in You've Got Mail; could also refer to supermodel Christie Brinkley

-4

Betty Boop

A classic cartoon character
Community Dogs with Names that Start with B
Buddy
Male
Yorkshire Terrier
Palm Coast, FL
Well we did not have a name and we just called him buddy and soon that name started to stick and now he has a name tag on his collar and buddy's his name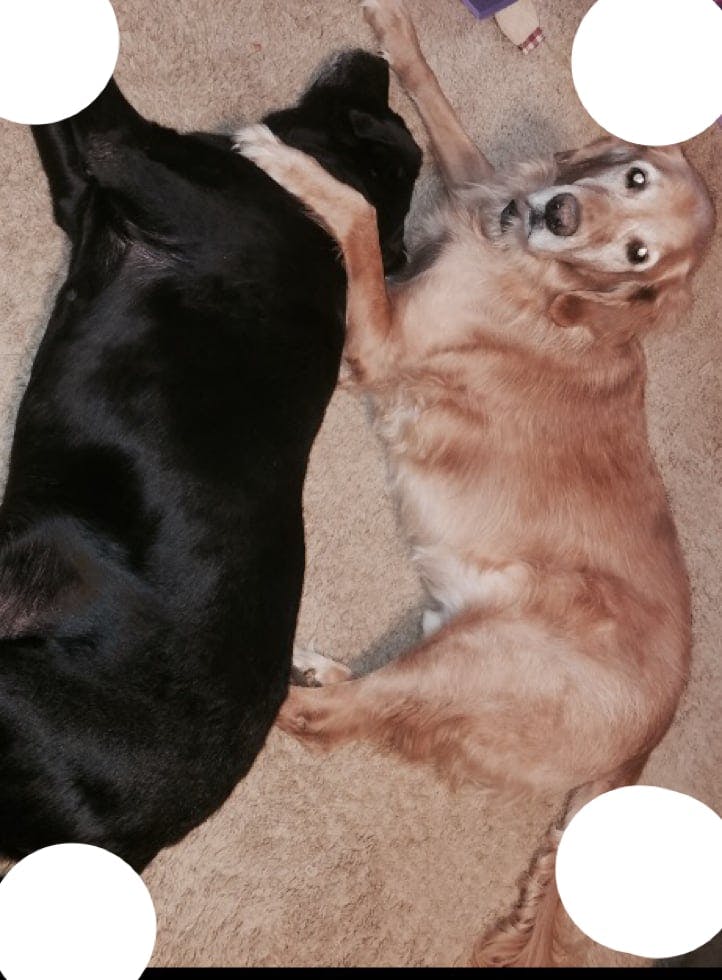 Bella
Female
Labrador Retriever
Oneida, KS
we have a 5 animals and we got bella bc our golden retriever was going blind and he needed help so we bought bella and his name is blaze, bella and blaze, blaze died april 2017 night of easter