How to Train Your Dog to Accept a Puppy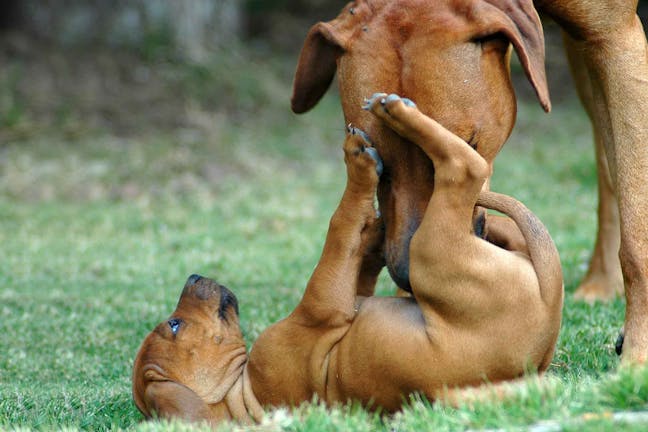 Introduction
You've had a trusty canine companion for many years now. He almost feels like part of the furniture. He doesn't have quite the same energy and get up and go that he used to, but that doesn't mean you love him any less. You have decided though, to introduce a new puppy into the home. Everyone's excited, especially the kids. However, you're slightly concerned that your current dog isn't overly happy about the new arrival. You don't want any aggression or problems, it won't be good for either of them. So you need to carefully train him to accept the new puppy.
Succeeding with this training is essential for the happiness of both dogs. Any aggression at the beginning of the puppy's life could become a permanent theme and lead to problems later down the line.
Top
Defining Tasks
Training your dog to accept a new puppy won't always be a walk in the park. You'll need to be constantly vigilant to make sure they're playing along nicely. You'll have to control their habitat and introduce them to each other carefully. A large stockpile of treats and food will be needed to keep him content with the newcomer. This training could take a while. If he's particularly stubborn and territorial then you may need to invest several weeks into training. If he's old and easy going it could take just a couple of weeks.
Getting this training right is important for everyone in the house. Any problems at the beginning will only be magnified as time goes on. It's also important they get on so the puppy can learn valuable life lessons from your current dog, such as not going to the toilet on the floor or jumping up on the furniture.
Top
Getting Started
Before you get to work you'll need a few things. A crate and baby gates will be required so you can ensure some distance between them to start with. You'll also need a generous supply of treats and tasty food. Toys will also come in handy, as will food puzzles.
The other main thing you need is time. You need to be able to monitor both dogs in order to correct any problematic behavior.
Once you've got all of the above and allocated some time from your normal schedule, you're all set to get going!
Top
Removal
Remove items from the house your current dog may feel protective over. His toys, for example, need to be kept out of the way to start with. This will help him feel less like his territory is being invaded when the puppy arrives.
Neutral ground
Don't introduce them for the first time in the house. Instead take them on a walk together. Again, this will remove some of the initial pressures of meeting in his current territory. You can then take them both back to the house at the end of the walk.
Don't hold the puppy
When they first meet, it's important they're on a somewhat level playing field. Holding the puppy in your arms may make the puppy feel vulnerable and your current dog jealous and protective.
Leash
Secure them both on leashes at the beginning. You now have control and a way to separate them if signs of aggression surface. Let them sniff around each other and say 'hello', but separate them for a while if you can see one of them is unhappy.
Don't leave them together
Even after you've taken them off leashes, don't leave them alone together for the first couple of weeks. You need to be there to put both of them at ease. If anything should happen, separate them calmly and bring them back together again later. Only when you're confident they're both relaxed around each other should you leave them alone.
Don't confine them together
Make sure you don't secure them in the same crate or room to start with. This can quickly lead to tension and aggression. Instead, allow them to spend some time together, but then have them sleep in separate rooms for the first few weeks.
Use baby gates
Your current dog needs to feel like he hasn't lost all his territory in one go. So, use baby gates to ensure he keeps some, by his bed for example. Then over a couple of weeks you can lose the gates when he's used to having the puppy in the house.
Don't allow any bullying
If he goes over and is aggressive or bullies the puppy, you need to remove him every time. Confine him for 60 seconds and then let him back out. If he's to accept him he needs to know that only calm interactions will be allowed.
Separate their meals
For the first few weeks, keep their food bowls separate. Food is a hot topic of contention and you want to avoid any problems. Put the bowls at separate ends of the room and stand in between them. If he's to accept the puppy he needs to know the rules, one of which is the puppy's food is strictly off bounds.
Share attention
If he's to accept the puppy he can't feel like you only care about the puppy anymore. Make sure you give them both attention to prevent any jealousy. You can gently stroke both of them at the same time to keep them calm.
Praise
When you see them interacting correctly, go over and give them both a treat. If they know calm behavior with each other will get them tasty rewards, you'll find they both have a very good reason to accept each other.
Never punish
It's important you don't punish him for bad behavior, especially around the puppy. If he thinks the puppy is getting him in trouble, he'll only start to resent it. Instead, calmly remove him from the situation for a short period of time.
Escape route
Make sure he has an escape route to his bed. If the puppy is annoying or he wants some alone time, make sure he can easily get it. This will help reinforce that he still has his own space, making it much easier to accept the newcomer.
Be vigilant
It's important you keep an extremely close eye on them at all times. Any arguments could set the tone for the rest of their relationship. So, be quick to separate them if you sense any tension. Slowly allow them to spend more and more time in the same room, but always be there for the first couple of weeks.
Tire out the puppy
This may seem odd, but a tired puppy is much easier to accept than one that's charging around the place disrupting the current dog's peace and quiet. Make sure his attention is channeled appropriately. Food puzzles are another way to keep them both distracted to start with until they're used to having each other around.
By James Barra
Published: 11/20/2017, edited: 01/08/2021
---