How to Train Your Dog to Be Alone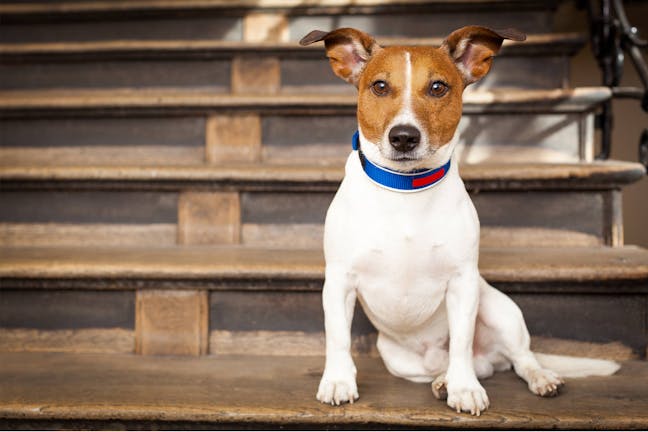 Introduction
Everyone knows that as a loving dog owner you'd much rather be at home with your pet than sitting in an office chair. While spending all day long with your canine family member sounds much better than punching away at a keyboard, the reality is dog cookies cost real money. Until Fido learns how to make a living, that leaves it up to the human owners to bring home the bacon. Busy work and social schedules mean that your dog will inevitably need to be left on their own from time to time. Many dogs can find this scenario stressful.  Concerned owners should take heart, however. There are a number of methods available for training your dog to be alone in their home with zero stress.
Top
Defining Tasks
Keeping your dog happy while they are home alone will involve training multiple types of behaviors. Young dogs need to be properly housebroken or contained while you're away until they can learn to settle and relax and until they are old enough to know to use the restroom outdoors. Young puppies often come from litters of multiple dogs and learning what to do to keep themselves occupied may take a bit of time and help from their loving owners, of course.
Top
Getting Started
To get started training your dog to be alone, you will need to acquire a few supplies. A solid, sturdy crate is a must for young dogs or dogs that have destructive tendencies. Wire crates work best, as cloth or nylon crates can be easily torn. Appropriate dog toys and chewable items will also be necessary. Look for toys specifically designed for your size of pet and that are made of quality and sturdy materials. Plenty of bedding will help make your dog comfortable while you are away. Finally, a variety of treats, bones and other snacks will help make your dog comfortable and keep them occupied while you are gone. Once you have these items in hand, it's time to begin training your dog to be alone.
Top
The Crate Training Method

Introduce the crate
Training your dog to be alone will often involve a crate, especially for young puppies who may have problems holding their bladder or want to explore by chewing household items. Start training your dog to enjoy their crate by setting it up in a common area of the house. Let your dog explore the crate on their own terms, sniffing and only entering if and when they wish.
Place toys and treats
Place a variety of treats and toys inside the crate to tempt your dog to go inside. If your dog removes a toy or chewable item, place it back inside the crate gently. Remember that you are trying to build positive associations with the crate.
Shut the door
After your pet has become used to the crate and is spending time in the crate on their own, shut the door briefly. You can drop small pieces of treats through the crate walls. During this initial stage, remain close by and open the door if your dog begins to panic or becomes agitated.
Increase length while supervised
As your dog begins to acclimate to the crate, slowly build up the amount of time you leave the crate door closed while you are also in the room to supervise. You should build your dog up gradually, getting them used to longer and longer crate stays.
Increase time and be out of sight
Continue increasing the amount of time your dog spends in their crate and begin leaving the room for increasing periods of time. Be sure to give your dog plenty of treats and always praise when you return and open the crate door. Build up the length of time and you will soon have a dog who calmly enters and enjoys spending time in their crate.
The Teaching "Place" Method
Selecting a bed and spot
Teaching your dog to go to their place is a great way to keep them occupied and help them learn to be alone. Start out by selecting a comfortable dog bed and placing it in an area that is out of the way but still allows your pooch to keep an eye on their human family.
Lure with treats
Get your dog's attention and show them you have a treat in your hand. Toss or place the treat on their bed. When your dog's paws touch the bed, immediately praise and provide another treat.
Add the command
Once your dog is readily going to their bed after a treat has been placed, begin working in the desired command. "Place", "bed" and "spot" are all good examples of easy-to-remember commands to instruct your dog to go to their spot. Say the command before placing the treat on the bed to help solidify the association.
Remove the lure
Once you have repeated the command and lure combo numerous times, remove the initial treat and try asking your dog to go to their spot with the command alone. It will be natural for your dog to hesitate the first few times. If your dog doesn't go to their spot at all, go back to step 3 and repeat for a few more training sessions.
Repeat, repeat, repeat
Repeat the command/treat/praise cycle of asking your dog to go to their place multiple times. If you've chosen a bed rather than a specific spot in your house, consider moving it to different rooms in the house to help your dog associate the bed or bedding with their spot, wherever it may be located.
The Occupy Himself Method

Supply treats
While your dog naturally enjoys the company of their humans, they can also be taught to quietly occupy themselves with toys or chewable treats. Start out with providing your dog with a supply of treats appropriate for chewing. Raw, meaty bones are perfect for this training exercise. Bully sticks are also great chewing treats. Try to avoid rawhide as it is not easily digested and can be a choking hazard to your pup.
Add in chewables
Toys designed for chewing are also great tools for teaching your dog to calmly occupy themselves. Items such as Kongs can be stuffed with treats, peanut butter, or other yummy items that your dog will work for hours on removing. For an extra challenge, freeze the treats and Kong before giving to Fido.
Ropes and tires, oh my
Non food-oriented toys are also great options for some dogs. Rope toys are rugged, sturdy options for chewing and tugging and can also help keep teeth and gums clean and healthy.
Add in a crate, baby gate or other confinement
Once your dog has become excited about occupying themselves, add in a method of confinement. This will be helpful for young dogs or for creating an initial peace of mind until you can rely on your dog not to chew inappropriate household items.
Remove yourself from the equation
While you are home, slowly increase the time you leave your dog alone to occupy themselves with their treat or toy. This will allow you to monitor your dog while slowly building up both of your comfort levels with having Fido alone.
By Amy Caldwell
Published: 10/05/2017, edited: 01/08/2021
---