How to Train Your Chihuahua Dog to Be Obedient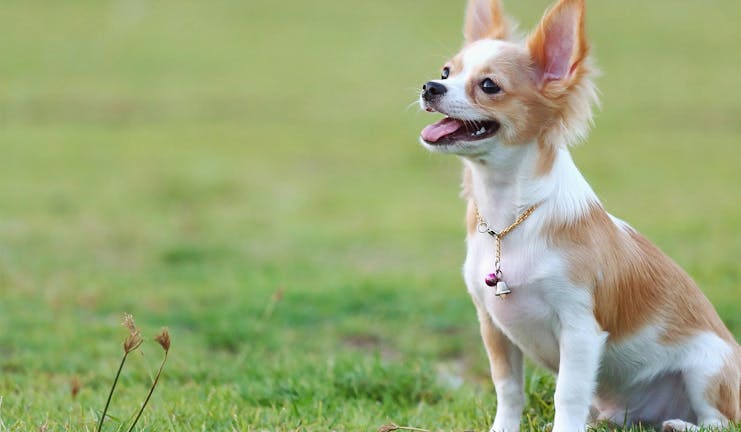 Introduction
Your Chihuahua needs to obey you because you are the leader of his pack. It takes some time and commitment to train a Chihuahua to be obedient, but it can be done. Not only can you do it, but it is important you train your Chihuahua to be obedient because it will set the tone of your relationship, give your Chihuahua boundaries, and set him on a path to be a well-mannered, social dog. Having a social dog who is obedient will be much more fun than having an aggressive Chihuahua who doesn't listen, comes across as mean, or isn't socialized enough to bother with good behavior. Training your Chihuahua to be obedient is the first step in having a well-rounded pet who tolerates other animals, listens to you, and doesn't react in an aggressive manner. 
Top
Defining Tasks
One common factor in dog training, especially with dogs who have typical stubborn attitudes, is positive rewards in the form of food. Getting your Chihuahua to obey your commands and follow your rules will start with basic obedience training and high-value rewards. You need to make your Chihuahua want to obey your commands. Make training worth his time by keeping his attention with high-value treats and play. Your Chihuahua, older in age or a puppy, will enjoy training if you make it fun by including playtime and tricks, which are not only obedience in nature but also fun. These fun tricks will help socialize your Chihuahua, teaching him obedience isn't all that bad. It might take more time for an older rescued or adopted Chihuahua to want to be obedient, but older pups can be convinced to obey with the right training and tools.  
Top
Getting Started
High-value treats will be key to train your Chihuahua to be obedient. You may need to change these treats every now and then to keep your pup engaged and enticed. Puzzle treats are also a good toy to have around to entice your Chihuahua. Schedule training sessions to teach commands and tricks. Keep these sessions short but ensure they are productive and your Chihuahua is engaged.
Top
Make it fun
Schedule training sessions with your Chihuahua that are fun and engaging. Bring lots of treats to your training sessions and plan for your Chihuahua to earn every single one of them. Don't end a training session with treats left over.
Rewards
When your Chihuahua listens to you, especially during your early training days, give him a reward every time he acknowledges you. If he does not listen or follow through on a command simply ignore him and try a different command.
Attention
Make sure your Chihuahua has your attention each time you are talking to him. Even if you are just talking to him about the weather or what you're eating for dinner, say his name and hold his attention. Offer him treats as you talk to him to keep him engaged. This will begin to train him to listen and obey you anytime you speak to him.
Practice obedience
Train your dog basic obedience commands such as 'sit', 'stay', 'come', and 'down'. Practices these commands several times a day, giving your Chihuahua treats as he follows through on the commands. Continuing to practice obedience commands he has already learned will remind him that he needs to obey anything that you say when you're speaking to him.
Commands
Work on obedience commands you have trained your Chihuahua throughout the day, not just during training sessions. Before you feed your Chihuahua have him sit, for example. Before you open the door to go outside, ask him to lie down. Be sure to treat him every time he follows through and obeys so that he understands listening to your commands and obeying is important and will also earn him a reward.
The Engaged Training Method
Treats
Be ready for any training sessions or training opportunities by having treats readily available and on hand for your Chihuahua.
Advanced tricks
Advanced training and fun tricks are a great way to teach your Chihuahua to be obedient. As he learns multiple tricks he will learn to wait for your command before he does something. This will also teach him that any time you ask him to do something he should obey.
Obedience training
Train your Chihuahua basic obedience commands along with house training as early as possible. These basic commands will give your Chihuahua physical as well as mental stimulation while associating your commands with behavior. Be sure to offer your Chihuahua treats for a job well done so he continues to be engaged and motivated.
Fun tricks
Your Chihuahua is a smart puppy. As long as you are showing him attention and offering him high-value rewards with engaging training, he can learn anything you would like to teach him. Once your Chihuahua has basic obedience commands down, begin to teach him fun tricks such as begging, walking on his hind legs, or rolling over.
Rewards
Anytime you ask your Chihuahua to do something or call him by name, offer him a reward in the form of a treat. During your scheduled training sessions, consider using high-value treats as rewards.
Practice makes perfect
If you want your Chihuahua to be obedient all the time, consider training him as often as you can. Practice tricks and basic obedience commands any opportunity you have and reward him with a treat for doing so. Constantly practicing tricks, even if it's just one small trick, will keep him on his toes and remind him to pay attention and obey your command.
The Enticing Bribes Method
High-value treats
Be prepared to train your Chihuahua obedience by starting with high-value treats. These treats can be small pieces of cheese or hot dogs or a meat or jerky your Chihuahua loves. Change this treat every so often so he's not always working for the same flavor.
Basic commands
Train your Chihuahua all the basic commands so he understands when you ask him to do something, he needs to do it. These commands include 'sit', 'down' and 'stay', as well as his name.
Safe spaces
Give your Chihuahua some safe spaces within your house and commands he can associate with the spaces. Offer him a warm, comfortable bed and teach him the word 'bed' as a command. When it is time for a nap, when he's sleepy, or when you need a break from him under your feet, command him to go to bed.
Independence
Give your Chihuahua some independence by commanding him to go to his safe space such as his bed. Using a command you will teach your Chihuahua, it will become a place he wants to go when he is bored, sleepy, or feels insecure. Offering these safe spaces around your home also teaches him to be obedient when you give him the command to go there. Make this space safe warm, comfortable, and even fun with a few toys.
Rewards
The comfy space alone is a great reward for your Chihuahua because it's a safe and secure space for him to be. When he listens and goes to lay down in his bed, offer him a high-value treat for listening.
Consistency
Every time you ask your Chihuahua to do something or call him by his name offer him a treat. This will teach your Chihuahua if he obeys he can earn some food.
Mealtime
Don't let your Chihuahua jump on you or become anxious when it is time for meals. Be sure you have him sit and not beg before setting his bowl down.
Commands
Use commands in your daily life with your Chihuahua anytime you have the opportunity. Be sure to reward him with a high-value treat so he understands what's at stake and how he can earn some great rewards by obeying you.
By Stephanie Plummer
Published: 12/27/2017, edited: 01/08/2021
---