How to Train Your Rescue Dog to Come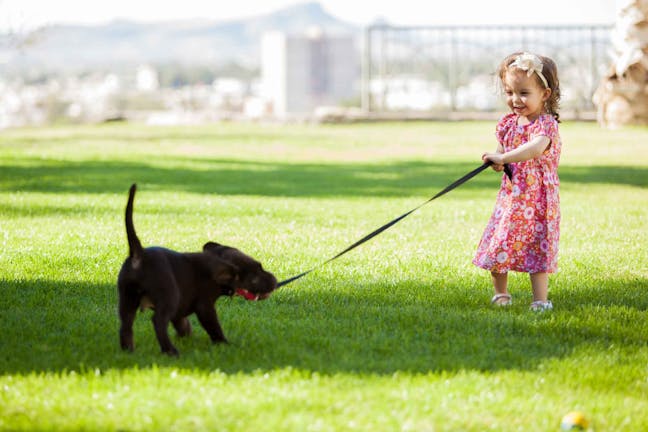 Introduction
You're new in his whirlwind of a life, but your rescue dog is quickly becoming relaxed in his new home. While he is settling in well, he's lacking somewhat on the training front, though. You've managed to get him to 'sit' and lay 'down', but other commands are proving trickier. When you're out on walks, for example, he bolts into the distance as soon as he sees another dog. Even if there is a busy road in between, there's no stopping him. You don't want to have him on a leash constantly on walks, so you need to get him to come over to you when called.
Succeed with this training and you could save him from being in a serious accident one day. He may wander into the road, causing an accident and injuring himself or others. He may also scare other dogs if he sprints towards them and may end up getting bitten.
Top
Defining Tasks
Fortunately, training your dog to come to you when called isn't as difficult as many think. He may not have been well trained before he came to you, but with the right motivation, you can swiftly remedy that. You simply need to find the right mouth-watering incentive and be consistent with training. Do this and he'll fall into line in no time. It will be easiest if he's young, as he should be receptive and eager to please. It could take just a few days. If he's older and particularly set in his ways then you may need a couple of weeks before you see consistent results.
Get this training right and you'll be able to swiftly call him away from any approaching danger and unpleasant situations. This could well save him from injury and you from expensive vet bills.
Top
Getting Started
Before your work begins you'll need a few bits. Food or treats will play an important role. If you can break his favorite food into small pieces, this will work best. Also get hold of his favorite toy and a whistle. 
You'll need 15 minutes each day for training. To start with, you can practice in the yard, but as he gets the hang of it you'll need to practice on walks where there are more distractions around.
The only other thing you need is patience. Once you've got all of that you're all set!
Top
Yard
Head for the yard with a whistle in your hand and a pocket full of tasty treats. You can either whistle using your mouth, or you can invest in a whistle. You'll train him to come to your feet as soon as he hears the whistle. Let him roam free off the leash in the yard.
Whistle
Stand and face him, then give the whistle a short burst. The high pitched sound is likely to automatically make him stop and look up in your direction. That's why it's important you are looking right at him so he knows something is expected of him.
Treat
Hold out the reward as you give the whistle. Make sure he can see it. If he doesn't automatically start charging towards you, kneel down, smile and talk in an animated voice. This will all help him make the decision to make his way over to you.
Reward
As soon as he reaches you, give him the treat and a whole load of praise. Really shower him in attention for a minute or so. The happier he feels when he gets the reward the more keen he will be to repeat the behavior next time.
Introduce distractions
Practice this for a few minutes each day. But as he gets the hang of it, you need to make it harder. That means practicing on walks and when he's already far away from you. If he knows he'll always get a tasty reward, he'll always come at the sound of the whistle, so be consistent!
Setting up
Sit on the sofa and make sure you have a few treats with you. You're going to teach him to come using a verbal command, and in the house to begin with, where he won't be easily distracted.
'Here'
When he can see you, give the command in a playful voice. The more high pitched and upbeat your tone of voice is, the more likely he'll be to charge over. You don't have to use the command 'here', you can use any word or phrase that you like. As you give the command you can also hold the treat out for him to see, to further encourage him over.
Reward
As soon he reaches you, give him his tasty treat. Make sure you give him some verbal praise too. It's important he gets the reward every time. If you fail to give him a decent reward for a couple of times, he may start thinking twice and the training will take longer.
Head outside
Once he's got the hang of it inside, you need to up the stakes. Start practicing while you're on walks. Call him every few minutes as you walk. This will keep him constantly focused, and the continuous repetition will hammer home the training quickly.
Other dogs and people
Now you need to make sure he still comes even when there are other dogs and people around. Have family members play with him and friends' dogs, then stand 20 feet away and call him over. Make sure the treat is always on show and that he always get plenty of praise. Practice this until he's fully mastered it and then you can cut out the treats.
Get him excited
Spend a few minutes each day playing with a particular toy. Really go wild and crazy when you play with it to get him excited. The more he's looking forward to playing with it, the greater motivation it will be when you use it to teach him to come.
'Come'
When you're on a walk, let him off the leash and then give the 'come' command when he is still within 15 feet. You can also get the toy out at this stage to show him what is on offer. Don't repeat the command, give it only once, and don't use his name. You don't want him to think he can ignore you for a few times first and still get the reward.
Reward
Wait until he gets right to your feet before you give him the toy. Then play tug of war and fetch with for a minute. Make sure this reward time is as enjoyable as possible for him. Then take the toy away, put it in your pocket and wait for him to go back to roaming around. Then repeat the command. Practice this every day while you walk.
No slip ups
Make sure he gets all the way to you every single time. If you throw him the toy when he's within a few feet he'll soon only get that close to you. You need him right by your feet so you can put a leash on him if other dogs or cars are coming, for example.
Never punish him
If he doesn't come to you, don't shout at him. You will only scare him and then he'll want to come to you even less when you call him next time. Training through fear is never as effective as training with incentives.
By James Barra
Published: 11/29/2017, edited: 01/08/2021
---