How to Train Your Dog to Do Bar Jumps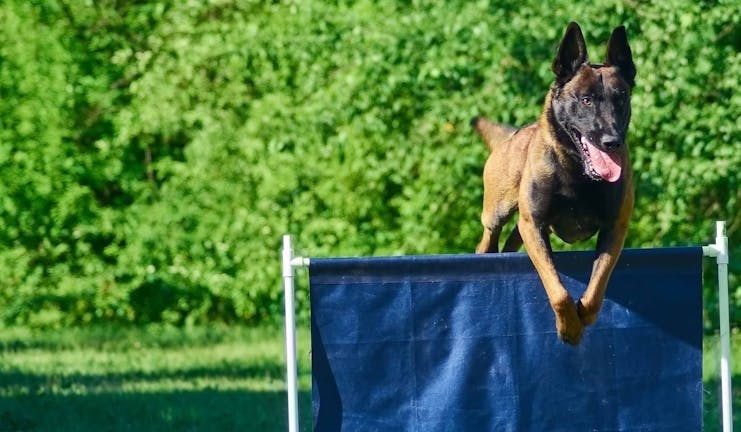 Introduction
Anyone who has ever seen an agility competition is well aware of how fast-paced and exciting they can be. Seeing dogs fly through courses is always entertaining and for the dogs, it's one of the best kinds of mental and physical exercise that they can participate in. Utilizing weaving poles, tunnels, and plenty of jumps, an agility course requires training and concentration, testing the abilities of both dog and handler under pressure.

While agility may be a high octane sport, it can also be a way to simply bond and exercise with your dog. Competitions aren't a necessity, but agility courses both inside and outside of the competitive circles all have a few certain things in common. Among the most recognizable of the obstacles is the bar jump: a hurdle which requires the dog to leap over it without knocking off the loose bar that designates the height of the jump. This obstacle is one of the most important to learn and master in order to succeed at the sport of agility.
Top
Defining Tasks
The bar jump is challenging in the sense that your dog must be in control of his jump in order to time it well enough to avoid knocking the bar off of the hurdle. Not only must your dog control his jump, but speed is also a factor. Too fast and your dog could stumble when trying to go to the next obstacle, too slow and he might not make the jump. Despite this, training your dog to jump over these hurdles is often the easiest first step to agility training and can set the expectations of how readily your dog may adjust to other obstacles.

This training is best for dogs who have finished growing. For many breeds, this means 18 months or older. Overworking a dog's body before he's finished developing can cause severe injury or other permanent damage and bar jump training is not recommended for puppies. Caution is also needed for senior dogs who may have joint problems, as jump training can exacerbate them. Always consult a veterinarian before beginning agility training.
Top
Getting Started
To begin, you'll either need to purchase a set of hurdles or construct them yourself. This can be done easily with either items found around the home or with materials purchased from a home improvement store. Just be sure that any items you use are safe for your dog to practice with. The bar on the hurdle should be removable and adjustable for height and should fall away easily if knocked. Heavy bars may injure your dog, so be sure that the material used for it is light and preferably hollow.

You'll also need a designated area for your jump training such as an outdoor yard or a large room with a lot of floor space. Work on a reliable 'sit' and 'stay' with your dog before training for jumps. You may also want to use a leash to keep your dog in the immediate area. Gather some treats or a toy for a reward and you're ready to go!
Top
Lower the bar to the ground
Start with the bar just sitting on the ground to begin with. You'll work your way up gradually until you eventually end with the bar at or a little above the height of your dog's shoulders.
Place your dog on one side
Instruct your dog to 'sit' and 'stay' on one side of the bar while you position yourself on the other.
Tell your dog to come to you
With some enthusiasm, practice your dog's recall. If he hasn't learned a stable recall command yet, you can use a treat or a toy to lure him towards you.
Reward for walking over the bar
Offer the treat or toy when your dog successfully walks or hops over the bar.
Increase the height
Work with gradually increasing heights as your dog reliably hops over the bar. Lower the height if he seems to struggle.
Keep training short
Work in 10 to 15 minute training sessions to keep from overworking your dog. Shorter is better. Always end training on a positive note with plenty of tasty treats or some casual playtime.
Check your physical condition
This method requires you to hop over the bar with your dog. Be sure you're in a condition to do so before attempting to do the jumps yourself.
Start with small heights
As always, keep the bar on the ground for the first jump to adjust your dog to hopping over it.
Use a leash
A leash will help your dog realize that she should be following you over the jumps rather than around them.
Proceed over the bar
Start slowly at first and make sure there is enough room for you and your dog to make it over the bar safely.
Reward frequently
With each successful stroll or hop over the bar, reward your dog with a treat or a toy. Practice each height increment several times to adjust her to each new height.
Challenge your dog
Increase the height of the bar as you go along, with plenty of breaks in between. Always make sure that any jumps or hops you take as the bar gets higher are safe to do and will not result in injury to you or your dog.
Use some bait
Place a toy or a treat on one side of the bar fairly close to the bar itself while you and your dog take position on the other side. Make sure he sees what's waiting for him.
Use a verbal command
You may choose to use 'jump', 'go get it', or 'over' as your command to help your dog associate it with what you'd like him to do.
Send your dog over the bar
With your verbal command, release your dog and allow him to go after the treat.
Repeat
Practice several times at that lower height before your dog can successfully make it over the bar each time. Take breaks as necessary.
Follow through
If using a toy, you may want to follow your dog to the other side to engage in some playtime as he picks it up.
Go higher
Increase the height of the bar in increments, repeating the placement of the treat and continuing to use your verbal command.
Phase out the treats
Gradually start offering smaller treats or treats only every other jump. Eventually you will be able to reward randomly and then work towards eliminating the treats altogether. Always offer a reward at the end of the training session, however, to keep it fun and engaging.
By TJ Trevino
Published: 12/27/2017, edited: 01/08/2021
---