How to Train Your Stubborn Dog to Fetch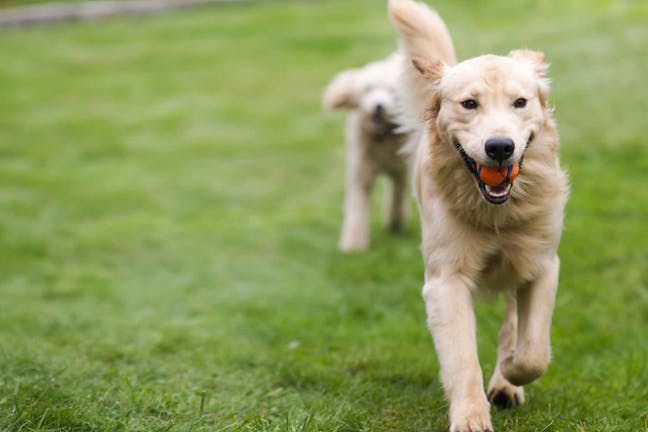 Introduction
You're out on a walk. The sun is out, there are fields all around you and it's just you and your canine companion. You've brought one of his favorite toys out on the walk, an old, soggy tennis ball. There's nothing he loves more than bounding through the fields trying to catch it. The only thing is, he's so stubborn that when he catches the ball, he refuses to give it back. While this was entertaining to start with, now it just means you can never play fetch on the walk because he won't return it. 
Training him to fetch therefore will come in handy for a couple of reasons. Firstly, if he brings it back you can give him plenty more exercise with the short sprinting that comes with fetch. Secondly, this type of training asserts your control and will make it easier to teach him other commands too. 
Top
Defining Tasks
Training him to fetch wouldn't necessarily be easy anyway, but if he's particularly stubborn then you've really got your work cut out. Fortunately, there is still a way around his challenging behavior. You need to find something that he wants even more than the toy you've thrown for him. As you can probably imagine, some strong smelling, mouth-watering food will do a pretty fantastic job of getting him on task. If he's a puppy he should respond swiftly to training and you may see results in just a few days. If he's old with years of ignoring your instructions under his collar then you may need a couple of weeks.
Succeed with this training and you've got the perfect foundation to turn him into a hunting dog. If he can master fetch, he could help you retrieve game and other prey you hunt.
Top
Getting Started
Before you can get going you'll need a few things. Get your hands on a few tennis balls and a brightly colored frisbee. Then stock up on tasty treats or his favorite food. The more he loves the reward, the easier training will be.
You'll need a large space to practice, free from other dogs and distractions. You'll also need to set aside some time for training when you're on your daily walk. 
The only other thing you need is an optimistic attitude and then you're all set to get started!
Top
The Chase & Retrieve Method
Chasing
Throw a toy like a ball or frisbee for him. Then encourage him to chase after it. To do this may you need to run with him, point at it and talk in an animated voice. Really do everything you can to get him excited and chasing the toy.
Hold him back
If you struggle to get him motivated to chase the, you can add in this extra step. Hold his collar when you throw it. He'll naturally tug against you and be more interested in it if he thinks he can't get it.
Reward
Whenever he chases it, you need to reward him. So as soon as he gets his mouth on it, give him a tasty treat and lots of praise. You need to get him chasing the item before you can work on getting him to retrieve it.
Second toy
Now throw the item again and wait for him to catch it. If he doesn't naturally bring it back to you, pull out a second toy (that he loves even more). Use that to lure him over and then grab a hold of his collar as soon as he reaches you. He'll naturally drop the toy in the hope of getting the other one.
Reward
Now reward him for dropping the toy by giving him the second one. Practice this every day while you're walking. He will soon get into the habit of chasing and then returning with the item. Once he's into the swing of it you can stop using the second toy, he knows what to do now.
Head out
Head out to a local field with him secured to a long leash. Make sure you have a toy in hand and some tasty treats too. You're going to start by getting him to fetch on a leash, so you can guide him through the process.
Throw
Throw the toy directly in front of him. Make sure he sees you throw it. Also make sure you don't throw it too far, you don't want him to pull you to the ground. Once you've thrown it, encourage him to chase after it, by pointing and talking in an animated voice. You may need to run with him to get the toy to start with.
Call him back
Once he's got the toy, call him back over. Hit your legs and smile at him to encourage him. If he doesn't start to come all by himself, slowly reel him in with the leash. You can also hold out a treat to further entice him over.
Reward
Once you've got him at your feet, wait for him to drop the toy before you hand over the treat. Then you can give him lots of attention. The greater the reward and attention when he returns the toy, the more motivated he'll be to return it next time.
Lose the leash
Practice this several times on each walk. When he's into the habit of chasing and then returning, you can lose the leash. He'll know what's expected now and the promise of the treat will be motivation enough. After a few more days you can then start to cut out the treats too.
Get stepping
Head out for your daily walk, or to a local field. You're going to need two toys. Keep the best one in your pocket and out of sight. You can then get him all excited by the other toy. You want him raring to get off the leash to start charging after the toy.
Throw the toy
Throw the first toy in one direction. Then encourage him to start charging after it. If he doesn't run on his own, you need to spend some time playing tug of war with the toy at home to get him excited by it first.
Bait & switch
When he's got the toy in the distance. You need to pull out the second toy from your pocket. You want to hold it high in the air and make sure he knows what you've got. Also call his name in a high pitched, playful voice. Then when he's started running after you, turn in the other direction as if you're going to throw it.
Wait for the drop
Wait for him to come charging over to you in anticipation of the second toy. He'll probably naturally drop the first toy, but if he doesn't you need to wait patiently for him to do so. You can point at the toy and the ground to encourage him. When he does finally drop it, throw the second toy and encourage him to chase it.
Repeat
You can now pick up the first toy and use it as bait again. The key to this is getting him as excited as possible and always waiting for him to drop the toy before you release the next one. Once he's got the hang of it you can stick to just one toy. He'll understand the rules of fetch now and be in the habit of returning the toy.
By James Barra
Published: 12/01/2017, edited: 01/08/2021
---