How to Train Your Collie Dog to Fetch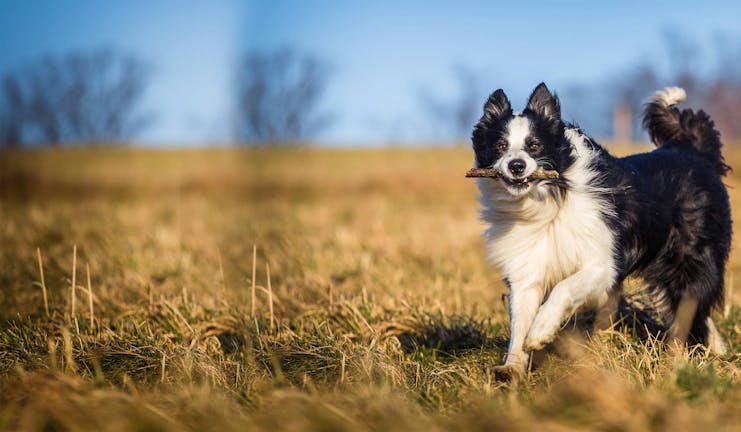 Introduction
If ever there was a game that your Collie is going to become addicted to, it has to be fetch. This age-old game is great for both of you; it's a great bonding experience and even better exercise. Collies are so intelligent that they can often pick up a new trick in 10 repetitions. Some will learn a new command the first or second time they are given it.
These highly athletic dogs are not only great at tricks, they are used to herd sheep in many areas of the world. Collies love to play games--fetch is just the beginning. After he masters this command, you can work with your Collie on fun things like hide and seek and to bring you a nice cold can of beer out of the fridge. 
Top
Defining Tasks
The game of fetch is simple, you throw out a ball or toy and your pup is supposed to chase after it and then bring it back to you. Collies are perfectly suited to this game as they are great at following directions and have a great sense of smell. Be sure to use nothing but positive reinforcement throughout the training process as this will help the whole process move along more smoothly.
You will be using some of your pup's favorite treats as rewards throughout the training process, along with plenty of praise. The better he gets at playing the game, the less often you should be giving him a treat. Remember, playing fetch should be fun for both of you, so get out there and play. 
Top
Getting Started
Just like most other tricks, your pup needs to have mastered basic commands such as 'sit', 'come', 'stay', and 'down' before you try to teach him to play fetch. This lets him know you are the Alpha in the pack and that he must follow your commands. There are few things you need to help make training go a little easier for both of you, including:
Treats

A rubber ball

Leash

An assistant

The rest of your supply list should include plenty of patience and time to spend working with your Collie until--and long after--he has mastered the skill. 
Top
Learn to drop it on command
If your Collie does not already know how to drop a toy on command, first train your dog to drop a toy or ball in your hand.
Add in a leash
Put your pup on his leash and have him sit by your side. Drop a rubber ball on the ground in front of him. Your pup should instinctively reach out and pick up the ball. When he does, tell him to "drop it" and hold your hand out. When he drops it in your hand, give him lots of praise and then give him a treat. If he won't drop it, keep working with him until he does.
Day after day
Keep working with your pup in short sessions several times a day until every time you drop the ball, he reaches out, picks it up, and immediately drops it in your hand.
I'm free to run
Now take your pup off the leash and toss the ball a few feet out into the lawn. Tell your pup to 'fetch' the ball using his name. Every time he goes out, picks up the ball, and then returns to you and drops it in your hand, give him tons of praise and a treat or two.
And he could go all the way
The rest of your training sessions involves throwing the ball further and further out. Keep making the game a little harder and a little harder until you can toss the ball anywhere and your pup will not only find it but will return it to you. Then get out there and have lots of fun with your pup.
The Feeling Foolish Method
For this you need...
For this training, you need the following: your pup, a leash, a rubber ball, and a friend who doesn't seem to mind when he gets to act foolishly. Take everyone out in the backyard, stand with your pup on his leash at your left side and your helper at your right side.
Let the fun begin
Toss the ball out into the middle of the lawn where your pup can see it. Call your assistant by name and give him the "Fetch" command, like this "Steve, fetch!" At this point, have him run out to where the ball landed.
Look what I found!
Have your assistant pick up the ball and wave it around to make sure your pup sees that he has it.
On the way back
Have your assistant return to your right side and "drop" the ball in your outstretched hand, making sure your pup sees what is going on. Be sure to praise your assistant and pat him on the head. Repeat several times to help your pup make the connection between the cue word "fetch" and getting a reward for bringing the ball back to you.
You're next, my furry friend
This time, toss the ball out on the lawn, release your pup and tell him "Fido, fetch". He should dash right out and bring the ball back to you. Each time he does, praise him, give him a treat, and then extend the distance until he will fetch the ball no matter where you throw it.
Start with a rope
Start by finding your pup's favorite tug of war rope and playing a little tug with him.
Add one dog
Drop the rope on the floor and give him the 'take it' command to get your pup to pick up the rope. Give him a treat when he does.
Give me the rope
Using the 'give it' command get your dog to give you the rope. When he allows you to take the rope from him, give him a treat and tell him he's a good boy.
Into the lawn
This time toss the rope out a few feet into the lawn. Give your pup the "fetch" command and let him go out on the lawn and pick up the ball.
When he comes back
When your pup comes back and hands you the rope, heap on the praise and treats. Keep adding distance and dropping back on the treats. Your Collie doesn't really need them, he will play this game all day just for the fun of it.
By PB Getz
Published: 12/28/2017, edited: 01/08/2021
---