How to Train Your Small Dog to Greet Other Dogs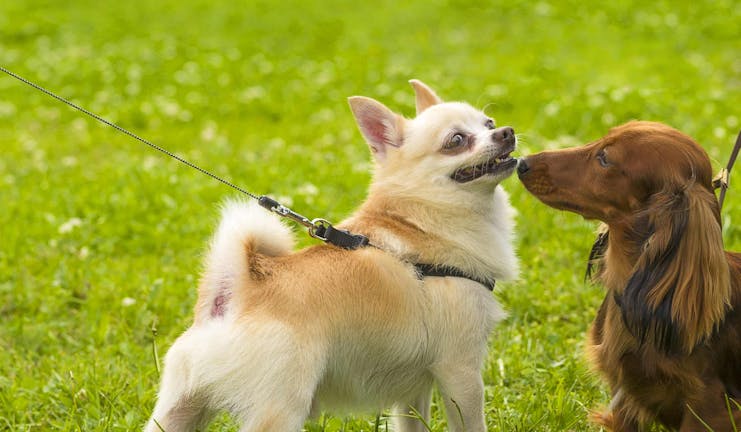 Introduction
You're on a walk with your small dog, strolling through your neighborhood, without a care in the world. Then you turn the corner and are met with a couple walking their dogs. Maybe your little dog turns into a raging Tasmanian devil at the sight of the other dogs, acting like she is going to attack with all her tiny might. The people laugh once they get over their shock and walk on, their well-behaved dogs looking offended. If your dog wasn't so little it would be a really dangerous situation. As it is, it is very embarrassing, and also you feel badly for your little dog. Why doesn't she greet other dogs politely? She's fine with all your friends' dogs at home.
Little dogs seem to be more prone to greeting problems than larger dogs. Small dogs rarely continue their aggression past the initial meeting. Shy small dogs typically overcome their fear and get along well with other dogs once the meeting is over. So why do little dogs sometimes have so much trouble with greeting other dogs? Many little dogs have the terrifying experience of being knocked over by an overly rough larger playmate at some point in their early lives. Even if they are not actually knocked over, seeing large dogs throwing their bodies around in play can be extremely intimidating for a little dog.
Top
Defining Tasks
Teaching your small dog to greet other dogs nicely is all about correcting fears instilled by her small size, and teaching her better ways to react to other dogs. Your little dog must learn to get respect without resorting to overwhelming aggression, or to get away without experiencing all-consuming fear. Problem behaviors around greeting are rooted in insecurity. Giving your little dog confidence in herself and trust in you will enable her to greet other dogs politely while maintaining her own space and respect.
Throughout training, as in all areas of your life with your little dog, it is essential that you keep in mind always how different your experience of the world is from your little dog's. Try lying on the ground propped on your elbows at the dog park, and watch the big dogs run around you and collide into each other inches from you, and imagine how it must feel for your little dog, who is a tenth or less of their size.
Top
Getting Started
Throughout the process of teaching your small dog to greet other dogs nicely, keep your little dog's safety and confidence in the center of your mind. One bad experience can set your small dog back a long way. Avoid situations in which you have little control, like dog parks with lots of dogs or very crowded walking places, until you and your little dog have built confidence and trust in one another.
Food replaces fear for dogs, so remember to have good treats available at all times. For all training techniques, food is an essential motivator and also psychological tool to build pleasure with meeting new dogs.
Top
The Meet and Treat Method
Establish safe zone
Set up an exercise pen at your local park or other areas where dogs will be walking around. Dog parks are usually too chaotic but a sparsely populated dog park would work as well.
Happy place
Play with your small dog in your safe space, rewarding her for outgoing, confident behaviors and practicing any fun tricks she knows.
Encourage meetings
Ask people walking dogs near by, or dogs wandering around if you are at the park, to let their dogs come to the fence.
Meet nicely
Ask your small dog to meet nicely and reward her as soon as she sniffs noses or displays any positive behavior.
Vary and practice
Practice in different environments until your small dog is confident meeting dogs through the fence. Then practice with a leash and harness or off-leash. If your little dog slides back into bad behavior, build confidence again with the fence.
The Walk, Treat, Meet Method
Enlist volunteers
Enlist some volunteer dogs and their people to help you. Make sure their dogs are confident and balanced, and won't react to your dog's reactive behavior too much.
Walk and treat
Walk on opposite sides of the road, at some distance behind your volunteer dog, so that your dog can sniff as they walk. Ignore any barking or negative behavior, but give treats for instances of calm behavior.
Get closer
Get steadily closer until you are walking side by side with the volunteer dog. Keep giving treats. Your volunteer dog should receive treats from her human too to avoid any jealousy.
Meet, treat, walk
Let your dogs meet as you are walking and reward with a treat immediately. Keep walking and rewarding as the dogs casually meet and sniff as they walk.
Practice
Practice with lots of dogs, gradually making the walking together time shorter until your little dog can meet, get her treat, and move on.
The Social Dog Model Method
Enlist a social dog
Find an outgoing, confident dog to walk along with your dog. It is best if they already get along, but a meeting to establish comfort pre-walk is sufficient.
Watch and learn
Allow your model dog to greet other dogs and reward her for doing so. Don't worry too much about what your little dog is doing, but don't let anyone approach or force her at this stage.
Reward participation
At some point as you are meeting dogs your little dog will become more curious about the treats the other dog is getting than worried about the strange dog they are meeting. As soon as your dog shows any positive curiosity, reward her.
Meetings mean treats
Keep practicing until your little dog expects a treat every time she meets another dog. Once she is not worried about the other dog, begin rewarding intermittently.
Treats for social behavior
Give treats only when your little dog displays active social behavior like the model dog; things like nose and butt sniffing, marking together, and standing together.
By Coral Drake
Published: 01/15/2018, edited: 01/08/2021
---