How to Train Your Basset Hound Dog to Hunt Birds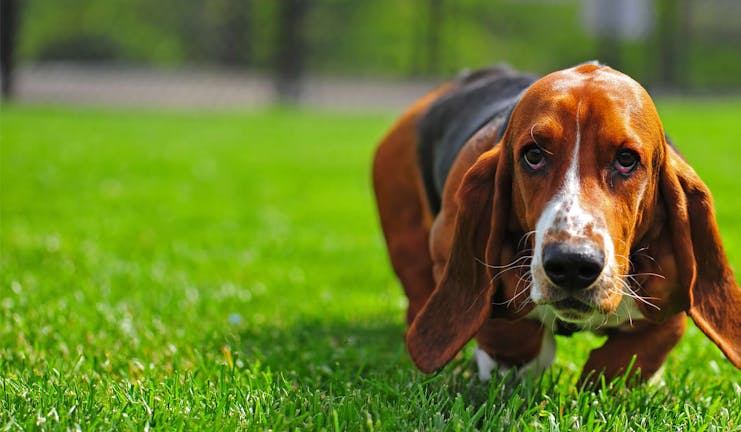 Introduction
They may be short and sweet-natured, but Basset Hounds are tenacious and full of energy. Throw in that they have the second strongest nose of all dogs and you've got yourself a fine hunting companion. You may have been hunting for the last few years, but adding a canine pal to your team is an effective way to improve results. Not only is it great to have some company and bond, but the Basset Hound can help sniff out birds and retrieve them. 
The only problem is, you can barely get your Basset Hound to 'sit' and 'roll over', let alone go out on the hunt. Training him to hunt birds will add an effective weapon to your hunting arsenal. The discipline it will instill in him will also make teaching him a range of other commands easier too. 
Top
Defining Tasks
Training any dog to hunt birds is challenging. Fortunately, a Basset Hound has plenty of the attributes you'd want in a hunting dog. They're devoted, energetic and eager to please. Training will consist of numerous obedience commands to develop an efficient working relationship. You'll also have to familiarize him with both his prey and the hunting environment in general. Find the right incentive though, and the training process will be far easier. Appealing to their strong sense of smell with food is often an effective means.
If your Basset Hound is a puppy he should be raring to go and receptive. You could see results in just a few weeks. If he's older and not quite the fast learner he once was, then you may need a while longer. It could take up to 6 months. Get this training right and you'll have a fantastic way to exercise him, plus you'll make a formidable hunting team.
Top
Getting Started
Before work can begin you'll need to get your hands on a whole host of things. Some decoy bird and scent spray will be required. You'll also need a place outside to practice regularly. A big yard or local fields should do the job.
You'll also need a generous supply of treats or his favorite food broken into small pieces. Then just set aside a few minutes each day for training.
Once you've got all of that, just bring patience and a positive attitude and training can begin!
Top
Obedience training
It's important you start training him as early as possible. The younger a Basset Hound is, the quicker they will learn. Start by teaching him the basics, such as 'sit' and 'down'. Then you can go on to teach him more challenging commands. This training will help you keep control when you're out hunting.
Encouragement
Make sure he gets plenty of praise and encouragement from you as he grows up. You need to give him treats whenever you see any promising signs. This can include sniffing and tracking birds, plus chasing after them.
Get him used to gunfire
Take him out with you on hunts. If he's never heard the sound of a gun shot before, you may find he bolts. You need to get him familiar with all the sounds he should expect to hear.
Practice silent walking
It's important that sometimes when you're out on walks you practice walking quietly and stealthily through fields. He needs to be able to concentrate and focus when the hunt is on. So, get him used to it early on.
Fetch
It's a fun and easy game to play with him. You can do it while you're on walks or when you're at home. This will help get him used to chasing after something, and just as importantly, bringing it back. Practice this every few days and retrieving will soon become habit.
Decoy excited
Get him excited by a decoy toy. That means playing tug of war with it for a few minutes every day. Be animated and really get him worked up. You want him eager to sniff it out and find it.
Setting up
Go out into the yard and make a scent trail with bird scent. This can be bought from a range of online stores. You need to get him used to using that powerful Basset Hound nose. So, make a trail through the yard and then hide the decoy with the smell on at the end.
Head out
Now secure him to a leash and head outside. Take him to the start of the scent trail and encourage him to start sniffing. You can point, talk in animated voice and praise him when he starts using his nose. If he needs help you can guide him towards the right direction.
Praise
Make sure he finds the decoy. Then give him a big treat and lots of praise. Really show him how happy you are. The more elated he feels the more eager he will be to play again. If he doesn't find anything at the end he'll quickly give up trying.
Practice
You need to practice this several times a week. Each time make it harder and the scent more spread out. You can slowly decrease how much you guide him as well. You want to make him effective and independent on his own.
The Lead By Example Method
Tug of war & fetch
These are two important games in a Basset Hound's hunting career. You need to spend time playing both at home with decoy birds. This will get him in the habit of catching hold of birds with his mouth, and retrieving them.
Go crazy
Whenever you see a bird to start with, you need to show him how it's done. You can point to it, get animated and even start chasing after it. Dogs mirror their owner's behavior. So, if he sees you excited by a bird he quickly will be too.
Practice stealth
Spend some time walking quietly through fields. Again you need to show him how it's done to start with. Don't talk to him and try to keep him focused by leading by example.
Reward
Make sure he always gets a tasty reward whenever he chases a bird. Early on, it doesn't matter if he actually catches one. You want to encourage any signs that he's doing the right thing. As soon as he stops getting rewards he'll start giving up.
Never punish him
It's important you never get angry with him when he fails to catch a bird or bring it back. Dogs don't respond well to fear. Instead, you need to make sure it is always a fun game.
By James Barra
Published: 12/19/2017, edited: 01/08/2021
---