How to Train Your Dog to Hunt Bobcats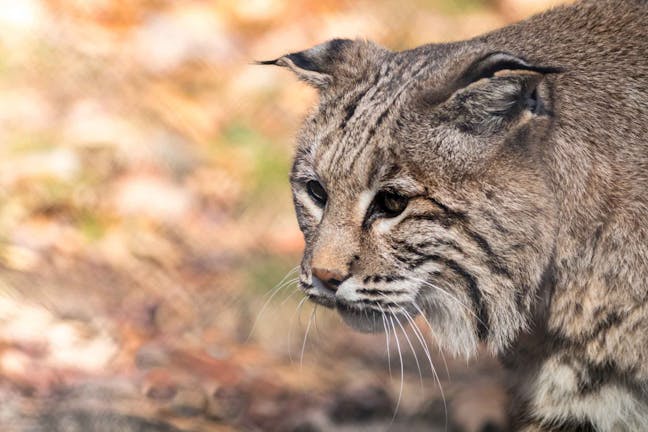 Introduction
Bobcats are medium sized wild cats that are about twice the size of a domestic cat. They are extremely shy and reclusive, and locating tracks, or bobcat scent is very difficult so hunting bobcats can be a rare occurrence. Often bobcats are located when dogs are on the track of cougars and the bobcat is located incidentally. Bobcats tend to prey on mice, rabbits, and other small wild game, but when they come into contact with human settlement they can pose a problem with pets and small livestock such as poultry, pigs, and sheep, especially in a hard year where natural prey is scarce or when a young, old, or sick bobcat becomes stressed or desperate. In these cases, locating, tracking, and treeing a bobcat with dogs may be necessary to destroy a problem animal or relocate it.
Top
Defining Tasks
When hunting bobcat, tracks are often located in the snow, or a bobcat scent trail may be located while dogs are out hunting other prey, such as cougar or bear. Locating bobcats is extremely difficult, as they tend to avoid human habitations and are extremely reclusive. Dogs trained to hunt bobcat need to locate a bobcats scent, trail the cat to locate it, flush it from hiding, and chase it to tree the animal, where the bobcat is held in the tree until handlers and hunters approach to shoot or tranquilize the bobcat. 
Training dogs to hunt bobcats requires dogs to have excellent off-leash obedience to commands, the ability to locate scent and follow a trail, and an interest in chasing bobcats. Hunting bobcats requires stamina, physical agility, and courage, and only dogs with aptitude for the job can be suitably trained to be successful. Breeds developed to hunt predators, predominantly hound breeds, are generally used for this type of hunting. Young dogs are often started learning to scent and trail cats, however only mature dogs are suitable for participating in predator hunts, including bobcats, as there is a risk to the dog from predators who may choose to fight back if cornered or desperate, and an inexperienced dog could be put in danger.
Top
Getting Started
Dogs being used to track bobcats usually are fitted with tracking collars, and/or collars with bells to help you locate your dog when they are tracking bobcat out of sight. A significant investment of time will be required in locating bobcat scents and trails as these are very rare animals, adept at hiding, and tend to avoid areas that are easily accessible to hunters. Bobcat scent can be purchased commercially to use for training your dog to track bobcats and the use of feral barn cats in cages is a common part of the training process to motivate dogs to get excited about tracking and treeing bobcats.
Top
The Experienced Team Method
Introduce to pack
Put a less experienced dog that has had some prior work scenting bobcat trails with a team of experienced dogs. Allow dogs to interact and socialize prior to hunting.
Use tracking devices
Ensure inexperienced dogs have tracking devices in case they become separated from experienced bobcat hunting dogs.
Track
Take your team out and locate an actual, or created, bobcat trail. Allow the inexperienced dog to hunt with the pack.
Command and direct
Provide commands to stay on trail, or recall the pack so the inexperienced dog is exposed to commands and responds with the rest of the pack.
Locate quarry
Allow your dog to experience a treed feral cat in a cage or an actual treed bobcat with the protection and experience of the seasoned dog pack. After several experiences, your dog will learn to hunt and respond with the experienced dogs.
Get scent
Purchase high quality bobcat scent. Apply the scent to a drag cloth or a hide. Wear gloves and rubber boots to minimize human scent on the trail.
Create a trail
Starting at a tree, apply scent to the base and up trunk of tree to simulate a bobcat scent trail on the tree. Create a trail back to the beginning of the trail you will set your dog(s) on.
Set quarry
Put a caged feral cat in the tree, low enough for dogs to see and get excited about, but high enough to protect the cat. Alternatively, put a scent-drenched hide in the tree.
Trail
Set dogs loose on the trail. Direct and call dogs back to the scent trail as needed. Encourage the dogs to follow the scent trail to the tree. When at the tree, encourage treeing behavior by getting excited about the hide or caged cat.
Increase complexity
Practice making trials more complex. Start making trails more catlike. Instead of creating a scent trail by dragging a scented object, put scent on a rag on the bottom of a cane or stick and make "footprints" like a cat would.
The Track in the Snow Method
Locate tracks
Bobcat trails are often located by the distinctive tracks they make in the snow. Locate a set of bobcat tracks in the snow to act as a scent trail.
Follow tracks
Take the lead, following the bobcat tracks and encouraging your dogs to follow along and range out in front of you.
Redirect
If your dogs leave the bobcat trail, recall and encourage them along the trail.
Tree cat
If the trail ends up leading your dogs to locate and flush a bobcat, give recall commands to keep inexperienced dogs safe. Allow more experienced dogs to tree the bobcat and inexperienced dogs to join them after the cat is treed.
Reward with play
If a bobcat is not located and treed, continue practicing following tracks. Encourage your dogs and instill excitement to follow the bobcat track. Reward dogs by playing with a toy or with high value treats at the end of the trail.
By Laurie Haggart
Published: 11/17/2017, edited: 01/08/2021
---