How to Train Your Dog to Hunt Cougar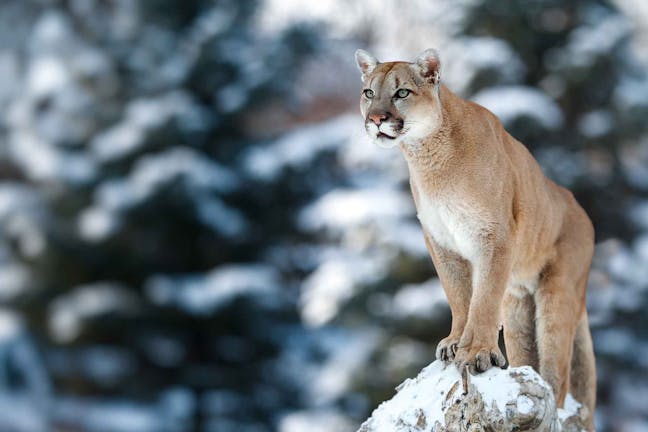 Introduction
Mountain lions, also referred to as cougars, can pose a hazard in populated areas and ranch and farming areas where they prey on pets and livestock and can pose a direct threat to hikers, hunters, and other people who unexpectedly come into their territory. 
A cougar can range in size from 65 pounds for a small female to 220 pounds for a large male and, typical of cats, they are agile, accomplished hunters with lightning reflexes, strength, and formidable teeth and claws they can use as weapons. Cougars tend to be solitary and shy away from civilization, but when stressed, sick, confused, and/or hungry they have been known to attack livestock as large as horses and cattle and to pose a danger to pets and people. For this reason, hunting cougars with dogs specialized to track and tree the big cats is sometimes necessary to either kill a dangerous cougar or tranquilize and relocate a cat that could potentially cause a problem. 
Because of their size, strength, and skill, cougars are formidable prey and can pose a danger to dogs used to track and hunt them, and to hunters or handlers of cougar dogs. Specialized training to mitigate risks and successfully tree a cougar without injury to dogs is required.
Top
Defining Tasks
Cougar hunting requires a dog with the physical and mental ability for the job. Cougars are very dangerous quarry, and dogs with physical ability, obedience, mental aptitude, courage, and ability to work as a team member are required. Breeds such as Rhodesian ridgebacks, coonhounds, and Argentine Dogos are commonly used to track and tree cougars. 
Hunting cougars is usually accomplished with teams of dogs that work together to locate cougar scent, track and locate the cougar, and then chase the cougar, sometimes over long stretches, until the cougar takes to a tree to escape the pack. Handlers can then move in and shoot or tranquilize the cougar as required. Dogs used for hunting cougar need to be in excellent physical shape, learn to work as part of a pack, and have excellent obedience and off-leash control. Dogs can be started early, training to scent at about 6 months of age, but much more maturity will be required before training a dog to scent, track and hunt actual cougars as part of a team.
Top
Getting Started
Hunting cougars may require the ability to transport a team of dogs, that are used to working together and well socialized with each other,  over long distances.  An off-road vehicle with crates for transporting dogs is used. Dogs used for hunting cougar often are equipped with tracking collars, as they may need to range far from their handlers, tracking, and chasing cougars. A locator collar allows handlers to locate the dogs when they are out of sight and hearing range. The use of cougar scent to develop the dog's cougar tracking abilities will be required. Dogs being trained for cougar hunting should have excellent off-leash recall so that handlers can call them back from dangerous situations, or to protect the cougar if the cougar is being preserved for relocation. Using feral barn cats for training dogs and protecting these cats with a secure cage is useful in simulating cougar hunting.  
Top
The Experienced Team Method
Socialize with pack
Put a more inexperienced dog that has had some prior work scenting cougar trails with a team of experienced cougar dogs. Allow dogs to interact and socialize prior to hunting.
Use tracking collar
Ensure inexperienced dogs have tracking devices in case they become separated from experienced cougar dogs.
Find trail
Take your team out and locate an actual or created cougar trail. Allow the inexperienced dog to hunt with the pack.
Practice commands
Provide commands to stay on trail or recall the pack, so the inexperienced dog is exposed to commands and responds with the rest of the pack.
Expose to quarry
Allow your dog to experience a treed feral cat in a cage, or an actual treed cougar with the protection and experience of the experienced cougar dog pack. After several experiences, your dog will learn to hunt and respond with the experienced dogs.
Get scent ready
Purchase high quality cougar scent. Apply the cougar scent to a drag cloth or a cougar hide. Wear gloves and rubber boots to minimize human scent on the trail.
Create trail
Starting at a tree, apply scent to the base, and up trunk of tree to simulate a cougar scent trail on the tree. Create a trail back to beginning of the trail you will set your dog(s) on.
Set quarry
Put a caged feral cat in the tree, low enough for dogs to see and get excited about, but high enough to protect the cat, or put the scent-drenched hide in the tree.
Follow trail
Set dogs loose on the trail. Direct and call dogs back to the trail as required. Encourage the dogs to follow the scent trail to the tree. When at the tree, encourage treeing behavior by generating excitement about the hide or caged cat.
Increase complexity
Practice making trials more complex. Start making trails more catlike. Cats do not drag their bodies, so instead of creating a scent trail by dragging a scented object, put scent on a rag on bottom of a cane or stick and make "footprints" like a cat would for your dog(s) to follow.
The Track in the Snow Method
Locate tracks
Cougars make distinctive tracks in the snow. Locate a set of cougar tracks in the snow to act as a scent trail.
Follow tracks
Take the lead yourself; follow the track, encouraging your dogs to follow alongand range out in front.
Recall when neccessary
If your dogs leave the cougar trail, recall them and encourage them along the trail.
Tree cougar if located
If trail ends up locating, and flushing a cougar, give dogs recall commands to keep inexperienced dogs safe. Allow experienced dogs to tree the cougar and inexperienced dogs to join them after the cat is treed, for their safety.
Reward with play
If a cat is not located and treed, continue practicing with following tracks. Encourage the dog(s) and get them engaged and excited about the trail. Reward dogs with play with a toy or high value treats at the end of the trail to provide motivation.
By Laurie Haggart
Published: 11/16/2017, edited: 01/08/2021
---