How to Train Your Dog to Hunt Raccoons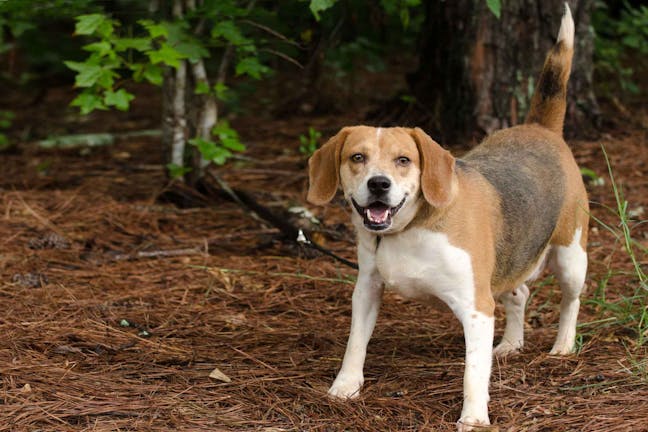 Introduction
Raccoons are one of those wild animals that have become well adapted to cohabitating in populated human areas, and this creates problems. Raccoons often take up residence in houses or barns where they damage structures, they prey on small pets and livestock such as chickens, and they carry several nasty zoonotic diseases including giardiasis, salmonella, leptospirosis, and sometimes even rabies, that can cause serious health problems to people, pets, and livestock. Raccoons also are prone to overpopulating, resulting in disease and starvation when populations get out of control. Hunting raccoons to control populations and remove pests from populated areas is often necessary. Because this has been a problem for many generations, dogs that are especially talented at tracking chasing and treeing raccoons have been developed. Although just about any dog with a hunting instinct can be trained to hunt raccoons breeds, like the Bluetick, Redbone, English, and other varieties of Coonhounds are especially adept to the task.
Top
Defining Tasks
Very young dogs are started learning how to scent raccoons; puppies as young as 5-8 weeks can be taken out and given access to raccoon scent to track, although you will not want to allow such a young dog access to a live animal where the dog could be injured. Scent trails should involve varied terrain, and your dog should learn to look up trees for quarry as this is where a raccoon will retreat to escape hunting dogs. Hunting raccoons is often done with a pack of dogs, and training a pack, or accessing someone with other dogs to work with, is common. You will want to train your raccoon hunting dog to locate raccoons by scent, not by sight, as coming across scent trails is much more common--raccoons are nocturnal and can be reclusive and difficult to find visually. Although verbal correction when following scent trails may be necessary to keep your dog on task, you should avoid punishment, as this is discouraging and confusing for the dog. While training dogs when they are young to get excited about following raccoons, and scent trails is common, hunting live animals and in packs is usually resolved for more mature animals, as an inexperienced dog can be injured or separated from the pack and become lost in open areas.
Top
Getting Started
Consult with experienced coonhound trainers with packs of experienced dogs to get advice and access to experienced dogs. You can train your dog to scent raccoons using a scented drag. Raccoon scent is available commercially, or an old raccoon pelt with scent applied can be used. Basic obedience commands and good off-leash commands are important for your dog's safety, and so you can recall your dog if they put themselves in a dangerous or hazardous situation. If you will be traveling to raccoon hunting sites, dogs may be transported in crates or kennels in off-road vehicles to hunting sites, and getting your dog used to loading up will be useful. Dogs should also be acclimatized to the sight and sounds of guns prior to the hunt so they do not become frightened and bolt when a gun is fired. Using tracking collars on hunting dogs is another safety measure many hunters employ to ensure that dogs do not get separated from pack members and handlers.
Top
Obtain scented item
Use a cloth drag, or an old raccoon hide covered in raccoon scent. Create a trail by dragging the scent item, starting on the trunk of a tree, and working backwards, keep initial trails relatively short. Hang the scented item back in the tree.
Introduce dog to trail
Take your dog to the scent trail and encourage him to follow.
Direct dog
Follow the trail with your dog, correcting him and calling him back to the trail as necessary.
Reward success
When you get to the tree and your dog accurately locates the scent on the tree, reward your dog with praise and play with a toy or provide high value treats.
Make more complex
Make trails longer, and more complex, over varied terrain. When your dog has become skilled at following created scent trails, you can start trying to locate actual scent trails in the wilderness.
The Trapped Raccoon Method
Trap raccoon
Catch a live raccoon and place in a rolling live trap, and introduce to your dog in the cage. Get your dog excited about the raccoon.
Chase trapped raccoon
Roll the cage and have your dog chase the rolling cage to establish excitement about the raccoon.
Release raccoon
Release the raccoon in a relatively open area so there will be a chase before the raccoon finds a tree to climb.
Tree raccoon
Allow your dog to chase and tree the live raccoon. If legal to do so, shoot the raccoon so your dog has the experience of a raccoon kill.
Start locating raccoons
Once your dog is excited about the raccoon and has become accustomed to the scent, start looking for live raccoons in the wild for your dog to scent and chase.
The Experienced Dogs Method
Socialize with pack
Introduce your young inexperienced dog to a pack of experienced raccoon hunting dogs. Allow them to socialize prior to the hunt.
Locate trail
Take pack out and allow experienced dogs to locate a scent trail.
Allow chase
Allow your inexperienced dog to hunt with the experienced dogs.
Direct
Recall and give your dog and the experienced dogs direction as necessary. Your young dog will follow the pack and learn to associate commands and behaviors and part of the pack.
Practice
Repeat often until your dog becomes confident hunting. Take your dog out on solo trips as he becomes more experienced to reinforce and practice direction and commands when hunting.
By Laurie Haggart
Published: 11/24/2017, edited: 01/08/2021
---