How to Train Your Dog to Hunt Small Game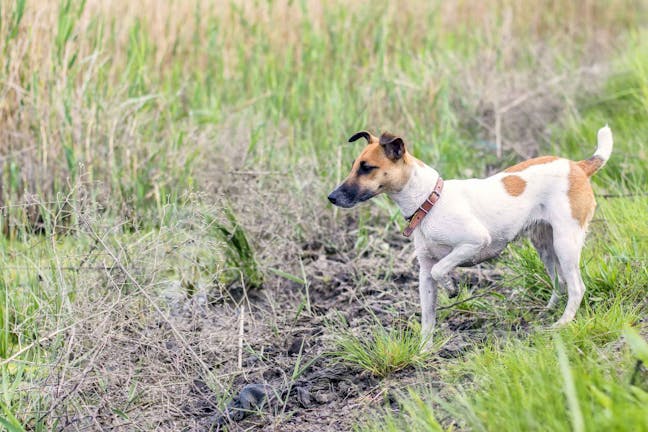 Introduction
You're out enjoying the great outdoors on the weekend, rifle in tow and dog bounding through the bushes. You hear a rustle to the left and quickly crouch down and take aim, but you can't quite get a visual. What you need is your canine companion to hunt the small game for you. Alternatively, if you do take a shot from a distance, you want him to leap into action to help with the hunt and retrieve the animal. For now, he's a ball of energy but without any discipline or direction. That will soon change.
Training him to hunt small game is useful in more ways than one. Not only will it increase the number of catches you get, but it will also instill discipline in him. That discipline can be used to teach him a range of other commands.
Top
Defining Tasks
Training your dog to hunt small game isn't all plain sailing. It requires rigorous training as well as a good degree of patience on your part. You'll need to start young, drilling obedience commands into him and familiarizing him with future prey. If you're anticipating a week or two of training, don't expect long-lasting results. If he's a puppy, he should be a fast learner and you may see results in just a month or two. If he's older you may have your work cut out for you. He'll probably have bad habits that need stamping out first. You could need up to 6 months before training proves successful.
Succeeding with this training will be more than worth it when you return after successful hunting trips. It will also be a fantastic way to bond with your favorite canine friend. Not to mention it's a fantastic way to channel his energy into something productive.
Top
Getting Started
Before you kick off your training regime you'll need a few things. Decoys and scent spray will be needed to familiarize him with small game. You'll also need his favorite food or treats to incentivize him throughout training.
You'll need to set aside 20 minutes every other day for training. Also, find a quiet space free from distractions during training. A large yard and local fields will do the job just fine.
Once you've got all of those things, just rustle up all the patience you can find and then you can get to work.
Top
Breed
Training should start from day one and the breed you choose will make all the difference to your future success. Opt for breeds well known for the right temperament and characteristics. Retrievers and Springer spaniels are sensible choices.
Obedience commands
Start training as early as possible. Teach him to 'sit', 'wait', 'stay' and any other commands that will be useful. The earlier you discipline him, the better behaved he'll be when you take him out to hunt.
Decoys
Introduce him to decoys of the game he will later be hunting. Play fetch with him to get him used to chasing and retrieving. Tug of war is also a good game to play, as it will get him excited and worked up by the sight of game.
Exposure
Before you head out for real, expose him to the sounds and sights he's likely to hear and see. Get him used to hearing the sound of gun shots for example, you don't want him to get scared and run a mile when there's real game on the line.
Positive reinforcement
Through out his early life and training, always use food, treats and toys to reward the right behavior. You need to encourage all the behaviors you want to see from an early stage, then he'll be more likely to repeat it when the time comes.
Decoys
Each day, spend a few minutes getting him excited by decoy toys. When you're playing with him, talk in an animated voice and really make it a play time he looks forward to. Also, spray the toy with decoy smell so he catches on to their scent when you head out for real.
Head out
Now take him out for a real hunting trip. Walk slowly through fields, keeping an eye out for prey. Also encourage him to be quiet and follow your lead so don't get him overly excited at this point.
Lead by example
When you do see small game, stop and point at it. Really try and get him to pay attention to the prey. He may at this point naturally chase after it. If he's got the hunting instinct and he's been playing with the decoys lots, then this may happen.
Charge
If he doesn't run after the prey on his own, show him how it's done. You may look like a crazy person, but dogs often mirror their owners behavior, so this will give him the encouragement he needs. Shout as you run as well to really work him up. You need to do this every time you see small game to start with until he chases them on his own.
Reward
You must make sure you reward him every time he catches anything. To start with you should also give him treats even when he chases but doesn't succeed. You want to reinforce any encouraging signs to start with.
Scent spray
Get scent spray of the small game he'll be hunting and put it on a number of his toys. Then spend some time each day playing with toys and getting him excited by the sight and smell of them.
Yard
After a week or so, head into the yard and start hiding his toys around the yard. Then use some more of the scent spray to create a trail. You're going to use this is a practice hunting ground and teach him to sniff out small game.
Start sniffing
Take him outside on a leash and encourage him to find the scent trail. He'll probably find it all on his own if he's been playing with them anyway. Walk with him and talk in an upbeat way to show him he's doing the right thing.
Reward
Give him the odd treat as he goes along following the scent trail. Then when he finds the toy, give him loads of verbal praise and another tasty treat. Really shower him in attention so he'll be eager to do it again. Practice this every other day for the next week.
Up the stakes
Now he's ready to hunt small game for real. When hunting, stay quiet and encourage him to sniff out his prey like you did in the yard. Use treats to motivate him and make sure he gets a big reward whenever he chases or catches anything. He'll soon be naturally sniffing out small game without you having to give him any encouragement at all.
By James Barra
Published: 11/16/2017, edited: 01/08/2021
---