How to Train Your Dog to Hunt Turkey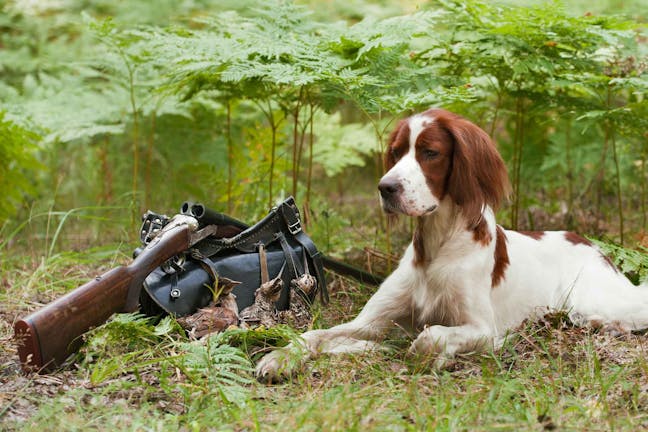 Introduction
Going out in the field hunting wild turkey with your pup can be a fun and rewarding experience for both of you. However, no dog automatically knows how to hunt, though some are better suited to hunting than others. Training your dog to hunt, indicate his find, and flush out the turkeys is going to take a few months and is best started while your pup is still quite young. You may be able to teach an older adult dog to hunt, but it can be very hard and is not always successful.
Once your pup has been fully trained to hunt turkey, he will be ready to hit the ground running each time you take him out during the season. He won't stop until he finds a flock of turkeys, barks to let you know he has done so, and flushes them out for you to bag. Sounds simple enough, right? Well by the time you get done training your pup, it will be. 
Top
Defining Tasks
Hunting birds on the ground takes a lot of practice. Your pup will learn how to find the turkeys, bark to let you know he has done so, and at the same time run amok in the flock to flush them out. Since the birds will scatter in all directions, this will give you the best chance of getting your next free-range Thanksgiving turkey.
To get him used to hunting with you, be sure to take him for walks in the woods and fields all year round. You can let him run off-leash, but every five minutes or so call him back in, give him a treat, and let him roam again. If he is tracking a scent, it might take him a moment. In time, your pup will gain a sense of timing for your calls and start coming back on his own. This is an important part of training your pup to hunt any type of game bird or waterfowl. 
Top
Getting Started
You can start training your pup to hunt turkey as soon as he has mastered the basics, including 'come', 'sit', 'stay', 'down', and be trained to walk on or off the leash. If you have not worked on training your dog to NOT be gun shy, be sure to prepare your pup to ignore the loud bang when you shoot at your quarry. You will also need a few training supplies, including:
Treats

Leash

Decoys

Turkey scent

Hunting vest

Training space

Along with all of this, you need plenty of time to work with your pup and patience while he learns to hunt turkey with you. Even after your pup seems to have mastered this skill, you should always spend time in the off-season keeping him on his toes and ready to hunt. 
Top
Fresh turkey
For this step, you need a turkey wing or drumstick. Let him sniff at it, bite it, and then praise him when he puts the whole piece in his mouth.
Mark it
With your dog in his kennel or tied to your vehicle, use the piece of turkey on a long string to drag it through the grass and into the woods, creating a scent trail for your pup to follow. Leave the turkey at the end of your trail.
Find it
Turn your pup loose and let him follow the trail until he finds the piece of turkey. Praise him and give him a treat. Repeat this over several weeks until he never misses.
Teach the bark
Part of hunting turkey is for your dog to bark to let you know he has found his quarry. Take a piece of turkey on a long string and whirl it around you. Keep teasing your pup until he gets excited enough to start barking. When he does, be sure to praise him as this lets him know this is the reaction you want. Not only does his barking let you know what's going on, it will also cause the flock of turkeys to scatter, making them easier to shoot.
It's all about practice
The rest is all about repeat training, keep practicing both the bark training and the scent training until hunting season comes along. You should find your pup now has no problem finding and flushing out wild turkeys for you all season long.
The right dog for the job
There are several different breeds that are best-suited to hunting turkeys with you, including the Boykin Spaniel and the Appalachian turkey dog. A good mixed pointer/setter breed makes the perfect dog for the job.
Set aside time
Set aside daily training time, this is a tougher skill for your pup to master. Routine training sessions will make the training more successful. In fact, you should plan to continue training your dog all year long to maximize his skills and let him enjoy the fun of going on the hunt.
Smell this
Using a turkey wing, foot, feathers, or bottled scent, to introduce your pup to the scent and appearance of the turkey (you can create a tail plume out of feathers for him to use as a visual reference). This will help him learn to track birds by their tracks on the ground, by their airborne scent, or visually.
Tease to bark
Since you need your pup to bark at the turkeys to flush them out and let you know he has found them, you must train him to do so. Use the wing or foot to tease your dog to bark by swing it around in front of him.
This is the sound of silence
You need to teach your dog to sit in silence with you while you are calling the turkeys into range. The way to do this is to make him sit or lay in silence for a few seconds each day, extending the time until he can remain quiet and motionless for up to 20 minutes or so. The combination of these steps will help you enjoy more time with your pup and more successful turkey hunts every year.
Time in the woods
Spend as much of the summer months as you can out in the woods wandering around the area you plan to hunt in with your dog. Take long hikes, letting him burn off some of that extra energy. Then find somewhere quiet and shady to flop down on the ground for a rest. Call your dog over and make him sit or lay down quietly. This is a skill he will need when you go out hunting.
Cue the distraction
Once he learns to remain quietly in place, add a distraction in the form of a turkey call. Each time you use it and he remains quietly in place, be sure to reward him with praise and a treat. Repeat until both of you are comfortable.
Give him the scent
Using a turkey foot or wing, let your dog get a sense of what he is looking for. Let him go and start searching around for the scent.
When he finds a flock
When your pup comes across a flock of turkeys and scatters them, make him come back to you. When he returns, heap on the praise and give him a treat. Repeat this as often as you can to reinforce the training.
Keep it up
The rest is all about practice, practice, practice, even during the summer months when the birds are elsewhere you can continue training him using a piece of turkey or a scented training dummy. Both of you are going to busy during the summer, but that massive turkey sitting in the freezer will be worth all of the hard work.
By PB Getz
Published: 11/24/2017, edited: 01/08/2021
---