How to Train Your Chihuahua Dog to Jump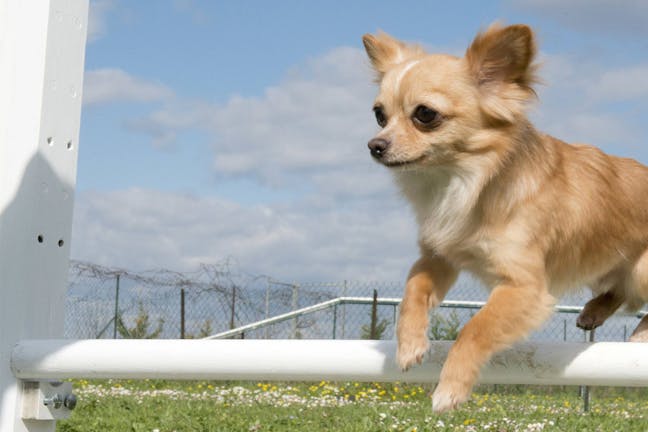 Introduction
He's the cutest little ball of fur. Chihuahuas are a hugely popular dog breed and it isn't hard to see why. They're quick, alert, brave and devoted. You've quickly fallen in love with yours. Nobody gives better cuddles than your little Chihuahua. However, he's not so hot on the party tricks. You regularly have guests over and you want to upgrade his entertainment value. You could get him to roll over, but people will be more impressed by the smallest dog in the world jumping on command. 
Training him to jump won't just be a neat party trick. It also provides great bonding time for you both. This type of training is a great place to start before teaching him a range of other commands too. Plus, although he's small, he's still got lots of energy. Teaching him to jump is a sure way to help him blow off steam.
Top
Defining Tasks
Training a Chihuahua to jump is definitely possible. He may not be able to jump over anything high, but he can definitely still jump. The struggle will come with initially conveying to him what you want him to do. Once you've jumped that hurdle he'll quickly catch on. To help him along the way you'll need to find the right incentive. Chihuahuas, like most dogs, respond well to the promise of food and toys. So, they will play a key role during training.
If he's a puppy he should be particularly brave and receptive. This means you could see results in just a few days. If he's older and not quite the acrobat he once was, then you may need up to 10 days to yield consistent results. Succeed with this training though, and you'll have guests giggling and the building blocks in place to teach him other tricks.
Top
Getting Started
Before you can start work you'll need to gather a few things. Find a stick or a small bar you can use to encourage him to jump over. Don't use anything that could hurt him though, so nothing sharp.
Then stock up on his favorite food or treats. The more he loves it the harder he will be willing to work for it. You'll also need to set aside a few minutes each day for training. Try and practice in a room away from anything that might get broken.
Once you've got all of that you just need an optimistic attitude and then training can begin!
Top
Setting up
Take him into a quiet room and get down on your knees. Then hold a treat out directly above his nose. Don't let him get to the treat but make sure he knows there's one on the menu.
'Jump'
Issue a 'jump' command in a playful voice. You can use any word or phrase you like. Just make sure you give it with a playful voice. Chihuahuas learn quicker if they think training is all a big game.
Tempt him
Slightly lift your hand up above his face to encourage him to jump. Don't make it too difficult for him, otherwise he'll quickly give up. You can point and talk in an animated voice to really encourage him to get off the ground.
Reward
As soon as he shows any sign of jumping, make sure you give him the reward. Give it to him within 3 seconds otherwise he might not associate the command with the behavior. At this point you want to reward any encouraging signs.
Make it harder
Over the next few days, hold your hand higher and higher to encourage him to jump further. Make sure he always gets a treat afterwards though. Once he's got the hang of it you can just use the verbal command and gradually cut out the treats.
'Sit'
First, instruct him to 'sit'. Then get down on your knees so you're right in front of him. You're going to let him use your knee as the platform to jump from. If he's sat down it will be more natural to jump up from your knee.
Hold the treat up
Now hold the treat at your chest height. He won't be able to get to it from the floor, but he will soon figure out that if he jumps up from your knee he'll be able to reach it.
'Jump'
At the same time, issue a 'jump' command in a playful voice. You really want this to feel like one big game so keep it as lighthearted as you can. At this point, you can also pat your knee gently and point to it to encourage him to take the leap of faith.
Reward
This first hurdle will be the biggest so be patient, it may take him a while to figure out that he needs to use your knee. As soon as he does though, make sure you give him the treat and lots of verbal praise.
Lose the treats
Practice this for several days. You can change up the knees to make sure he's confident with both. Then you can gradually cut out the treats and just rely on the verbal command.
Head outside
Take him outside into the yard. Make sure you have a bar or a stick with you. You're going to teach him how to jump over an object. Before you know it, you'll be building him an obstacle course. Also, make sure you have some treats in tow.
On the ground
Hold the bar in front of you on the ground. Then hold out a treat in front of his nose. Now lead him over the bar. At this point he will barely have to jump over it, but that's fine, you'll build up the height gradually.
Reward
Once he's crossed over the bar give him the treat and plenty of praise. Really show him how happy you are with him. The better he feels the more likely he'll be to do it again. So, don't hold back on the delicious treats.
Increase the height
Over the next few days, gradually increase the distance you hold the bar at. He's a Chihuahua so he's small--it's important you don't make him jump too high. If you can use a soft bar or stick, that will help prevent injury.
Mix it up
Once he's confident jumping over the bar you can change things up. You can set up a mini obstacle course with a number of bars to jump over. Then hold a treat out and run alongside the obstacles to encourage him to jump over them all. Just remember to keep giving him tasty rewards at the end and he'll continue to jump for you.
By James Barra
Published: 12/13/2017, edited: 01/08/2021
---