How to Train Your Older Dog to Jump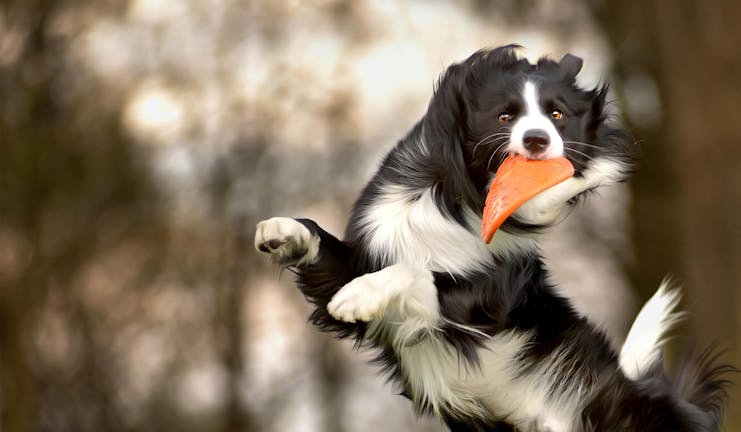 Introduction
In his youth, he charged around causing trouble and winding you up. He'd get the kids worked up before bed time, he'd distract your partner when you needed him to do a job. As your dog has gotten older though, he's become considerably more docile. The problem is, you have recently moved house and now there are a lot of old steps and ledges that he needs to jump over to get around. He might be old, but he's too big and heavy for you to lift him over everything. 
Training him to jump will allow him to get around easily. This will increase his territory and freedom, making him a happier dog. Plus, jumping is also a great way to keep his bones and muscles strong and lean. A jumping dog is a happy dog! 
Top
Defining Tasks
Training a normal dog to jump comes with its challenges. However, teaching an older dog to jump can be even harder. This is because they lack the energy of their youth and their eagerness to learn. Fortunately, even older dogs have a weak point spot, and that usually comes in the form of food. You will need to use a tasty incentive to get him jumping to your tune. You will have to gradually build up his jumping confidence using soft obstacles. The trick is to make training into one big game. This is how dogs learn best.
If he's still relatively receptive, you could see results in just a few days. If he's stubborn and not the acrobat he once was, then you may need a couple of weeks. Succeed and you'll keep him fit and healthy, plus you'll get guests giggling when he's performing the high jump for them.
Top
Getting Started
Before you start training, you will need to gather a few bits. Get some sticks, low chairs, and anything else you can think of for him to jump over. Make sure they aren't too hard or sharp though. You don't want to injure him.
Also, stock up on tasty treats or break his favorite food into small pieces. Set aside a few minutes each day for training and practice outside where TVs won't get broken.
Apart from that, just bring patience and a positive attitude, then work can begin!
Top
Setting up
Take your dog into a room or outside, then get on the ground and capture his attention with a treat. You're going to teach him to jump using something he already feels comfortable around, your leg.
Lead him
Sit on the floor with your legs outstretched, then lead him across your legs with a treat in your hand. At this point he probably won't need to jump at all, he will simply step over.
Reward
As soon as he's stepped over your legs, hand over a treat and shower him in praise. Make sure he gets the treat within 3 seconds of jumping over your legs, otherwise he won't associate the reward with the behavior.
Increase the height
Next time, hold your legs a little higher off the ground and lead him across again. At this point he will need to start jumping. Again, reward him when he successfully jumps over. Gradually increase the height each day until he's comfortable leaping up into the air.
Phase out the treats
You can start using other obstacles apart from your legs. A simple stick will do the job. Just lead him across with a treat again. Once he's got the hang of it, you can slowly cut out the treats. Then just use your hand to guide him over an obstacle.
'Sit'
The first thing to do is have him sit in front of you. He will then be in a natural position to jump up. You may need to hold a treat in front of him to get him to sit to start with.
'Jump'
Issue a 'jump' command in a playful voice. You can use any word or phrase you like. Dogs can learn hundreds of different commands.
Lead him
As you give the command, lift the treat above his head, encouraging him to jump up for it. Be animated and playful, you want him to think this is just a big game.
Reward
Give him the reward as soon as he tries to jump. At the beginning you want to encourage any promising signs that he's understanding what you mean. If you don't give him the treat because he didn't jump high enough, he will quickly give up trying altogether.
Increase the height
Practice for a few minutes each day, but increase the height you make him jump each time. As with anything, practice makes perfect. Just continue to reward him each time. Then when he's fully confident, you can slowly cut out the treats.
The Obstacle Course Method
Set up
Head out into the yard and set up an obstacle course. Be creative and build one with items lying around. You can use sticks, chairs and anything else that's handy. Alternatively, you can buy mini obstacles online.
Starting line
Take him to the starting line. Now hold out a treat in front of his face. You're going to lead him over the first jump. Walk slowly to start with and walk alongside the obstacle. Also, make sure the first obstacle is low.
Reward
As soon as he jumps over the first obstacle, hand over the treat and give him lots of praise. The happier he feels, the more eager he will be to jump again. Then go back and practice the first jump a few more times.
Lead by example
If he doesn't make the first jump, you need to show him how it is done. Dogs mirror their owners' behaviors, so it's up to you to show him the way. As you jump over, be animated and hold the treat behind you so he chases and follows.
Make it harder
Once he's mastered the first jump, move onto the second, then the third and so on. Run alongside him, holding a treat to motivate him. Once he's confident and enjoying it, you can stop giving him treats after every obstacle and just give him one at the end of the course.
By James Barra
Published: 01/15/2018, edited: 01/08/2021
---