How to Train Your Dog to Know His Name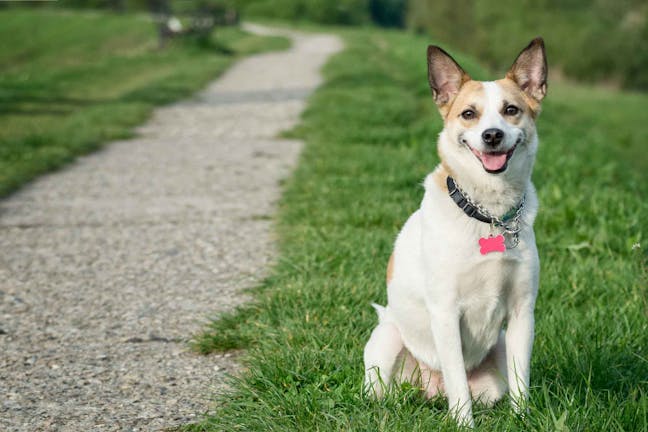 Introduction
Learning your name might be something you do not think about because you have had your name for as long as you can remember. When you bring a new puppy home or an older dog whose old name you do not know, you might find yourself wondering if he knows you are talking to him. The name you give him is how will he recognize your communications with him. A name is an attention grabber. If your pup is doing something he should not be doing, you can say his name to get his attention and then have time to redirect him. If you need your dog to come to you, you will use his name. If you have adopted a dog whose name you do not particularly like or perhaps even know, you will need a new name and to teach your dog to recognize his new name. His name will become his identity and the word you use to let him know you need and love him. 
Top
Defining Tasks
Training your dog to know his name, no matter his age, will become a matter of repetition. You will spend time a lot of time with a new puppy training obedience commands as well as fun tricks. An older dog may know commands but may not know his new name. The trick you will need to help your dog understand is simply repetition and time. Teaching a puppy his name might be faster than changing an older adopted dog a new name because an older adopted dog may be used to a name you may not know. But with patience and commitment, he will learn his new name as well. Your dog's name will essentially become a command for him. 
Top
Getting Started
When training your dog his name, always have small treats on hand so you can reward him for recognizing the attention getter that is his name. Be prepared to repeat his name several times when you are together and before training sessions for any other commands. Put your dog in several different scenarios so he knows no matter what you are doing, that one word to get his attention will be used anywhere. 
Top
The With Excitement Method
Tone
With a happy tone in your voice, say your dog's name.
Reward
He will likely look at you more because of your tone rather than the word you've used. However, when he looks at you, give him a treat.
Repeat
Continue to use this tone and say his name often while he's doing tasks not related to training, such as while he's eating, resting, or playing.
Treat
Give him a treat each time he looks at you when you say his name.
Change tone
As he gets used to responding to his name when he hears it, change the tone and situation while using it. For example, use a more casual tone in a simple conversation with your dog. Each time he looks away from something and looks at you when you say his name, give him a treat. Include a more urgent tone so he knows his name will be used in those moments of urgency as well.
Training moments
Be sure to start each training session using your dog's name. Each time you need your dog's attention before a step or command in training, use his name. For training moments, save the treat for rewarding the training steps not for recognizing his name to avoid confusion.
Say 'yes'
Have treats handy and say your dog's name. Each time you say it, hold the treat up for your pup to see. When he looks at you after saying his name, say the word 'yes' and give him the treat. Repeat this several times a day in short sessions.
Get attention
When your dog is not paying attention to you, say his name. If he looks up, say 'yes' and give him a treat.
On a leash
Put your dog on a leash and begin walking. Say his name. If he responds by looking, give him a treat. If he doesn't look at you when he hears his name, gently tug on the leash to get his attention. Say his name again. When he looks at you after hearing his name, say 'yes' and give him a treat.
Play time
Play with your dog. Stop intermittently and say his name. If he stops to look at you, say 'yes' and give him a treat.
Quiet times
When your dog is quiet, resting but not sleeping, or playing alone such as chewing on a toy, say his name. If he looks at you, say 'yes' and give him a treat.
Bag of treats
With a bag or pocketful of treats, interact with your newly adopted dog.
Say his name
Every so often, say your dog's new name. When he acknowledges you, give him a treat and some verbal praise.
Move away
While playing, move away from your dog and say his name to ask him to come or follow. When he responds, give him a treat and say his name again to reaffirm his identity and acknowledgment.
Commands
Your new dog may already know some commands. Use basic commands such as sit, but use his name first. If he does the command, give him a treat and verbal praise using his name again.
Repeat
Repeat his name anytime you are talking to him. Look him in the eyes as you say his name. Do this several times. You'll know he recognizes his name once he can look at you when you say the name once.
By Stephanie Plummer
Published: 10/11/2017, edited: 01/08/2021
---