How to Leash Train a Great Pyrenees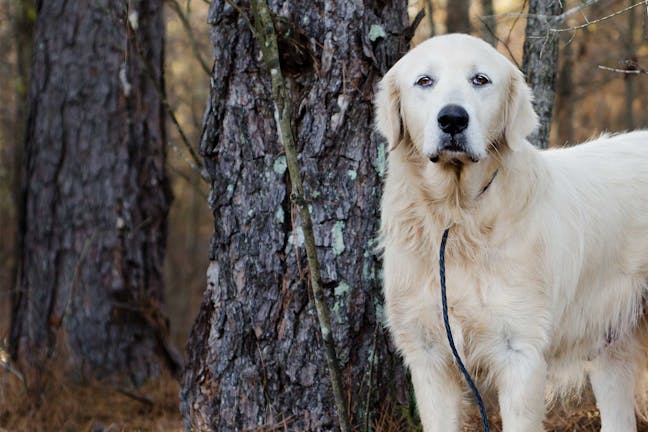 Introduction
Your Great Pyrenees is a big, fluffy, beautiful dog who was bred to protect. Great Pyrenees dogs protect anything and everything in their world from you to his surroundings to his home, even his toys. This can become challenging when you have your Great Pyrenees on a leash, and he wonders and worries if everything you pass is out to get you. Your Great Pyrenees is strong. If he is not large yet, he soon will be. Training him to walk with leash manners is imperative if you expect to take him on leash walks and have any control. You don't want your Great Pyrenees to pull you along on the leash or to become distracted and run from you during your walks. Teaching your Great Pyrenees leash manners will mean long, easy, and gentle walks where he is beside you and not pulling you along to show you the next greatest thing or to protect you from everything that passes by. Your beautiful Great Pyrenees will attract a lot of attention. Be sure he is leash trained, so he understands the rules when people walk up and ask to pet him.
Top
Defining Tasks
Leash training your Great Pyrenees will take a bit of time and patience, but it is imperative for proper obedience training for such a large breed. Having such a large dog pull on you while walking together can be quite scary. Training your Great Pyrenees leash manners will require leash walking together in areas where he is not distracted and can focus his attention on you and learning his task. You will need to be prepared to handle your dog should he become distracted and be prepared for him to become protective of you should someone approach the two of you while he his in training. Do not hesitate to ask people to give you space because you are training. You can train a Great Pyrenees leash manners. Just be cautious of being on the other end of a leash from a strong adult dog who can pull you along if you have no control.
Top
Getting Started
A Great Pyrenees works really well with a harness and a leash rather than just a leash. It is very easy for a large breed dog to pull its owner if he only has a leash attached to a collar around his neck. Alternatively, if you're tugging on his leash and his collar, you could injure his trachea and neck. A harness that has the leash attachment on the chest gives you more control should he try to pull away. You will also need lots of high-value treats for your walks together. Cheese, hot dogs, and beef jerky are options to take with you. Be prepared to give your Great Pyrenees lots of little treats along the way. Just because he's a large breed, you should know he will do just about anything for a tiny morsel of food. 
Top
The Clicker and Leash Method
Equipment
Be sure to start with an appropriate size leash and harness for your Great Pyrenees. Let your big guy sniff the equipment and get used to it. While he is acknowledging these items and after you place them on your dog, click and treat. Reward him from the start.
Leash slack
Once your Great Pyrenees is leashed and harnessed, stand beside him with the leash loose. Be sure to give the leash lots of slack, so he doesn't feel a pull on the leash.
Demeanor
As long as your Great Pyrenees is overly excited, ignore him. Once he calms down, use your clicker and a treat to reward his calm demeanor.
Commands
Give your Great Pyrenees a command you will use each time you will walk together. This command can be 'let's walk,' 'let's go,' or 'walk.' Once you use the command, walk forward. If your dog doesn't move forward with you, call him with enthusiasm. Once he moves, click and treat.
Walking
Walk with your big guy but keep your walks short and without distractions at first. If you cannot find areas that are distraction-free, start on a leash in your own yard just to teach basic leash manners at first. Be sure to keep treating your Great Pyrenees as he stays with you.
Redirecting
When your dog pulls or tugs on the leash or if he gets easily distracted, stop walking and wait for him to notice. Your pup should mirror your movements and stop as well. Once you have his attention and he has stopped, click and treat. If your dog pulls you along tugging at the leash, gently tug back to get his attention. You can also say his name and show him a treat. Either way, get his attention and make him stop to earn the click and treat.
Keep Practicing
Keep walking with your Great Pyrenees ensuring you have his attention at all times. He should stop when you stop and he should walk next to you without pulling on the leash when you are walking together. Be sure to keep encouraging good leash behaviors and manners with clicks and treats.
Leash and harness
Put your Great Pyrenees on an appropriate leash and harness. Also, prepare yourself with lots of small but tasty treats.
Walk
Take your big guy for a walk. Start slow but try to keep moving forward. You will need to keep your pup's attention with a treat at first, so he doesn't pull ahead of you from the start.
Treat
As you are walking, give your Great Pyrenees a treat. He will look for more treats to come, so be prepared to keep his attention with treats at the ready.
Stop
Every few yards, stop walking and stay still. Your dog may stop with your or he may keep walking past you. Wait until he stops if he doesn't stop right away. If he does stop with you, give him a treat. If he doesn't, he will once the leash becomes tight. Brace yourself and wait. When he stops, show him a treat and call him back to you.
Redirect
Your Great Pyrenees will pull on the leash when he's eager, excited, or distracted. You will need to use these stopped moments to remind him of the rules to give you his full attention while leashing walking. Any time your big guy pulls ahead, redirect with an immediate stop. Treat him once he comes back to you after stopping.
Walk more
After stopping and redirecting, begin your walk again, offering your Great Pyrenees a treat every few yards as long as he is not pulling at you or giving his attention to something besides you. Remember to redirect when you do not have his attention.
Keep control
If your Great Pyrenees becomes distracted often while on the leash, consider holding an enticing treat over his nose to keep his attention. You will need to give this to him every few yards and replace it, but with repetition, he will get this is to be his position while leash walking with you.
Distraction
Train your Great Pyrenees commands such as 'leave it' and 'wait' so you can use these commands on walks. While you are walking together, he will find bushes or trash he'd like to sniff, bunnies he might like to chase, and an eager demeanor to continue walking when you are paused. These commands will tell him what to do when he is tempted to pull you along to get to something of interest. Be sure to treat for following these commands as well.
Practice
Be sure to practice leash walks with your Great Pyrenees as often as you can and keep up the training with treats for as long as it takes to get your big guy to walk with your on a leash and know how to behave.
Introduce the leash
Get your Great Pyrenees used to wearing a leash. Show it to him, let him sniff it, and when you put it on him, give him a treat.
Tight leash
Create a tight leash by stepping away from your Great Pyrenees and stand still. Ask your dog to sit down and when he does, give him a treat for obeying and giving you his attention.
Toss a treat
Toss a treat behind your Great Pyrenees, enticing him to pull away from you. Your Great Pyrenees will likely pull on the tight leash to get to the treat. Allow him to once but then expect him to come back to you for more treats. If he does not return right away, offer him another treat.
Walk away
Begin walking in a different direction, taking the second treat with you. Your dog should want to follow you. Remember to keep the leash tight. He should catch up quickly on a tight leash.
Trick
Once your Great Pyrenees catches up to you, give him the treat and walk again. As you are walking, toss another treat behind him, teasing him in that direction. Loosen the leash and let him get the treat, but always call him back. This will teach him he can go away with your permission but is expected to recall when you ask him to.
Treat
Be sure to always give him a treat once he returns to your side and walks at your pace again.
Practice
Keep practicing with your Great Pyrenees. Over time, you can loosen the leash a bit more giving him more room and freedom. But continue to encourage, entice, and reward with treats.
By Stephanie Plummer
Published: 02/02/2018, edited: 01/08/2021
---