How to Train Your Small Dog to Like a Ball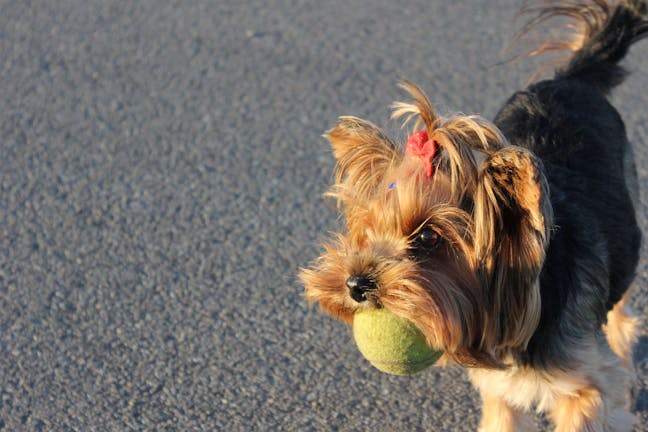 Introduction
He's your little bundle of joy. He's cute, cuddly and always there to say good morning when you come down the stairs for work each day. The family love him, friends love him and life would no longer be the same without your dog. He also never seems to be short of energy. You take him for a walk each day but he still spends his evenings tearing around the house. What you need is an effective way of tiring your little guy out, so he spends more time napping instead of charging around the kitchen while you try and cook. Teaching him to like a ball would do exactly that.
Because he's small, chasing after a ball will tire him out swiftly. It's the perfect daily exercise to incorporate into your daily walk. Not to mention, it means you can send the kids into the yard to play ball with him, so they all come back more docile and less argumentative.
Top
Defining Tasks
Fortunately, training any dog to like a ball is relatively straightforward. Small dogs are no exception. The trick is to make training feel like one big game. Dogs learn best when they are having fun. You will also need an effective incentive. As you can probably imagine, appealing to a dog's belly is often the fastest way to get him on board. You will need to introduce a number of ball-related games to get him excited.
If he's a puppy, he should eager to please and as energetic as they come. You could see results in just a few days. If he's older and not quite the keen athlete he once was, then you may need up to ten days. Succeed and you'll have the perfect way to keep him fit, lean and healthy. Small dogs can put on weight easily, but now you will have an effective way to help him lose it.
Top
Getting Started
Before you start training, you will need to get your hands on a few bits. A tennis ball and a soccer ball will be needed. Get any other balls you want him to start playing with too.
You will then need a decent supply of tasty treats, or you can break his favorite food into small pieces. You can train in a yard or local field, but try and avoid rooms with valuable items in them! Set aside 10 minutes for training each day.
Once you have all that, you just need some sneakers and then you are ready to get to work!
Top
Play time
Spend a few minutes each day getting him excited by a tennis ball. You can lay around with it in his bed and encourage him to play tug of war. You can also leave it in his bed so it smells like him. You want this ball to feel like his and for him to be worked up whenever he sees it.
Yard
Head out into the yard with your small bundle of joy, the ball and some tasty treats. You can talk in a high pitched voice and be animated as you head out there. This will all get him more worked up for the ball.
Throw
When you have his attention, throw the ball toward him. Don't throw it too hard and make sure it doesn't go so far he will quickly lose sight of it. Just over head height is ideal, or bouncing along the floor.
Encouragement
Once you have thrown it, if he doesn't automatically charge after it, you will need to encourage him. That means throwing your hands in the air and running towards it while you call him over. Dogs mirror their owners behavior, so you need to show him how it is done.
Reward
As soon as he gets the ball, you need to hand over a delicious treat. Make sure he gets it within three seconds of picking up the ball, otherwise he may not associate the action with the reward. Practice this every day and he'll soon love playing with balls.
Head outside
Go into the yard or a local field with your dog, the ball and a friend or family member. You're going to turn him soccer crazy. You don't necessarily need to use a soccer ball. Because he's little, a smaller ball may be less daunting.
Kick it to each other
Gently kick the ball towards each other. Don't kick it too hard, this may deter him from trying to chase it.
Encouragement
As you're kicking, encourage him to run and touch the ball. That means talking in an animated voice, calling his name and pointing at the ball. He will be confused for a while, but he will quickly catch on.
Reward
Every time he touches that ball, especially to start with, you need to give him a treat. You want to reward any promising signs that he is taking an interest in the ball. If he is always praised, he will soon start associating the ball with positive things.
Practice
Try and go out a few times a week to have a kick around. Each time, be excitable and try to get him involved. The more fun he has, the more he will enjoy playing with the ball. Once he's got the hang of it, you can slowly cut out the treats.
Preparation
Spend several minutes each day playing around with a ball at home. You can even play in his bed. Tug of war is a good game to get him excited and you can reward him with the odd treat as you play. Get animated and worked up, you want him to jump up whenever he sees the ball.
Hold back
Head into the yard with the ball and a friend or family member. One of you needs to hold him by the collar, while the other one plays with the ball in front of him. He may not have been that excited, but just by not letting him get to the ball, he will automatically be more interested.
Release
Once he's pulled for a couple of seconds, release him to charge after the ball. Shout encouragement and run with him to make him think everyone wants the ball. This will all make him want to play with it more.
Reward
When he does get it, you must make sure he gets a decent reward. The greater and tastier the reward, the more eager he will be to play again. You can also give him some verbal praise.
Consistency
You need to make this new ball game a habit. That means playing regularly. If you can get out every day or other day, this will quickly become a highlight of his day, where he gets a good run around and attention from his owner. Once you can see he loves playing with the ball, you can gradually phase out the treats.
By James Barra
Published: 01/11/2018, edited: 01/08/2021
---