How to Train Your Barn Dog to Long Down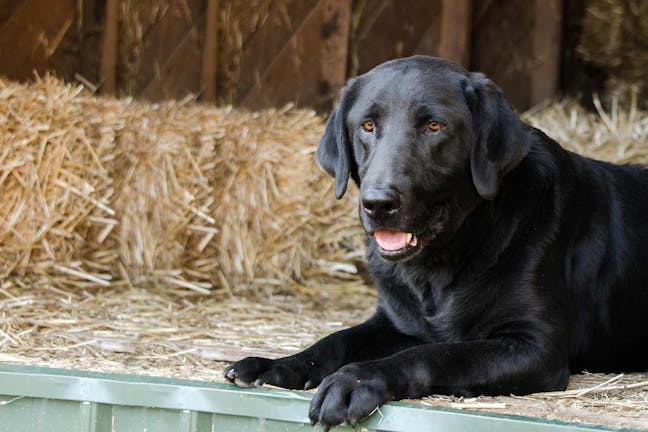 Introduction
If you have a barn on your property and no barn dog, you are missing out! Having a barn dog is a great way to keep out those nasty barn predators, both two and four-legged ones. However, just because you get a dog specifically to protect your barn, you still need to teach him the basic commands and make sure he will be safe around your livestock and that he won't bother them.
The long down command is not really much more than an extension of the standard down command--the big difference is that your barn pooch must learn how to remain in the down position for longer periods of time until you release him. Most dogs learn the down command as part of their basic training. Barn dogs also need to master the same commands, even though their day-to-day activities may be different than those of a house dog.
Top
Defining Tasks
Learning how to obey the long down command is very important for your pup. With him in the long down position, you have the advantage of knowing where he is and that he is safe when you are doing things like mucking out the barn or cleaning the tack. The command should be simple such as 'down' or 'lie down'. You will also need a release command such as 'all done' or 'let's go'. All of these will work, the big thing is to always use a frim "I am in command" voice and use the same command each time.
Failure to use the same command each time will only make your pooch confused. Not using a firm voice may have your pup wondering just exactly who is in charge. This is not a situation anyone wants to deal with. If you do, you may soon find your dog ignoring your commands as he won't see you as the alpha pack leader, a role you must occupy to control your pup. It could save him from serious injury or worse.
Top
Getting Started
Getting started is relatively easy, it's staying dedicated to the training and being willing to invest a significant amount of your time into the training that tends to be the hard part. When it comes to training supplies, there really isn't that much needed to train your dog the long down command. You will however need:
Treats: To entice and reward your pup for getting it right.

Leash: To keep him in check while working with him.

Bed or mat: A set place for your dog to learn the long down command.

Quiet: Yep, you guessed it, you need a nice quiet place to train in.

Patience: An endless supply is needed.

Time: Time to train your pup every day until he masters the command.

The biggest thing to remember is that training your pup to remain in the down position for long periods of time goes against his nature and may take longer than you would expect. Be patient, work with your pup on a daily basis and he will soon master this very important skill. 
Top
The Timing is Everything Method
Back from the walk
Take your pup for a walk on his leash, but this time when you get back to the house, leave his leash on and hook it to a rail or wall so that your pup cannot wander off.
Put his dog bed or mat down
Put your pup's dog bed or mat in front of him and go find something else to do for a while. But stay where you can see your pup and observe what he is doing. If your pup remains sitting or standing, simply ignore him. But, if he decides to lay down on his bed, throw him a treat and praise him with something like, "Good boy on your bed!".
Repeat the step
If your pup decides to get up after you have given him the treat, go back to ignoring him. Keep a very close eye on him and at the same moment you catch him starting to lie down on his bed, give the command again and reward him by tossing him a treat and giving him a lot of praise. Keep doing this until you run out of treats
Use the same command
No matter how long you need to keep working with your pup, always make sure you use the exact same command. For example, if you decide to use "Good boy on your bed", don't use "Go to bed" or "Go lay down" the next time. Consistency is the only way your pup is going to be able to match the command you give with the action you expect.
Head out to the barn
Now that your pup will remain on his bed in the house, it's time to take your pup and everything out to the barn. Repeat the same training steps in the barn. The big difference here is that there is a number of distractions your pup will have to learn to ignore once you put him in the down position. The rest is all about extending the amount of time you expect your pup to remain in this position.
Introduce the release command
Now that you have him trained to assume the 'down' position, the only thing left is to teach him the release command. Use anything you want such as "let's go" or "let up", or anything else you like, just remain consistent. When your pup gets up, give him another treat. From here out it is nothing more than rinse and repeat until he will stay in place no matter how long it takes until you give the release command.
Getting started
Call your dog's name and show him that you have one of his favorite treats in your hand.
Sniff time
Hold the treat out in front of you and let your pup get a good sniff of it.
Going down
Still holding the treat out in front of you, start slowly lowering it to the ground. Your pup should start following it down. As soon as his elbows and hocks hit the ground, give him lots of praise and the treat.
Add the cue
Once your pup consistently follows the treat into the down position, it's time to add in your command or cue word. You can use "down", "lie down", or just about anything you want as long as you remain consistent. Changing cue words will only confuse your pup and make it harder to train him. Give the command word as you lower the treat to the ground, this will help him connect the cue word with the action.
Keep it up
Continue repeating this training until your pup will obey the command without the need for a treat every time.
Make him stay
The only thing left is to teach him to stay down until you release him. With him in the down position, hold a treat above him and give him the 'up' or 'get up' command. If he waits until you give him the command, go ahead and give him the treat. If he tries to get up before being told to, give him the down command, let him settle for a couple of minutes and try again. Gradually increase the down time until your pup will remain in place until you release him.
The Leash Training Method
For this, you need a leash
Put your pup on a leash and put him in the 'sit' position. Then stand or kneel next to him.
Grab the leash
Grab your dog's leash gently and give your pup the 'down' command.
Guide him down
Using your pup's leash, give him the down command and gently tug on the leash to guide him down to the ground. At the same time as you give the 'down' command, take the palm of the other hand, place it between his shoulders and press down gently.
When he goes down
You may also have to lift his front legs out in front of him to convince him to lay down. When he does finally lay down, praise him and give him a treat.
Repeat and add the 'up' command
Continue working with your pup until he will lie down every time you give him the command. Then start extending the amount of time he has to lay there before you let him get up. Introduce the 'up' command and give him a treat when he does. The rest is all about repeating the training process until you can tell your pup to lie down, knowing that he will stay in place until you release him.
By PB Getz
Published: 12/06/2017, edited: 01/08/2021
---