How to Train Your Cocker Spaniel Dog to Not Bark at Bikers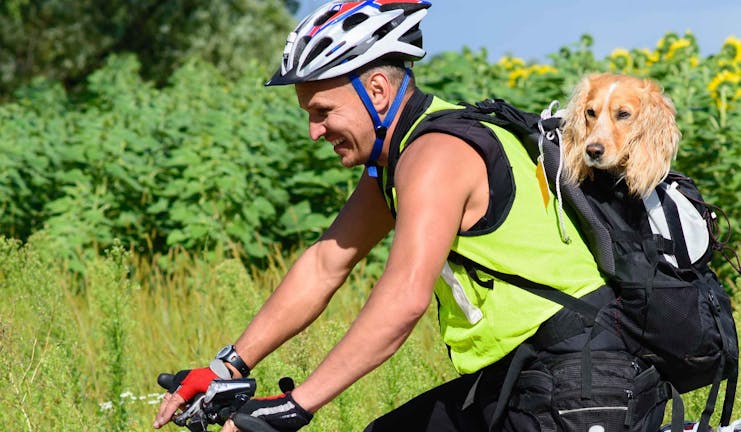 Introduction
Every time Sam takes his Cocker Spaniel, Trixie, for a walk around the neighborhood and she sees someone on a bike, Trixie goes ballistic and barks uncontrollably. This is not only embarrassing it is dangerous, as Trixie startles the bikers, who are unsure of her intentions. 
Why is Trixie barking at bikers and what can be done to correct her? Barking is a common issue with Cocker Spaniels, who are at heart, high-energy sporting dogs. Perhaps Trixie's prey drive is kicking in, perhaps she is trying to warn you of a perceived danger, she may be excited or anxious, or she may be just bored and think it's a game. After all, the bike leaves every time she barks--Trixie wins! Fortunately, there are several strategies Cocker Spaniel owners can use to get their pets to stop barking at bikers, which will make walks much more peaceful and safe for your biking neighbors.
Top
Defining Tasks
When you are out on a walk and encounter a biker, or if a biker rides by your home, you will want your Cocker Spaniel to react calmly and not bark, which could startle or frighten a cyclist, resulting in an accident. Strategies to prevent barking at bikers include teaching your dog to be quiet by putting barking on command first, teaching your dog an alternative behavior when confronted with a biker, and acclimatizing an excited or nervous dog to bikers, so that their barking behavior is no longer triggered. 
Ideally, you will train your Cocker Spaniel not to bark at bikers as soon as the behavior manifests, or when your dog is young to avoid the behavior becoming established. If barking at bikers has become a habit, training your dog not to bark at cyclists may take longer, but persistence will pay off.  Some Cocker Spaniels thrive on learning tricks, and putting barking on command or teaching an alternate behavior may be a great method for these dogs. Nervous dogs may just need more experience with bicycles to change their behavior.
Top
Getting Started
You will need to engage an assistant with a bicycle to train your dog not to bark at bicycles, as you do not want to frighten cyclists you randomly encounter with your barking Cocker Spaniel. Treats to reinforce desired behavior will also be required. Plan on spending some time working on teaching behaviors such as 'be quiet' or alternative behaviors, in addition to working with bicycles. Avoid yelling at or punishing your Cocker Spaniel for barking, as this tends to only add to his excitement and makes barking worse.
Top
Reinforce bark
Allow a trigger for barking to occur, and say "speak" when your dog starts barking. Let him bark a few times, then provide a treat. A good smelly treat held in front of his nose will cause him to stop barking to get the treat. Repeat until established.
Capture quiet
Find a quiet environment free of distractions. Give the 'speak' command, followed by the 'quiet' command. Do not raise your voice for the 'quiet' command. When your dog stops barking, wait a few seconds then give him the treat. If he continues barking, wait for him to stop barking, repeat the 'quiet' command and then reward.
Introduce bike
Have an assistant approach you outside with a bicycle and while you have your Cocker Spaniel on a leash.
Command 'quiet'
When he starts barking, command your dog 'quiet', then reward him for being quiet. If your dog continuous barking, wait until he stops and is quiet for a few seconds before repeating the 'quiet' command and rewarding. Repeat several times over a period of days until your Cocker Spaniel is responding to "quiet".
Practice and vary rewards
Continue to practice 'speak' and 'quiet' often in different circumstances with different stimuli so that you can use it whenever you encounter a cyclist. Provide variable rewards, treats or praise so your dog is always anticipating a possible treat reward.
The Alternative Behavior Method
Teach alternative behavior
Teach your dog to turn, sit and look at you. Give a command such as "look at me". Provide treats, and use a clicker if appropriate to establish the behavior in a quiet environment.
Practice with distractions
Take your dog outside on a leash, periodically provide the "look at me" command when distractions like kids, dogs, and squirrels appear, to ensure that your dog performs even when motivated to attend to something else.
Introudce bicycle
Have an assistant ride a bicycle several feet away from you and your dog while your dog is leashed. When your dog sees the bicycle approaching and gets excited, give the "look at me" command, preferably before your Cocker Spaniel starts barking.
Increase distance if needed
Reward when your dog complies. If your dog barks, repeat your "look at me" command, have your assistant increase their distance away until your dog responds to your command appropriately. Have your assistant bring the bicycle closer, as long as your dog responds to the 'look at me' command.
Practice
Continue practicing 'look at me' in the presence of bicycles and in other circumstances. Gradually replace treats with praise and affection for performing 'look at me'.
The Acclimatize to Bikes Method
Create positive association
Lean a bicycle against a building and put treats near it. Take your Cocker Spaniel over to the bike and let him retrieve treats.
Start movement
Have an assistant approach with the bicycle moving. Start by walking beside it, while it is not being ridden. If your dog will quietly tolerate the bike, provide reinforcement in the form of treats for quiet. If your Cocker Spaniel starts barking, stop and wait for quiet then treat, ignore barking.
Increase proximity and stimulus
Gradually bring the bike closer ,and reward your dog for being quiet. Have your assistant start riding the bicycle.
Walk bike and dog together
When your dog is tolerating the bicycle at close proximity without barking, start walking him beside the bicycle while you push the bike. Treat and praise your dog for being calm.
Ride with dog
Start riding the bicycle slowly with your Cocker Spaniel on a long leash next to the bike so your dog learns to trot beside you while you are riding the bike. Now riding the bicycle is a fun activity he can participate in.
By Laurie Haggart
Published: 01/04/2018, edited: 01/08/2021
---