How to Train Your Dog to Not Bite Over Food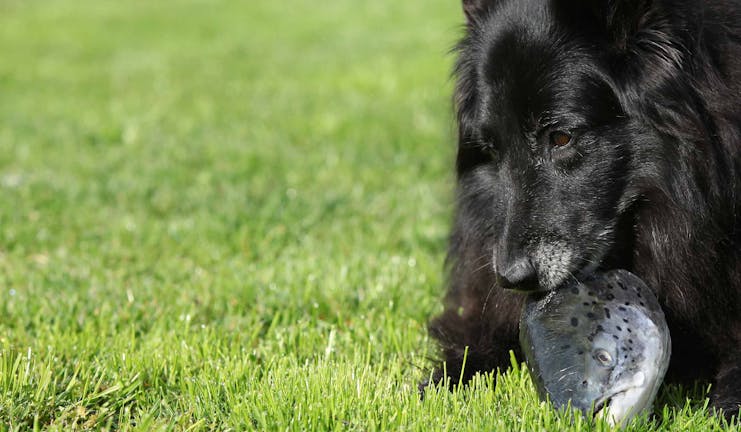 Introduction
It seems that not every dog has heard that it is inadvisable to bite the hand that feeds you. In fact, this is very often the most likely hand for a dog to bite. Biting over food is a serious behavior problem that most likely will bleed into other areas of your life with your dog. Such behavior represents a worldview in your dog in which she must protect her possessions. Since your dog may view her toys, crate, or your couch or bed as her possessions, this may mean your dog spends her days protecting your stuff from you. Not only is this very unpleasant and dangerous for your family, it is also extremely stressful for your dog. It is best to introduce food etiquette early, but even if your dog is already demonstrating aggressive behavior around food, you can teach her appropriate dining behavior.
Your dog's background can help to explain and correct the biting over food behavior. Has your puppy always plowed growling into her bowl? Did your rescue come to you skinny and malnourished? Dogs that grow up being possessive over their food although they face no competition are displaying instincts that although natural, could and should be curbed by their pack. Dogs that learn possessive behavior with food due to traumatic withholding of nutrition must learn to trust their people as providers.
Top
Defining Tasks
Training your dog to not bite over food will require a good deal of patience, as well as some bravery. Having your dog threaten to bite you, or actually bite you, is one of the worst experiences a pet owner can have. You must put yourself at some risk of being bitten by your dog in order to train her not to bite. As long as you are patient, go slowly, and keep your love for your dog present in your mind as your work with her, you will eventually establish a mutual trust with your dog.
That said, some dogs, due to their physical power or extreme aggression, are very dangerous to work with. If you do not feel comfortable confronting the possibility of a bite during the training process, enlist the help of a professional.
Top
Getting Started
You will need food to start the training, of course. You should also have a food/treat delivery system other than your hand. A long spoon that can be dipped in some peanut butter works well, as do tools that can hold and release a treat, like the extended hand tools which can be opened and closed with a lever. Interactive food toys, like those produced by Kong that can be stuffed, or some of the puzzle toys that require dogs to twist, bounce, or shake out treats, are all useful for turning food into a game rather than a possession.
You will need a good deal of patience and understanding. It is essential that you have a good attitude and a confident demeanor, as your dog will be picking up on your signals about how to respond to food and the situations you will be encountering together. An accomplice can be useful to help hand you tools as needed and to keep up the positive vibe.
It is best to have a controlled setting, as an unexpected stimulus can set off an on-edge dog or distract you at a crucial moment. Your own home is the best place to work on this training, as that is where you will be feeding your dog. It is a good idea not to use anything previously associated with the food aggression. Don't do the training in exactly the same place as you usually feed, and don't use the same bowl or mat. These things can remind both you and your dog of past stress.

Top
Aggressive in the presence of food
If your dog is extremely aggressive in the presence of food, this tactic relies on working to make your dog happy to see you when he is eating.
Anticipation
The aim is to have your dog anticipate you coming near the food. Have a good supply of high value treats in your pocket, ready to give to your pooch.
Walk on by
Walk by your dog as they are eating. Toss a treat and keep going. This does not have to be done at every meal and only pass by once or twice per meal.
Walk, stop, and toss
In the next step, walk toward your dog, stop, toss the treat, and then walk away. You are making your dog more aware of your presence at the bowl without making a big deal of it. Do this over several days.
Walk by and reach
In this step, walk toward your dog, reach toward the bowl and toss the treat. You are making progress without upsetting your dog because he anticipates the treat. Repeat this process over a few weeks.
Final move
Lastly, walk toward your dog, pick up the bowl and put in a few treats, giving back the bowl. If your dog does not allow this to happen, it is best to seek the help of a trainer who has successfully dealt with food guarding and aggression.
Humans help
It is natural for dogs to look to people for help. Confronted with a problem they find challenging, most dogs will look to their person before continuing to try. Given food that is not easily accessible, your dog will learn to ask you for help to get it, rather than warning you to stay away from it.
Fill some toys
Choose a variety of food dispensing puzzle toys that fit your dog's size and jaw strength. The more the better, but have at least three. Ideally, choose toys whose difficulty can be adjusted. This is usually accomplished by adjusting the size of the dispensing slot, but can also be accomplished by buying your dog's kibble in large and small bite sizes.
Spread the toys
Put the toys in separate corners of a room. Make sure there isn't furniture for toys to get stuck behind or food to go under.
Let your dog work it out
Sit in the room and just watch your dog work out the toys. He should be able to get out a few kernels from each, but should be frustrated and go from toy to toy.
Help
Pick up a toy your dog is not paying attention to at that moment and use your human genius and thumbs to shake out more food than your dog could. Your dog should come running and want that toy.
Prove your usefulness
Go from toy to toy, helping your dog access the food. Soon, you should be able to take a food toy from your dog to help him shake out more food. At this point, you will know that she has changed her perception of you from potential food taker to food helper.
The Food as Reward Method
Changing mentalities
This method relies on changing your dog's perception of food from one of a bowl of treasure that is obtained and must be defended, to rewards given by the human for good behavior.
Constant training, constant feeding
Put your dog's allotment of food for the day into a container that you can easily carry with you. Throughout the time you spend with your dog, divvy out a couple of kernels of food for good behavior.
Safety first
If your dog snaps at your hand when you give treats, use a treat-dispensing tool. Do not get your hand close enough to be a target.
Tricks for treats
Ask your dog to 'sit' or 'lie down' and do silly tricks like spin, beg, etc.--whatever tricks your dog likes to do. Reinforce self-control with extended stays by your side, giving out food periodically as your dog maintains his stay.
Reward a good attitude
Never give food if your dog is growling, barking, or being demanding. Wait until your dog is in a calm, receptive state to reward.
Goodbye biting dog, hello obedient companion
You may choose to always feed your dog this way, or you may graduate to laying down a bowl of food. Keep your dog leashed when laying down bowls of food for the first few times, and remove him from the food and return to the food as a reward method if he displays aggression.
By Coral Drake
Published: 12/21/2017, edited: 01/08/2021
---