How to Train Your Small Dog to Not Bite Over Food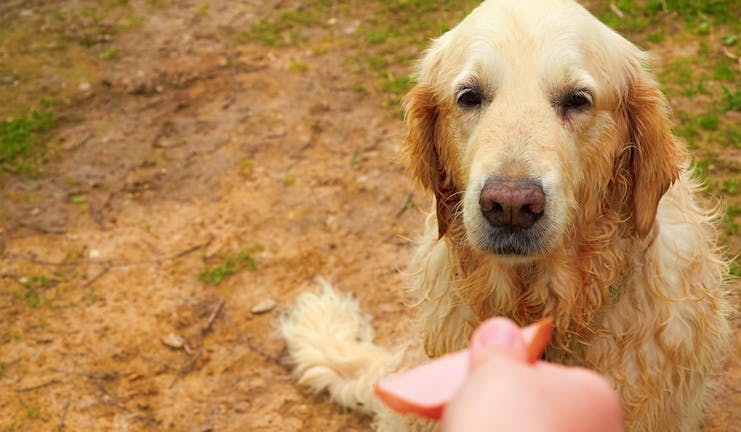 Introduction
Too often it is the case that problem behavior goes undiagnosed and untreated for much longer in small dogs than it would in large dogs. Most people immediately diagnose an issue when their German shepherd puppy growls at feeding time, but sometimes the hand nipping around food is seen as playful or charming in a Chihuahua. Eventually, however, biting over food becomes an issue for even the smallest dog. Little teeth hurt too, and even if actual biting isn't a concern, the attitude encouraged by such behavior will leak into other areas of your life with your little dog. She may become aggressive over toys or her bed, or your couch! It is best to address food aggression at the earliest indications, but even if your little dog has become ferocious over time, or if you adopted a cute little dog only to take her home and learn that she is an alligator at the food bowl, your little dog can overcome her tendency to bite over food.
Top
Defining Tasks
Teaching your little dog not to bite over food requires patience, and a good deal of bravery, for both you and your dog. Your dog must learn to trust you to give and take food at your discretion, that you won't let her starve. Dogs that bite over food believe that the food belongs to them, and that they obtain it and must then defend it. Such dogs are also prone to food hoarding, burying food in caches around your house and yard for later. Their behavior is founded in a deep food anxiety, and an inappropriate use of their guarding instinct. Little dogs sometimes feel threatened by other dogs and humans who are so much larger and more powerful than them. They feel that they must protect themselves and their food at all costs. Since many little dog breeds are bred to be tenacious and fearless, this insecurity can result in a really amazing aggression in such a small dog.
Teaching your little dog to not bite over food requires teaching her to look at food, and you, differently. While not at all impossible or really even that difficult, this is a complex behavior and mindset that you are trying to teach, and not a simple trick. As a result, it may take a good deal of time and repetition for your little dog to fully internalize these concepts.
Top
Getting Started
Foremost in training is the safety of you and your dog. If your dog is extremely aggressive, you may want to use a good basket muzzle to safely deliver food without risking being bitten. Small dogs can be difficult to fit with a muzzle, so enlist the help of a professional and make sure the muzzle is fitted well before working with your dog. It is useful to have a variety of food and treats for this training, as well as your dog's usual kibble. For several of these methods, it is also useful to have a variety of food dispensing toys.
Top
Changing her mindset
This method relies on changing your little dog's idea of food from something desired and obtained that must then be defended from competitors, to one of food being a reward for good behavior, given by, and controlled by, humans.
Feed and train all the time
Gather a variety of food and treat rewards that you can easily carry with you and dispense. Be careful to be aware that you are not overfeeding your little dog. Small dogs gain weight easily, and every pound counts for a lot.
Be safe
If your dog is very aggressive even in the presence of food, use an extendable tool that can deliver the food, or use wet food or peanut butter that can be inserted through the slots in a basket muzzle. An extendable tool is also useful for giving food to a small dog without having to bend over.
Behavior to reward
Reward your dog throughout the day for behaviors you like. Ask your little dog to perform fun tricks, and build her self control and attachment to you by asking her to stay by your side and rewarding her. If you work at a desk, try having your little dog lie on the desk and periodically reward for lying quietly, or ask for little behaviors like high five.
Never reward aggression
Only reward your little dog for calm, friendly behavior. It can be harder to read little faces than a larger dog, but look closely for hints of a lip curl, a gaze focused on the food instead of your face, or a dominant stance leaning over food once given.
Build the trust
Perhaps you will decide that this is a better way to feed your dog forever, or you may decide to go back to a traditional bowl at some point. When you do, introduce food slowly and practice removing and replacing food. If you see any aggression, go back to feeding in small quantities for some time before trying again.
Help your dog
Your dog asks you for help all the time. She knows that you are the one with the thumbs that can open the door or the treat jar. Extending this attitude to getting food can change your little dog's mindset.
Fill toys with food
Choose food dispensing toys made for your little dog's mouth and body. Small dog food dispensers can be more delicate and fun than larger dog's toys, for a reasonable price. Choose varieties that require pushing, turning, pulling, and any other behaviors you can elicit.
Distribute toys
Prepare a room without sharp edges or furniture for kibble to get lodged under. It should be big enough for you and your dog to both have your own spaces to be in, but close enough that your dog will notice what you are doing.
Watch your dog
Watch your little dog interact with the toys without interference. She will likely run from one to another, trying to find the easiest access to the food.
Help
At some point, your little dog will likely look to you for some guidance to this weird puzzle she is presented with. Even if she doesn't look to you, after some time go to one of the toys she isn't working on and shake out some food.
Be helpful
Keep assisting your dog with the food toys. If she shows any aggression, freeze and refuse to help. Soon she will learn that working with you and letting you interact with her food gets her more to eat, not less.
The Muzzles Can Help Method
Extreme aggression
If you are afraid of your little dog's reaction whenever food is in the room, a muzzle can help you work with your dog through her aggression without losing any fingers.
Muzzle interference
Have a professional help you fit the muzzle to your little dog's oddly shaped snout. It is ok if it is too long, but if the fit isn't correct around the face your dog may get it off easily, or it may cause discomfort.
Get messy
Cover several spoons with peanut butter or wet food and spread them around a floor that you accept will soon be very gross.
Let your dog try
Your dog will go from spoon to spoon, trying to lick the food off of the spoons. While a clever dog may get the spoon to stand upright, it is unlikely that she will get it through the slats in the muzzle efficiently enough to get much off of it. Eventually she will begin to get frustrated.
Help
Subtly pick up a spoon that your dog isn't paying attention to. Hold it up and let your dog come to it. Hold it so it goes between the slats in her muzzle and she can easily lick it off. If she shows aggression or dominance, drop the spoon and let her work it out herself again. She will soon learn to ask for you help and be grateful, not aggressive, when help is provided.
Practice
Your little dog should be showing no aggression at all around the spoons when you make the step to remove the muzzle. Try moving to the 'Work for Food' method two in order to ease into feeding without a muzzle.
By Coral Drake
Published: 01/05/2018, edited: 01/08/2021
---