How to Train Your Small Dog to Not Lick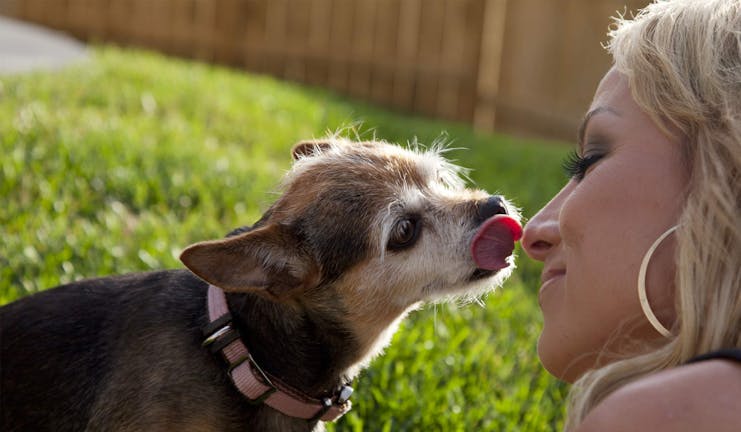 Introduction
There are a hundred and one benefits to having a smaller dog. He doesn't crush you when he sits on you. He doesn't leave quite such a mountain of dog hair around the house. He doesn't nearly drag you to the floor when he pulls on the leash. He doesn't nearly knock you over when he jumps up to say hello. Having said all that, his tongue is still big and gross enough that you don't want to be constantly covered by it. Unfortunately though, he seems to enjoy nothing more than licking you and any guest that walks through the door to death.
Training him not to lick will stop you wandering around with an aroma of stale dog breath. If you have small children, it will also prevent him coating them in potentially harmful bacteria. Not to mention it will make guests feel more relaxed if they can settle for a stroke when they say 'hello'.
Top
Defining Tasks
Training a small dog not to lick is relatively straightforward. Firstly, you need to understand why he's licking. Is he just being inquisitive? Is it attention seeking behavior? Once you know that, you can take a number of steps to deter him from licking. You will also need to incorporate some socialization training into your regime, to show him what behavior is and isn't acceptable.

If he's just a puppy, he's probably still excitable and eager to explore the world with his mouth. This also means he will be receptive and could respond to training in just a week or two. If he's older and licking has been his favorite past time for many years, then you may need several weeks. Get this training right and you will get a clean, welcoming dog, who you can relax with in the evenings.
Top
Getting Started
Before you can start training, you will need to collect several items. You will need a chew toy to divert his attention to. Taste deterrent spray will be needed. Treats or his favorite food broken into small pieces will also be required.
A water spray bottle and a deterrence collar will also be used in one of the methods. While you don't need to set aside any time specifically for training, you will need to be able to monitor and react to him as much as possible.
Once you've got the above, just bring patience and some anti-bacterial spray, then work can begin!
Top
Taste deterrent spray
You can buy spray online that has a nasty taste to it, even to dogs. Simply apply this to the areas he licks most, your ankles and hands, for example. This will soon make him question his habit.
'NO'
As soon as he does lick you, take him by the collar and lead him away. As you do this, issue a firm 'NO' command. Make sure your tone expresses disapproval without scaring him too much.
Water spray bottle
If he isn't deterred by the above steps, give a quick spray of water near his face whenever he licks. He will soon start associating licking with negative consequences. If he always suffers an adverse effect, he will soon stop.
Deterrence collar
Another effective way to stop him licking is to use a remote controlled deterrence collar. Just hit the button on remote controller and an unpleasant spray of citronella will be emitted. Hit the button each time he goes to lick.
Do not punish him
It's important that while you are using the steps above to react with an unpleasant consequence, you shouldn't terrify him or go overboard. If he becomes scared of you then that licking could develop into biting. So, use the steps above consistently and calmly until the licking subsidies.
Praise & reward
For as long as he plays calmly with you without licking, give him verbal praise and the odd treat. It is important he associates not licking with positive rewards.
Cold shoulder
As soon as he starts licking, cut out the praise and turn away. Keep your back turned and ignore him for 30 seconds. The sharp change in behavior should signal to him that he has done something wrong.
Return
After the 30 seconds has passed, turn back around and play as you were. Continue to praise and reward until he licks. If he does lick again, ignore him as before, but do so for an extra 30 seconds.
Chew toy
When you are playing, try and divert his attention to a chew toy if he looks like he may be about to lick. Simply encourage him to put it in his mouth and get animated and high pitched as you do this. You want him to think he's playing a big game.
Consistency
It is important everyone in the house is consistent with training. If one member of your family allows him to lick without following the above steps, the end result will be pushed back further. So, sit them all down and lay down the new house rules.
The Routine Changes Method
Try citrus-scented products
Most dogs do not like the taste and smell of citrus. So, change your soaps for citrus-based ones and your dog may quickly change his mind about licking.
Dog-appeasing pheromones
If the licking is part of anxious, obsessive behavior, these gentle chemicals can calm and soothe your dog, reducing his desire to lick. They can be bought both online and from local stores.
Exercise
If your dog's licking is because they are charged up and full of energy, then more exercise may help. Lengthen his walk or throw a ball as you go. The short sprinting will quickly tire out a small dog. He will then spend his time at home napping, instead of licking.
Keep him occupied
Make sure he has toys and food puzzles to play around with. If he's bored, then these stimuli may channel his energy into something that will keep him content and his slobbery tongue busy.
Leave the room
Although drastic, walking out of the room and isolating yourself from him for a short period each time he licks, can quickly get the message across. He will soon realize licking will not help him achieve the desired outcome of attention from his owner.
By James Barra
Published: 01/16/2018, edited: 01/08/2021
---