How to Train Your Small Dog to Not Run Away from Home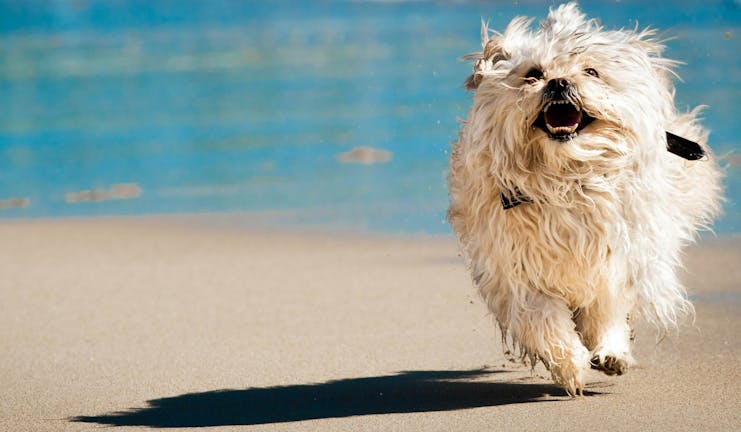 Introduction
Nice things come in small packages and your little dog is no exception. You wouldn't trade him for the world. He even makes your partner go all soft and cute, plus the kids adore him. However, at any given opportunity he tries to escape from your home and run away. It's a serious problem, especially because he's so small. His size means he can get under fences and through gaps quite easily. Now you know you haven't had him that long, so he may still need a little while longer to adjust, but you are understandably worried something bad will happen to him if he runs away.
Unfortunately, thousands of dogs are hit by cars in the US every year. If your dog runs away, being so small, some drivers simply may not see him come charging across the road. You don't want him to suffer serious injuries or the hefty vet bills that come along with them.
Top
Defining Tasks
Training a small dog not to run away from home will be challenging at times. His small stature makes it far easier for him to capitalize on lapses in security, such as gaps under the fence. The first thing to do is to try and prevent him escaping using a number of deterrence measures. You will also need to address the underlying cause of the problem. This will entail making his home and routine more enjoyable. If he's content, he won't be interested in running away.
If he's a puppy, this habit should be new and easy to break. You could see results in just a couple of weeks. If he's older and been a serial escapee for many years, then you may need a couple of months to fully break the habit. Get this right and you will never need to worry again when he doesn't respond to your calls.
Top
Getting Started
Before you start training, you will need to gather a few things. New fence panels, doors and baby gates may all be needed to prevent an escape. A long leash will also be required for one of the methods.
You will then need toys, food puzzles, treats, and perhaps even a new bed. If your dog isn't wild about typical dog treats, break his favorite food, like hot dogs or cheese, into small pieces. Then just set aside a few minutes each day for training.
Once you have the above, just bring an optimistic attitude and work can begin!
Top
Address gaps
Go around the house and yard and look for ways he may escape. Any gaps and holes need to be plugged. You may even want to fit new fence panels. If he can't escape, you will remove the temptation.
Baby gates
They are quick and easy to install and they will allow you to keep him in certain areas until you get his habit under control. Just make sure he can't fit through the gaps on the gates or jump over them.
Long leash
If you let him into the yard, you may want to consider tethering him to a long leash. Give him enough space to roam around the yard, but not so much that he can still get onto any roads.
Keep doors shut
Start a policy in the house where you restrict him to a certain area. If he's only allowed in the kitchen area, for example, it will be far easier to keep doors shut. Until his running away is under control, you need to limit his movement.
Do not punish him
It is important you do not punish him when he tries to escape. If you shout and scare him, then he will only want to run away more. So, remain calm whenever you deal with him.
Play time
Spend a few minutes each day playing around with him and some toys. You can play tug of war, fetch, and anything else that gets him worked up. If he gets the attention and love he needs, he won't be so interested in running away.
Exercise
Make sure he gets plenty of exercise. Even small dogs need a good run around. Throw a ball for him as you walk and this will leave him napping in the evenings. A tired dog is a happy dog.
Good morning & good night
Make sure you greet him in the morning and say good night before you to go to sleep. Just a couple of minutes of stroking him will give him something to look forward to. This regular routine of love and affection will make him more content with home.
Food puzzles
Give him food puzzles to get through in the daytime. If he's running away because he's bored, this will give him something to occupy him. Not to mention, the food inside will keep his tail wagging.
Tricks
Spend some time each week teaching him a new trick. This mental stimulus will be good for him and will channel his energy into something productive. Plus, it will strengthen the bond between you both, making him want to stick around.
Start at home
When you are going about the house, call him over with a 'come' command. You can use any word or phrase you like. Dogs can learn hundreds of different commands. To start with, call him over when you are close to him and he can see you're holding up a tasty treat.
Reward
When he comes to you, hand over a treat and give him some verbal praise. It's important he gets the treat within 3 seconds of coming to your feet, otherwise he won't associate the action with the reward.
Practice
Practice this regularly throughout the day. He will soon start associating you with frequent, mouth-watering treats. Without knowing, he will also develop a dependency on you and being around you.
Head outside
Now start practicing the 'come' command when you are out on walks. Start by calling him over as soon as he runs more than 15 feet away from you. Then gradually let him run farther and call him back less frequently.
Lose the treats
Once he's got the hang of the command and always returns to you, you can slowly phase out the treats. This simple obedience command will have made him feel like he needs to always stay close to you, which means no more running away!
By James Barra
Published: 01/15/2018, edited: 01/08/2021
---