How to Train Your Cocker Spaniel Dog to Pee Outside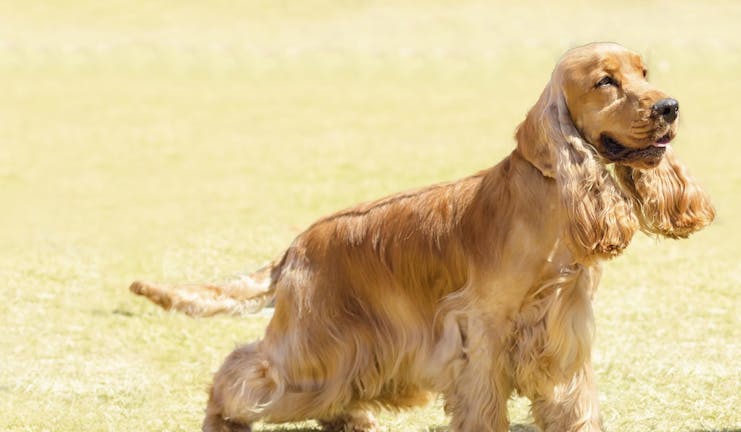 Introduction
Your house has recently turned into a home full of cuddly toys and visitors going 'awwww' and 'he's so cute'. However, it's not a baby that's causing this reaction, it's your new dog. He's a Cocker Spaniel. He's affectionate, playful, and faithful. One thing he's not so hot on, though, is going to the toilet outside. Every morning you gingerly take a step downstairs unsure of whether you're about to step in a wet mess. Now you worry when you have guests over that they will go downstairs at night for a glass of water only to land in a nasty accident.
Training him to pee outside is essential, and not just for your shiny, new floors. You also have other pets and children. None of whom you want coming into contact with nasty bacteria. Then there's the unpleasant smell it gives your downstairs.
Top
Defining Tasks
Cocker Spaniels are quick learners, which is fantastic news for this type of training. You'll need to enforce a rigorous routine to get him used to going for a pee outside. You'll also need to find the right motivator to keep him holding it until he is outside. Thankfully, Cocker Spaniels have an incredibly strong sense of smell. So, the right smelly treat should do the trick.

If he's a puppy, he should be a fast learner. You could see results in just a week or so. If he's older and his bad toilet habit has been years in the making then you may need a little while longer. It could be up to a month before you have accident-free floors again. Succeed with this training and your house will go back to a clean looking and smelling home. 

Top
Getting Started
Before training can start you'll need to collect a few bits. The first thing you'll need is a stockpile of tasty treats or his favorite food broken into small pieces. You will also need a regular spot outside you can take him to. This could be your yard or a local field.
You'll need to set aside a few minutes at several points in the day to take him outside. The only other things you'll need are patience and a positive attitude. 
Once you have all of that, you are ready to get to work!
Top
Bright & early
Secure him to a leash and take him outside to go to the toilet first thing in the morning. If he knows he will get to go out every morning he will find it easier to hold his bladder at night.
Lunch time
It's important you take him back outside to the toilet a few hours later. Again, it's about establishing a regular routine. His bladder will soon adjust to the toilet schedule you are creating for him.
Night time
It's also essential he gets to go out every evening before bed. These three times are the bare minimum you need to take him out for a pee. If you can take him in-between those times then even better. If he's always outside when he needs to go he'll soon get into the habit of only peeing outside.
Same spot
Make sure you take him out to the same spot to go to the toilet each time. If he goes to the same location every time he will feel relaxed and more inclined to go. This whole method is about establishing a consistent routine.
Don't punish him
If he does pee inside, calmly clear it away with anti-bacterial spray. If you shout at him or scare him, then he may start submissive peeing. This will be even harder to deal with. So, stay calm.
Privacy
Make sure when you take him out each time you give him some privacy. That means you turn around and don't stare at him when he looks like he's about to go. You wouldn't like it if someone always watched you pee and neither does he.
Reward
Make sure he gets a tasty reward when he does go for a pee. You can give him a treat and some verbal praise. This motivator will act as an effective incentive to go for a pee. The greater the reward, the more likely he will be to go outside again.
Yesterday's pee
If he seems shy and struggling to go, then you may want to wipe some of yesterday's pee on his toilet spot. If he can smell he's already been to the toilet there before he will be more likely to go.
Keep his water filled
You need to get him in a regular routine of going for a pee. That means his water bowl must always be full. If it's empty and he's dehydrated, his body clock will be thrown out. So, keep his access to water steady.
Routine
Make sure you take him out at the same time each day. If he knows he'll be going to the toilet soon he will find it far easier to hold it a little while.
Take him out
Secure him to a leash and take him out for a pee. Head for a quiet space where he has some privacy. You're going to use a verbal cue to encourage him to go.
'Toilet time'
When you see him sniffing around and about to go for a pee, issue a 'toilet time' command. Give it an upbeat, animated voice. Give this every time you see him about to go to the toilet. He will soon associate this command with going for a pee and naturally need to go when he hears it.
Reward
Once he has gone about his business, hand over a tasty treat. You can also give him some verbal praise. Really show him you are happy with him. The sooner he gets his reward the more likely it will be that he associates it with the action.
Bring forward the cue
After a few days, the command will be familiar. Now you can start using it at home to let him know it is time to go outside for a pee. Give the command in the same upbeat voice, then head for the door with the leash in hand.
Lose the treats
You can now use the cue whenever you want to signal to him that it is time to go pee outside. Once he's fully got the hang of it you can then gradually cut out the treats. It will now be habit and the food incentive will no longer be required.
By James Barra
Published: 01/03/2018, edited: 01/08/2021
---