How to Train Your Dog to Pee While on Leash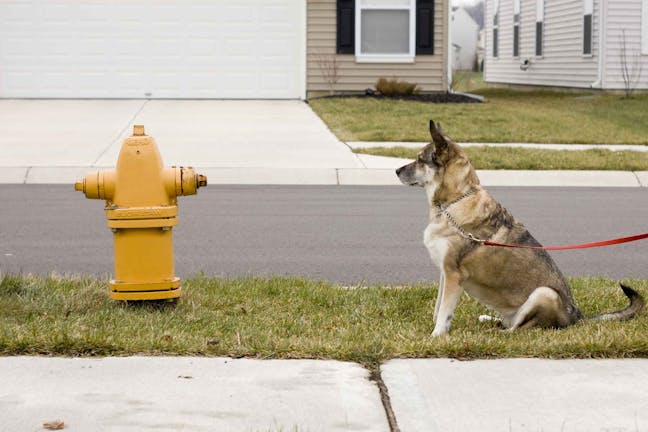 Introduction
Have you just got a rescue dog, that you haven't had a chance to teach recall to yet, so you always have to walk him on the leash? Do you find that he won't go for a pee unless he's off leash and in the house? By now, you're sick and tired of always having to wipe up those smelly damp patches that are turning your nice clean carpet a shade of yellow. Even if your dog knows recall, sometimes it's not appropriate to let them off the leash or maybe they're sick and you need to monitor how much urine they're producing, therefore, training them to pee on the leash is a useful skill regardless. Now is the time to teach your pooch to pee while on-leash.
Top
Defining Tasks
This command is important because although it's not natural for dogs to want to pee on the leash, imagine going to the bathroom in front of someone. Dogs like their privacy too. However, learning the command will have lots of practical benefits, such as always checking their toileting habits are ok and picking up something abnormal quicker if your pet gets sick, as they'll be peeing close by. Learning this command will save you those unpleasant hours cleaning up urine off of the floor, if they're peeing inside because you can't let them off the leash, which is the case for life for some dogs that are dog aggressive or those that have poor recall such as Pomeranians. Another benefit is that you can get them to go in a designated spot, if you want to keep your backyard urine free for example. It will take a few weeks to train your pooch to learn this trick and it is best suited to younger dogs, while they're still learning. However, older dogs can be trained also.
Top
Getting Started
To begin training your pooch to pee on-leash, you'll need some high-value treats such as boiled chicken, hot dogs, or cheese. If you're teaching your 8-week old pupper to pee on a leash straight away it would also be a good idea to fence off an area of a room and keep him in it when he's unattended so it's easier to see him showing you signs of going, so you can get him on that leash and outside. When he has an accident inside, you'll need to correct him but not scare him, so make sure your voice is firm and authoritative, but not frightening. And when he does his business on the leash, make sure your voice is rewarding and encouraging, you'll need to make the training fun for him. Now let's get started.
Top
Understand your pooch
Different breeds will have different frequencies at which they need to go. Know your pooch's breed and therefore how often he or she will need to go, so that you can get him on that leash and outside accordingly.
Watch their behavior
Keeping a close eye on your puppy means you can watch for behavioral signs that they're about to go, such as sniffing, scratching, circling and whining. If you see these, get them on the leash and outside straight away.
Stop him off leash
When he has an accident and pees off leash, stop him by saying 'no' and clapping or making a noise to put him off, be careful not to scare him though.
Choose a designated area
Choose a particular area outside and consistently take him to it on their leash, to avoid confusion. Make sure they've had their vaccinations if it's going to be somewhere outside of your backyard though.
Praise when he goes on-leash
Give him a tasty treat and lots of tummy rubs when he goes while on leash. Peeing on-leash needs to be a fun and rewarding experience.
Introduce a command
If you like, once he's got to grips with peeing on leash, you can even get him to associate it with a command such as 'pee' or 'go', so that he'll pee on leash when you use the command.
Establish a sensible routine
Make sure that your pooch is taken out the correct amount each day for his or her breed and/or age. Make it a routine thing, so that your pooch knows when he'll get the opportunity to go. Take him out around meal times, for example.
Clean up accidents quickly
To make sure your pooch doesn't associate an area of your home with peeing, make sure you clean up any accidents that occur right away.
Designate an area
While on-leash, choose an area outside where you want your pooch to go and consistently take him there, so that he recognizes his scent.
Let him relax
Although you'll have him on the leash, make sure you give your pooch as much space as you can to let him do his business, and don't distract him while he's in the middle of it.
Rewards
Give lots of praise and a lovely, tasty treat when he goes while on the leash.
Get an appropriate sized crate
Crate your dog while he's inside to stop him from peeing. Dogs don't like to pee where they rest.
Leash him
Pop him on the leash and take him outside, it's likely he'll have been holding it in and will be keen to do his business. Make sure you take him out enough times a day for his size and breed though.
Be patient
Take your pooch for a good walk around, don't just go outside and expect him to do it. A 20-minute walk may be necessary. Don't be anxious or impatient, as this may put him off.
Try again
If he doesn't go on the first walk, keep him on the leash inside and have a 5 minute rest. Take him back outside somewhere free from distractions, he should now pee. Make sure you take him out the required number of times, at roughly the same time every day. Dogs are creatures of habit.
Lots of treats
When he goes on the leash, give him lots of high value treats and praise so he knows he's been a good boy.
By Catherine Lee-Smith
Published: 11/10/2017, edited: 01/08/2021
---