How to Train Your Dog to Play Sports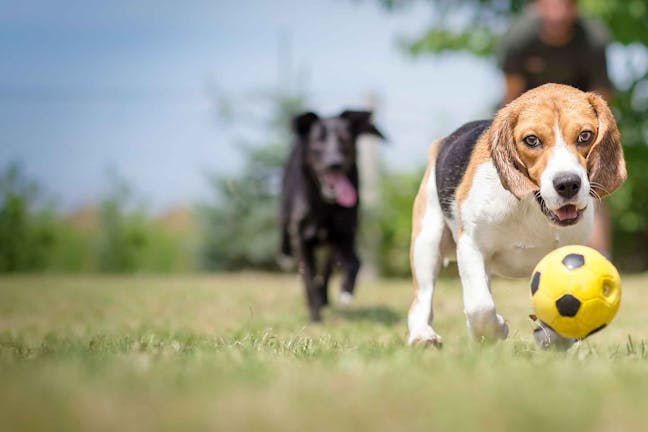 Introduction
He's been an important member of the family for several years now. Everyone loves him and he loves everyone. He's there to cuddle you in the evenings, he's there to hoover up any leftover food on the floor, and he's always happy to see you when you open the door after a long day at work. Unfortunately, though, your dog is a little on the large side. As the years have gone on, he's grown slightly lazy while his appetite has only increased. You don't want him getting seriously overweight, so something needs to be done.
Training him to play sports will help him shift some of those extra pounds. You might not be able to get him sprinting on his walk, but if he's playing sports with your kids, he'll soon be burning calories. This exercise could prevent serious illnesses rearing their ugly heads later on in life.
Top
Defining Tasks
Training your dog to play sports is thankfully pretty straightforward. You simply need to find a way to motivate him. Fortunately, you already know food does the trick. You'll just have to make sure he burns more calories than he consumes. His favorite toys are another quick and easy way to get him worked up. If he's younger he should be full of energy and keen to get involved. Training could then take just a week or so. If he's older, bigger, and rather lazy, then you might need a couple of weeks before you see consistent results.
Training him to play sports will be fantastic exercise for him. On top of losing unhealthy weight, it will also help keep his muscles and joints strong. This could help prevent arthritis and other conditions, all of which come with hefty vet bills.
Top
Getting Started
Before you can set about turning him into the next LeBron James you'll need to get a few bits together. You'll need a nice big yard or a field nearby for training. You don't want him tearing around your living room breaking the TV!
You'll also need tasty treats and an array of toys. A soccer ball and a frisbee are a good place to start. You'll also need to construct an assault course for one of the methods. Then set aside 15 minutes every other day for a decent run-around. 
Once you've got all of that you just need patience and a can-do attitude, then you're ready to get to work!
Top
Setting up
Head out to the yard with your dog, a soccer ball and a friend or family member. You're going to first teach him how to play soccer. It's fun and great exercise for him. You'll also need a pocketful of treats.
Encouragement
Talk in a high pitched voice and point wildly at the ball. Really try and draw his attention to it as much as possible. The more animated you are, the more he'll think he's playing a game and the more eager he will be to get involved.
Reward
As soon as he touches the ball, give him a treat and loads of praise. You really need to hammer home he's done the right thing. The bigger the reward the more likely he'll be to "kick" it again.
Pass to him
If he seems unsure and hesitant to touch the ball, slowly kick it in his direction. Then run over to reward him when it hits him. Make sure you don't kick it too hard, you don't want to scare him. Then once he's found his soccer feet and realizes he'll get a reward each time, he'll soon start charging toward the ball.
Constant approval
Take him out for a few minutes every other day to practice soccer. The more crazy and excitable you are, the more he'll run after that ball. Keep up with rewards every time until the pure excitement is enough. At which point, slowly cut out the treats.
Head outside
Head into the yard with your canine companion and a nice, brightly colored frisbee. Dogs love jumping for frisbees. It's great exercise and a fantastic bonding experience. Make sure you've got some tasty treats in tow too.
Start close
To begin with, stand very close to him and throw the frisbee at just above head height, relatively slowly. As you throw it, really encourage him to go for it. Point to it, speak in a high pitched voice, and go wild.
Reward
As soon as he touches it with his mouth, rush over to give him a treat and praise. He doesn't necessarily have to catch it the first couple of times, you want to encourage any promising signs he wants to play.
Back up
Once he's got the hang of it close up and you can see he's keen to play, start backing up. The further away you throw it, the more he'll have to run and jump and the better exercise it will be for him. You'll soon be able to fire it at a range of angles and capture some awesome Snapchats.
Lose the treats
When he's confident and a pro at catching the frisbee, you can gradually stop rewarding him with food each time. By now he'll simply love playing with you and won't need the food incentive at all. Still verbally praise him though, everyone likes some attention! Practice regularly if you want to keep him interested. Every other day for the first couple of weeks should do the trick.
The Assault Course Method
Setting up
Dogs, like humans, can love sprinting, ducking, jumping and maneuvering around assault or obstacle courses. They're fun to create, fantastic exercise, and make for some entertaining social media posts. So, build an easy to navigate assault course. You can use old wood, plastic tubing, anything you can get your hands on. Just make sure there's nothing sharp that could hurt anyone.
Start line
Take him to the start line and get animated about what's ahead. You can hold out a treat to grab his attention and then start completing the assault course with him. Really get as excitable and playful as you can, this will all encourage him further.
Reward
Each time he successfully gets over one obstacle, give him a tasty treat. Once he's finished wolfing it down, set off to complete the next obstacle. Once you've done the whole course, go back and try again. But this time, only give him a reward after every other obstacle. The next time every three obstacles, and so on until he only gets one at the end.
Alternative approach
If you can't complete the course with him, run alongside. This will still keep him motivated. It's particularly important at the beginning you're there to guide him somewhat, otherwise he'll have no clue what he's supposed to do.
Change it up
To keep him excited and motivated about his course, make regular changes. You can add in new obstacles and make existing obstacles more challenging. All of this will keep his interest peaked and you entertained. If you don't want to keep him feeding him treats, give him his favorite toy at the end instead.
By James Barra
Published: 11/20/2017, edited: 01/08/2021
---