How to Train Your Small Dog to Play With Water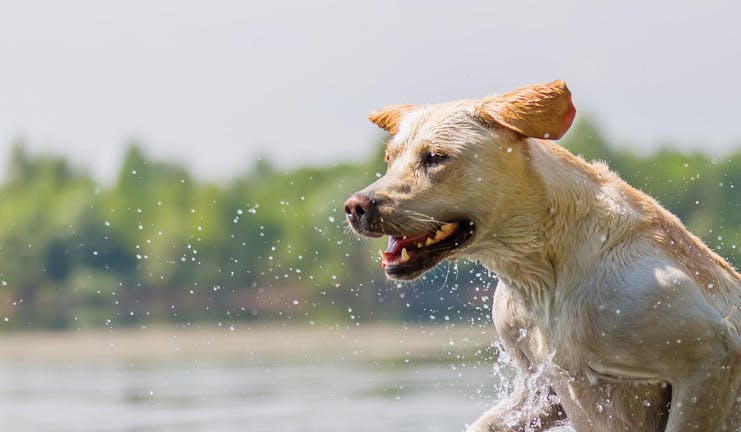 Introduction
Some small dogs take to water quite easily, while others can be leery or even down-right petrified of water. Almost always, the trepidation comes from a fear of losing their footing. Luckily, this is an easy thing to address with proper training. 
There is nothing sadder than a little dog sitting on the shore with a left-out look on their face while the family goes for a dip in the lake on a warm summer day. Giving your little dog the confidence to join in on the fun will let them get more out of family vacations, as well as teach them a quick way to cool off in the yard on a sultry day. 
Since many small dogs are prone to heat stroke if they get too hot or over-exerted, making sure they have a quick way to cool off isn't just for fun – it could be a lifesaver!
Top
Defining Tasks
Training your small dog to play in the water starts by teaching them to confidently get in and out of the water on their own. Once they feel good about that, they will naturally play in water when the weather is right, and the opportunity presents itself. 
Make sure to stay positive when working with your dog around water. The last thing you want to do is help him think water is stressful by getting frustrated during training. This should be about giving him confidence around water. Once he has that, the play will be soon to follow. 
Top
Getting Started
A few things to get assembled before starting these training methods:
Life Jacket: Small dogs should be equipped with safety jackets made just for the purpose of keeping your little guy afloat if you plan on going swimming. Some small dogs, such as French Bulldogs, are so dense that they have a tendency to sink. In addition, if your buddy gets tuckered out before he makes it back to shore, a doggie life vest will keep his head above water. 
If you plan on taking your dog to water deep enough to swim in, start your training with the 'Life Jacket' method before adding either the 'Treat' or 'Fetch' methods to get them used to the water. 
Baby Pool: One of the easiest ways to safely get your small dog to enjoy playing with water is to practice in the safety of her own backyard before trying water out in a new environment. We recommend an inexpensive baby pool. If necessary, use cinder blocks on either side of one ledge to give your pooch a safe way in and out of the pool.  
Clicker: We will assume you are using a clicker to train your dog. However, if you do not have one, just say "YES!" in an excited tone instead of the click before each reward. This "marks" the exact behavior you want to reward, so the timing of the marker is more important than the timing of the treat that always follows it. 
Top
Set up
Start by getting your baby pool set up (but empty) in a familiar place like the back yard, with a safe and secure way for her to get in and out on her own. Make sure the footing you provide on the ramp or steps is non-slip, even when wet.
Lure
Lure your dog up the ramp or steps by enticing them with a treat they really enjoy. After they take a step or two on the ramp, click/treat. When you give them the treat, toss it just to the side of the ramp so that your dog will hop off to get it.
Build confidence
Repeat the previous step, gradually increasing your expectations before you will click/treat. Don't move too fast – the goal here is to make sure your dog builds confidence getting in and out of the pool on the ramp you provided.
Into the pool
Once your dog has progressed to getting in the empty pool, you can stop tossing the treat outside of the pool, and start click/treating every few seconds your dog stands in the pool, feeding the treat to her right where she is, by hand.
More time
Extend the duration that you go between click/treats until she is staying in the empty pool for 15-16 seconds.
Just add water
You are now ready to add just a little bit of water at a time, starting with about an inch. Continue to practice getting in and out as you gradually raise the water level in the pool. Reward often and keep up the positive praise.
Toys
If you want to encourage a more playful spirit in the water, get some small floating toys to keep in the pool after she is confidently going in and out on her own.
Set up
If your small dog is a fetch fanatic already, this is a great way to get him to enjoy playing in water. Start by getting a baby pool set up with no water in it in a familiar environment. Make sure he has a safe way to enter and exit the pool, such as a ramp or cinder blocks set up on either side.
Fetch
Start by playing a little fetch near the pool, keeping the game exciting and fun. Then toss the toy in the empty pool, making a big deal out of that retrieve with extra praise heaped on. Repeat 5-10 times.
Add water
Put about an inch of water in the bottom of the pool, and toss the ball in again. Do not scold your dog if he refuses to step in the water. Just patiently say "Where is your ball?" in an excited tone and wait him out. If he is still refusing, try pushing the ball closer to him, and as soon as he grabs the ball, give him lots of praise. Repeat 5-10 times.
More water
Continue this fetch game over several sessions, making sure to end each session on a high note. End the game before he gets tuckered out so that he will associate the game with energetic fun. Start gradually adding some water depth each session as well.
Practice
Within several sessions, he should be having no trouble getting in and out of the water to play a game of fetch, even with the pool full. You are ready to take this skillset to a new environment to take advantage of a nearby stream or lake. Practicing in new places teaches your dog that water is fun, no matter where it happens to be!
Set up
If you are looking to take your small dog swimming in water deep enough for her to lose her footing, then you will want to first get her used to wearing a doggie life jacket for safety's sake. Start in a familiar indoor environment with a bag of some treats or kibble that she enjoys with the flotation vest on the floor.
Near the vest
Every time she gets close to the jacket, click/treat. Repeat 5-10 times.
Touch the vest
Raise your criteria to every time she touches the jacket with her nose, click/treat. Repeat 5-10 times.
Vest on
Your pup is now ready to try the jacket on. Go ahead and get it on her with a proper fit, rewarding generously as she allows you to make adjustments. Once it is on, heap on the praise and be generous with the treats.
Distraction
While she has the jacket on, practice a few tricks she already knows, such as 'sit' or 'down'. This will help her focus on something else, teaching her that the vest is no big deal, and everything is normal.
Practice
Practice wearing the vest for 2-5 minutes while your dog does some favorite tricks a few times a day. Don't allow her to wear it around the house and get bored – she might start to try to chew it off, which could destroy it. Also, you want the vest to be associated with positive things, so continue to make it an occasion for rewards when she is wearing it.
Add water
For a week or two before your planned swimming outing, be sure to practice putting the vest on, wearing for a few minutes, then taking it off. Use one of the other methods listed here to get her used to playing in water in a baby pool after she has gotten used to wearing her life jacket. With some time and practice, she will be ready to go on a swimming adventure!
By Sharon Elber
Published: 01/18/2018, edited: 01/08/2021
---