How to Train Your Chihuahua Dog to Sit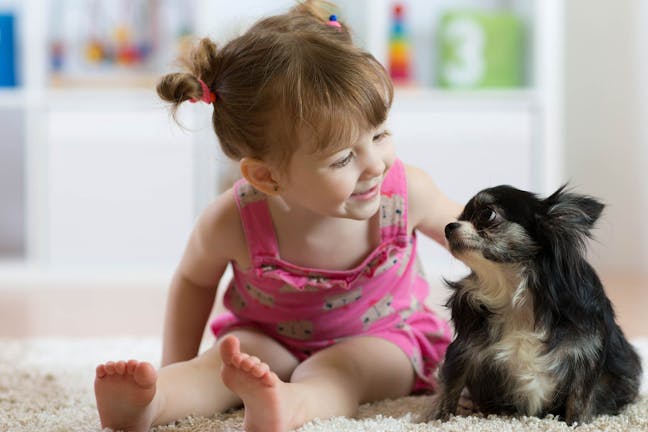 Introduction
"Sit" is probably one of the first commands most owners teach their Chihuahua, right along with 'come', 'stay', and 'down'. It is considered one of the four basic commands every dog should know, even if they never learn another "trick" in their lives. Chihuahuas are very intelligent dogs, but like most intelligent species, they have their own ideas about what they should and shouldn't do. This can make training them to do things like 'sit' more challenging than it might be with other breeds.
While it might take longer to train your Chihuahua to learn how to sit on command, if you work at making the training fun, he will soon learn to drop into the sitting position as soon as you say "Sit". Even as stubborn as your Chi might be, his desire to please you is always going to win in the end. Be patient and take your time with this training and success is all but guaranteed. 
Top
Defining Tasks
Teaching your pup to sit is one of the first things your dog should be taught. Not only is this a very useful skill for your pup to learn, it is also the stepping stone to many other behavior skills and tricks. Ideally, you want your pup to drop into the sitting position immediately, no matter what he is doing. You can teach him using a vocal command, a hand signal, or a combination of both.
Most people prefer to use vocal commands as they are much easier for both of you to work with. You can, of course, train the two together as this gives you the option of using a hand signal in places where he might not be able to hear you. No matter which training method you decide to use, be sure to stay calm and be patient. This will help keep your pup calm and make it easier for him to learn. 
Top
Getting Started
You can teach any age dog to follow the "sit" command, but the younger you start the better. You can start working with your Chihuahua when he is as young as 6 weeks. Once your pup learns to sit, you will be able to use it as a way to distract your pup from many other forms of inappropriate behavior. As for supplies, the only thing you really need is a nice supply of your pup's favorite chewy treats and a quiet place to train. 
Top
The Capture the Behavior Method
Observe
Observe your pup's behavior; you are looking for him to do exactly what you are trying to train him to do on command.
Have the gear ready
Have some treats, a clicker, and a quiet place to work.
Wait patiently
Wait patiently. At some point in time he is going to sit down all by himself.
Capture this behavior
The moment his butt hits the ground, hit the clicker and give him a treat.
Repeat, adding cue word
Repeat this over the course of a few days, then start adding in your cue word "Sit".
Time to perform
By now you should be able to give your pup the 'sit' command and expect him to comply. Work with him using both the clicker and treats until he sits every time. Then taper off the treats and clicker.
A quiet place to train
Start by taking your pup into a nice quiet part of the house for training sessions. It's easier to train when there are no distractions.
Stand and deliver
Stand directly in front of your pup and call his name to get his attention.
Create a smell lure
Take one of your pup's favorite treats, fold it inside a fist and hold it in front of your pup's nose. This should get his attention.
Move the treat
Take the treat and slowly move it over the top of his head towards his tail. While you are doing this, be sure to keep repeating "Sit".
No clue
At this moment, your pup has no clue what "Sit" means, but as you move the treat towards his tail, his butt will naturally gravitate to the ground. Be sure to give him a treat when it does.
Keep working at it
The rest is all about rinse and repeat. Keep repeating the exercise with treats until he will sit on command and then slowly wean your Chihuahua off the treats before he gets fat.
On the leash
Put your pup on his leash and have him stand on your left side.
Show the movement
Gently pull up on the leash while pushing down on his rump.
Use the command
While you are doing the above, give him the 'sit' command.
Hit the ground
The moment your pup's butt hits the ground, give him a treat and shower him with praise. Keep working with your pup several times a day until he masters this important skill.
Patience is a virtue
Be patient, Chihuahuas are notoriously hard to train because they are so stubborn. Be patient and it will happen.
By PB Getz
Published: 12/14/2017, edited: 01/08/2021
---