How to Train Your Dog to Sleep in a Certain Room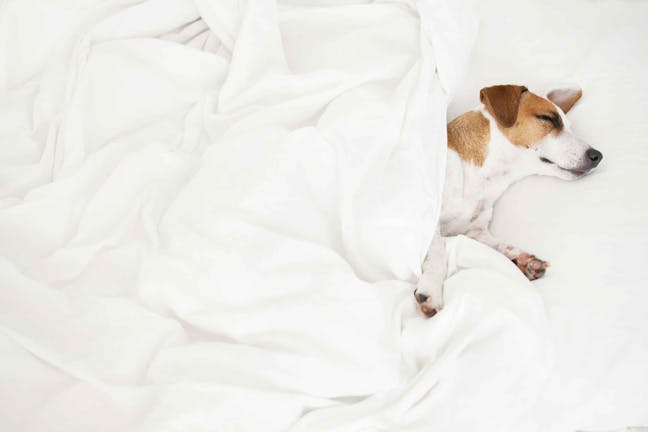 Introduction
You've always loved cuddling up with your dog when you sleep at night. You wanted the company and he gladly obliged. Now you have a new partner though, and a dog sleeping between you isn't quite what your partner envisaged on moving in. Your dog is also quite defensive and protective about who sleeps in his bedroom, so you know it's time to make a change. He's not a puppy anymore either, so maybe some independence will do him good.
Training him to sleep in a certain room is good for both of you. He needs to be able to survive without you, at day and at night. It will make leaving him in kennels or at a friend's when you go on vacation easier, too.
Top
Defining Tasks
The training itself isn't always a walk in the park. It depends largely on how long your dog has been used to sleeping wherever he likes. If he's mature and you're breaking a 10-year-old habit, then it may take a few weeks to get him truly settled into his new bedroom. If he's just a puppy and new to having sleeping freedom, then taking it away could take just several days or a week. The biggest struggle comes with making his new sleeping area a comfy and desirable bedroom for him. Also, if you've spent years with him sleeping in your bed, then letting go of your cuddle buddy may prove challenging for you as well.
Succeed with this training and you'll have a dog you can control and who won't cause you any trouble at night time. 
Top
Getting Started
Before you start your new training regime you'll need a few things. You'll need a comfy bed and toys, plus treats to make your dog's new sleeping area nice and appealing. You'll also need to set aside a few minutes each day for getting him familiar and excited for his new bedroom.
You'll have to find all your patience and resilience to stick with the training campaign, so bring the right attitude. Once you've collected all of that, you can get to work!
Top
Stand by his bed
Be right next to the bed in the room you want your dog to sleep in and then call him over. Make sure you've got a pocket full of treats with you.
'Bed'
Issue the verbal command, then point at his bed and encourage him to head there. Once your dog has looked at you puzzled for a while, he'll finally clock on and take a step onto the bed. As soon as he does that, give him a treat and shower him with praise.
Increase the distance
Repeat this again and again over the next few days. As you practice, slowly increase the distance you are from the bed when you send him there. The trick is to increase the distance gradually. Keep practicing until you can send your pooch to his bed when you aren't even in the room. At this point, you can cut out the treats, he'll no longer need them to follow your command.
Apply it at night
When the evening comes, send him to his new room/bed with the command. Be firm and clear so he knows you mean business. If he trots back out, send him straight back. If he comes into your room or another room at night again, give the command in a louder, clearer voice. You will need to be persistent. It will take him several days to a week before he finally realizes that he needs to stay in that room all night.
Water spray for the persistent ones
If he consistently comes back after you send him to bed, you may need to use a deterrent. A simple spray of water near his face will give him a little fright and help reinforce the point. Use this each time he comes back or into your bed, give him the 'bed' command. Once he gets the message, you can go back to drinking water instead of spraying it.
Follow a timeline
Each evening, try and be consistent. Give your dog his food, take him to go potty, and then put him to bed at the same time. It should never be a surprise when you want him to go to bed. Routine brings with it comfort, so take him to his new room at the same time each evening.
Leave a treat on the bed
An easy way to get him to go in there in the first place is to put a treat on his bed. Simply having something in there to look forward to will encourage him to head in there each evening.
Say 'good night'
Spend a couple of minutes gently playing with him and stroking him. Get him comfortable and happy, then say good night and leave him. It's important you follow this routine each day and then he won't be surprised when you leave.
Go and get him in the morning
Having a routine in the morning is also important. If he's not already up, go and say 'good morning' and stroke him. Doing this in the morning and evening will teach him that going to bed and where he goes to bed is on your terms. It will also comfort him to know you'll be there when he goes to sleep and you'll still be there first thing in the morning.
Be consistent
If you slip up every couple of evenings your dog won't stick to his new room. You need to stick to your routine every evening or the process will take considerably longer. But be patient, be rigorous, and it will pay off.
The Gentle Cold Shoulder Method
Make the new room all his
If you want your dog to sleep somewhere else, you need to make it feel like his own. Play with him there in the day. Allow him to have some space in there that is totally his. It will then start to feel like his territory, a safe place where he can escape to.
Add some home comforts
To start with, you may want to put some old clothes of yours into his new room and bed. The smell of you will help put him at ease. It will also help to leave his toys in there. All of this will make him feel more comfortable.
Leave the door open wide
To start with, you need to keep the door open so he can escape if he wants. This may not make sense now, but the idea is you show your dog gradually that he's not missing out on anything. It also stops you cutting all ties in one go, which won't be easy for him.
Gradually close the door
Each night, close the door a little bit more, until it is only just ajar and then finally completely shut it. This will allow your dog to slowly get used to not having his own freedom anymore.
Put him to bed
Each night, take him to his new room and slowly stroke him for a few minutes until he gets sleepy. Think of it like taking a child to bed at night and reading them a bed time story. Keep doing this and all of the above steps until he's comfortable in there. Then you can slowly stop taking him to bed each night.
By James Barra
Published: 10/24/2017, edited: 01/08/2021
---