How to Train Your Young Dog to Sleep in Crate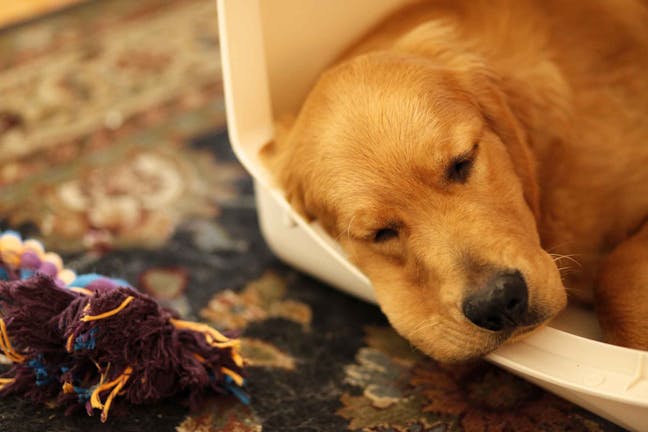 Introduction
You have a new member of the family. He's exactly what you'd hoped your children would be like: cute and doesn't argue back. Unfortunately, you'd long given up on that dream, but your new dog has restored that faith. You simply want to cuddle him all of the time, but you know deep down that isn't best for him. You started letting him sleep in the bed with you, but now that habit has become a little too cemented. Your partner isn't best pleased that there's something always in-between you and your bedroom is now full of dog hair. You need to train him to sleep in his crate.
This training won't just be good for you, it will also benefit him. It will prevent him being so dependant on you and may reduce separation anxiety. If he's always allowed to be with you he'll find it even harder when you go to work or leave the house.
Top
Defining Tasks
Training your dog to sleep in his crate isn't easy, especially if he's young. You may find he cries for long periods of the night to start with. So the hardest part is often resisting the urge to go downstairs and bring him to your bed. You'll need to make sleeping in the crate as pleasant as possible. You can do that using food, toys and by making the crate a bit homier. Because he's young he should be adaptable and training could yield successful results in just a couple of days. If he's stubborn and adamant that he doesn't want to sleep in a crate, you may need a couple of weeks.
Training him to sleep in a crate comes with only benefits. You won't have to worry about any toilet accidents on the floor. You also won't have to walk downstairs to find he's chewed your lovely new cushions. 
Top
Getting Started
Before you can get to work you'll need a few bits. A crate will obviously be the most essential item. You'll also need some tasty treats or his favorite food broken into small pieces. Cheese usually goes down well!
You'll also need a few toys and some bedding to make the crate as comfy as possible. Set aside a few minutes each evening before he goes to bed for training.
You'll also need to find all your resilience so you don't give in and let him out of the crate. Once you have all of those things, you can get to work!
Top
Size matters
One of the most important parts of crate training is choosing the right crate. You need to find one that's the right size. He should be able to stand up and turn around, but he shouldn't have too much more space. Otherwise you might find he decides to use it as a bathroom as well.
Place correctly
Make sure you position the crate in the right place. Have it against at least one wall. If it's secluded he'll find it easier to relax and think of it more as his own space. Also try to put it in a relatively quiet place, like a utility room.
Bedding
Make sure his crate is comfortable. If it's bare and hard then he won't want to sleep in it. Get some thick blankets or bedding and set it up nicely. If he wants to sleep in there already then the battle is half won.
Treat
Leave a treat in his crate before he goes to bed each evening. It will make going in his crate enticing each evening and give him something to look forward to. He'll soon start to associate his crate with tasty rewards.
Toys
Place his favorite toys in the crate in the evenings. This will give him something to distract him, plus it will make it feel more like his territory. If he's got everything he needs he won't be so fussed about being in the crate.
The Gradual Introduction Method
Play time
Spend a few minutes playing in the crate in the day. You can sit outside and play around the entrance with his favorite toys. This will all help him feel at ease and comfortable there when you leave him to sleep at night.
Reward
Whenever you see him go in his crate, give him a treat or some attention. If he associates it with food and love from his owner he'll be much more inclined to go in it of his own accord.
Say good night
Don't simply send him to bed at night, make sure you ease him into it. Play at the entrance gently for a few minutes. Keep the door open and get him subdued, before you close his crate and leave him for the evening.
Say good morning
Make sure you spend a couple of minutes in the morning saying hello and giving him some attention. If he knows you'll be there first thing in the morning, with a smile and love, then he won't feel so sad when you leave him.
Don't punish him
It's important you don't shout at him or punish him if he tries to leave. You don't want to scare him. If he thinks of the crate as an escape from aggression then it won't be somewhere he associates with good times.
Cover the crate
Put a blanket over the crate in the daytime during training, this will get him used to it being dark in there. You're going to gradually build up the length of time you leave him in there, so he'll be fine when it comes to the evening.
Place him in the crate
In a playful manner, tempt him into the crate. Placing a food puzzle in there is often an effective way. It will keep him distracted for a long while as he tries to get to the food inside. Make sure you stay outside the crate to put him at ease to start with. Then slowly close the door.
Patience
Leave him in there for 5 minutes. Then open the door and tempt him out. You can use treats, his favorite food or another toy to get him out. Then shower him with verbal praise and show him he's behaved correctly.
Increase the time
Now later on in the day, place him back in the crate. This time put him in there for 10 minutes. If he seems nervous then stay close by to make him feel comfortable. The trick is to slowly build up the length of time he can stay in there. So, keep practicing each day until you can leave him in there for an hour or two. Then stop hanging around outside the crate as well.
Cold shoulder
When he's confident in there for long periods of time in the day, you can leave him there at night. Place a treat in there before you go to bed and then head upstairs. If you hear him crying, it's important you stay strong and don't pander to him. If he knows he only has to cry, you'll find crate training a real struggle. He'll thank you for it in the long run!
By James Barra
Published: 11/20/2017, edited: 01/08/2021
---