How to Train Your Stubborn Dog to Stay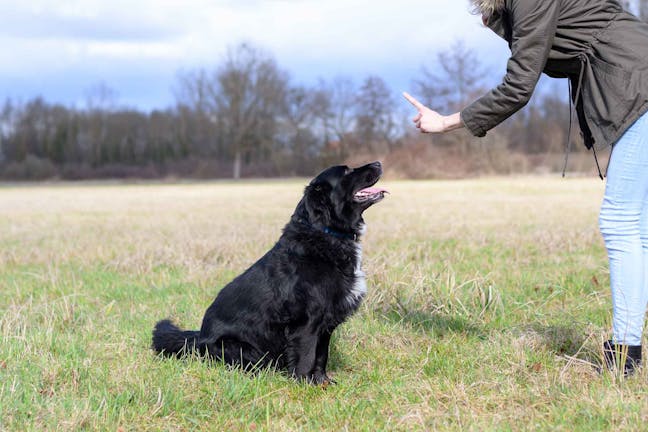 Introduction
When you tell your dog to wait while you put his food bowl in from of him, he ignores you as if he's deaf. When you tell him to heel when you're out on walks, he marches on anyway. If you ask him to come off the furniture, he remains until you have to physically pick him up and remove him. You're not sure where he's got this sense of entitlement, but getting him to do anything is an uphill battle. He's always been stubborn. You may have just seen signs of it when he was younger, but as he's gotten older he's become even more set in his ways.
Training him to 'stay' will give you the foundation to get him to start following your other commands too. You'll be able to have him stay in his bed while you eat your family meals in peace.
Top
Defining Tasks
Training your dog to 'stay' would normally be relatively straightforward, however, because he's stubborn you're going to have to work a little harder. That means firstly, you're going to have to be extremely consistent throughout training. Secondly, you need to find something that will truly motivate him. If he's like every other dog in the world, food is probably the way to his heart. A toy may also do the trick. If he's a stubborn puppy you should succeed with training in less than a week. If he's older and truly stubborn then you may need a couple of weeks of training.
Training him to 'stay' will mean you can get him to wait patiently when someone comes to the front door, or when you're preparing his food. It will also come in handy if he's in the back of the car and you need him to wait there while you get something out.
Top
Getting Started
Before you can get to work you'll need a few bits. Find his favorite food and then break it into small pieces. The more it smells the more it will drive him wild and the more eager he will be to work for it. You will also need a clicker for one of the methods.
Set aside 10 minutes each day for training. All training can take place at home, but try and conduct it when the house is relatively quiet, if possible. 
Once you have all of the above, you just need perseverance and an optimistic attitude and you're ready to get to work!

Top
'Down'
Before you get him to stay, you need to teach him down. So, hold a treat under his nose and issue a 'down' command. You may also want to kneel in front of him as you'll find it easier to guide him if you're lower down.
Encouragement
Now gently lead him to the ground with your treat hand. You can also gently push his back down as the treat gets lower. Once he's flat on the ground, give him his reward and some praise. Practice this for a few minutes each day until he's got the hang of it. Then gradually cut out the treats.
Dinner time
Wait until a meal time, this is an ideal time where you'll want him to stay away from the table. Instruct him to lay down away from the table. Then give a 'stay' command. Give it in the same tone of voice as you did with the 'down' command.
Turn around
He'll still be lying down expecting the treat at this point. So, hold his eye contact and take a couple of steps towards the table. Then turn around to face him, smile and call his name to release him. Hand over a tasty treat and give him some verbal praise. Now eat your dinner before it gets cold!
Increase the time
The next meal time, follow exactly the same steps, but move even closer to the table. The meal after that, actually sit at the table before you release him. Then over the course of the next few days have him stay longer and longer until you can leave him there for the whole meal. At this point, he fully understands the command and you can use it in any number of situations.
The Traffic Signal Method
Set up
Head into a quiet room with him in tow. Make sure you have a generous selection of his favorite food with you. Then keep relatively quiet, you want him calm and concentrating. Dogs often mirror their owner's behavior so if you're focused, he will be too.
'Stay'
Stand directly in front of him and give a 'stay' command. You can use any word or phrase you like, dogs can learn hundreds of different commands. Just give the command in a firm but jolly voice.
Take a step back
Once you've given the command, take one step back. Look him in the eyes as you do this, you really want to hold his attention. Also hold a hand out like a traffic signal, palm facing him like a stop sign.
Reward
As soon as you've taken a full step back, give him a smile and beckon him over. Once he reaches you, give him a treat and lots of praise. It's important he is well rewarded if you want him to catch on quickly.
Increase the distance
Over the next few days, slowly increase the distance you walk away from him before you release him. The key is to build it up gradually. After a few days you should be able to leave the room with him still waiting there. At this point, your work is done.
Get him clicker friendly
Start using the clicker to signal to him whenever he has performed a behavior correctly. So, do some obedience training where you get him to 'sit', lay 'down', etc. The clicker will become a clear signal to him and will speed up the learning process.
Get his attention
Hold out a treat in front of him to capture his attention. Don't hold it so close he tries to snatch it out of your hand, just let him know what's on offer. Remain quiet, calm and keep eye contact throughout.
'Stay'
Now give your verbal cue. You can use any word or phrase you like. Make sure you give it in a clear voice. Don't say it too seriously, you don't want to scare him, you want him to think you're playing a game.
Step away
Now take a step or two back. Do it slowly but deliberately. If he starts to move, stop and go back to the beginning and try again. He'll soon realize that he's not getting the treat so he needs to try something else if he wants it.
Reward
Once he does stay still as you step back, you can smile and call him over. Then click and give him his tasty reward and some attention. The click will signal to him that was the correct thing to do so he'll stay put next time. Keep practicing this, but gradually move further away and leave him there for longer until you release him. Once he's fully got the hang of it you can slowly cut out the treats.
By James Barra
Published: 11/29/2017, edited: 01/08/2021
---