How to Train Your Dog to Stay Away from Cats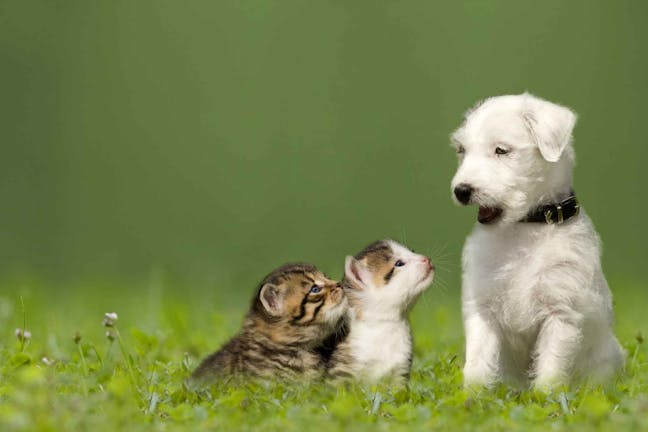 Introduction
You've recently welcomed a new dog into your home, to join the kids, partner and cat that already live there. While the kids and the dog seem to love each other, the cat and the canine don't seem to be getting on quite so well. In fact, the dog chases, scares, and barks at the cat whenever he gets the chance. Your cat has been part of the family for many years, so as much as you love your new dog, the cat's happiness is important too. To make matters worse, the dog also scares the life out of the neighbor's cat too.
You don't want your dog developing a taste for cat, that won't end well for anyone. You need to train him to stay away so he doesn't cause one serious injury. Injuries can lead to hefty vet bills that you don't want to foot!
Top
Defining Tasks
Training your dog to stay away from cats won't be easy but with consistent training, it can be achieved. Firstly, you need to set down some unbreakable rules when it comes to cats. You need to enforce those rules using a number of deterrence measures. You will also need to use positive reinforcement through a variety of tasty rewards to keep cats strictly off the menu. If he's a puppy and chasing cats is a new habit, then you should be able to train it out of him in just a couple of weeks. If he's been causing cats grief for years, then this ingrained habit may require up to 6 weeks to fully kick.
Succeeding with this training may save the life of your cat or someone else's. Not to mention a dog that develops a taste for cats may go on to develop a taste for biting other living things, too!
Top
Getting Started
Before you end the reign of terror you will need to get a few bits together. A spray bottle full of water may prove essential. You'll also need your dog's favorite food or treats to motivate and reward him. 
Cat flaps that your dog can't fit through will also be needed for one of the methods. Some chewy and enticing toys will also be required to channel your pooch's energy and aggression elsewhere.
Apart from that, just bring the right attitude and a good degree of patience and you're ready to get to work!
Top
Always secure
Always have your dog on a leash when you're in the house and the cat is. You can use an extendable leash or a leash attached to your belt. Make sure you have a handful of treats with you at all times, too.
'Sit'
When the cat enters the room, instruct your dog to sit. Keep his attention focused--you may need to hold out a treat to keep his gaze. Give the command in a firm but playful voice, he's most likely to respond if he thinks it's a game.
Reward
If he sits, give him a treat and then praise for as long as he sits there. If he strains towards the cat, take a few steps back and ask him to sit again. Keep rewarding him for as long as he remains sat still.
A toy distraction
If the cat decides to stick around, give your dog a chewy toy to play with, or play a bit of tug of war with him. You want to remove any interest in the cat and always keep him either working with treats, or distracted with play.
Practice
Follow these steps for the next two weeks minimum. It will take a while to instill the correct behavior around cats before he can be trusted to go leash free. It will mean lots of close contact with each other for a short while, but it will be worth it in the long run. You can have another family member share the burden some of the time, too.
Have treats at the ready
Whenever you see your dog approach a cat, use a treat to lure him away. You can also call his name in an upbeat, playful voice. If he hears you're happy, he's more likely to make his way over to you.
Reward
Each time you successfully lure him away, give him a treat and plenty of verbal praise. You need to really assure your dog that he's done the right thing. If he thinks he'll be heavily rewarded, he'll be more likely to come away next time.
A long leash
After several successful attempts, secure your dog to a long leash and put a cat in a controlled environment with him. Ensure there is enough slack that he can get close to the cat if he chooses to, but also that he can't actually get to it.
React
Every second he doesn't go towards the cat or show it attention, give him some verbal praise. Also throw in the odd treat to keep him motivated. As soon as he does step towards the cat, call him away. If he gets too close, pull him back with the leash. Practice this for 10 minutes a day several times a week. After this week of positive and negative reinforcement he will understand how you want him to behave around cats.
Be vigilant
After the weeks' intensive course, give him some more independence. Just be careful to keep a watchful eye on him at all times to start with. Use the treats and rewards to lure him away if he has any slip-ups.
When unsupervised, keep them separate
If you're not in the house or not around to keep an eye on them, keep the dog and cat away from each other. That may mean shutting them in separate parts of the house or one of them outside.
Fit cat flaps
If your cat can easily get away from your dog, then too much trouble should never take place. Fit cat flaps to give the cat an easy escape and use cat flaps that your dog can't fit through, if possible.
Spray bottle
Keep an eye on your dog and if he lunges for the cat or gives chase, spray him in the face with water. If the annoying spray always happens, he will soon want to keep away.
React swiftly
When your dog does go near a cat, quickly remove him from the situation. Don't shout at him, you don't want to scare him, just calmly take him away. If you shout or punish him, he may develop aggression as a defensive mechanism.
Be consistent
It's important you react every time. If you let him get close to a cat without a consequence a couple of times, he may be tempted to do it again. For the quickest results, you must hammer home the point every time without fail.
By James Barra
Published: 11/02/2017, edited: 01/08/2021
---