How to Train Your Small Dog to Stay Away from Cats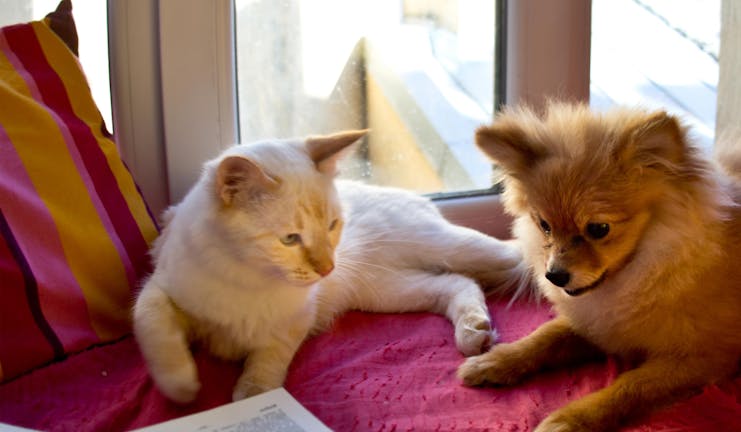 Introduction
They may be a similar size, but your cat is often considerably more vicious than your dog. To start with, they seemed to get on quite well. You did your best to try and socialize them as suggested. Unfortunately though, like many romances, they grew apart. Now all that is left is bitterness and anger. But it's the violence you are most concerned about. You don't want either to be left with injuries. Nor do you like the thought of expensive vet bills. 
Training your small dog to stay away from cats could prevent any conflict. No longer will you have to panic when you hear the sound of barking or the cat screeching. You don't want either pet living with such stress either. You want happy, relaxed pets in your home. Succeed and you won't have to worry about dampening neighbor relations over your dog's appetite for their cats any longer.
Top
Defining Tasks
Training any dog to stay away from cats can prove difficult. However, with small dogs, the challenge can be even harder. This is because small dogs will often feel threatened more easily. But while training may not be easy, it is definitely still achievable. The first thing to do is employ a number of deterrence measures to discourage any interaction. You will also need to use obedience commands to assert your control and keep him following the rules. Positive reinforcement will also be required to motivate your dog to stay away from cats.
If he's a puppy he should be a fast learner and eager to please. You could see results in just a couple of weeks. If he's older and this habit has been many years in the making, then you may need a couple of months to fully break the habit. Get this training right and you'll have a relaxed, happy and safe dog.
Top
Getting Started
Before you start working you will need to collect a few items. A water spray bottle will be needed for one of the methods. You will also need cat flaps if you have cats in the same house. Some food puzzles and toys will be required, as will treats that your dog just can't resist. 
Try and set aside a few minutes each day for training, at a time where there won't be any cats around.
Apart from that, just bring patience and a positive attitude, then work can begin!
Top
Short leash
Whenever you are on walks, keep your dog on a short leash, especially if you are in a cat hot spot. He may be small but he could still be strong, so a short leash will increase your control and get him used to not being able to chase after cats.
Positive reinforcement
Give him the odd treat and verbal praise whenever you are near a cat and he doesn't show aggression. You want him to associate calm behavior with tasty treats.
Withdraw
As soon as he starts getting aggressive, stop the treats and pull him away. There needs to be a sudden and firm reaction on your part so he understands his behavior was wrong.
Obedience brush up
Stimulate your dog's mind by refreshing obedience commands. Not only will your pooch listen better when you give instructions, but his brain will get a workout while taking his mind off the cat.
Return gradually
After a minute of cooling off, return to the vicinity. Again, continue to praise and reward him when he remains calm. Keep repeating this until he stops paying them any attention altogether.
Setting up
Take your dog into a quiet room and make sure you have a pocket full of treats with you. You're going to teach him to stop on command so you can prevent him from going near any cats. Over time, this will stop him from trying to go near them altogether.
Traffic signal
Hold up a treat from a few feet away. Then as soon as your dog starts making his way towards you, take a step towards him and hold up your hand like a 'stop' traffic signal. This will instantly make him hesitate and pause for a moment.
'Stop'
At the same time you put your hand up, issue a 'stop' command. You can use any word or phrase you like, just make sure you give it in a clear voice. Hold eye contact as you give the instruction too.
Reward
As soon as he pauses, give him the treat and lots of praise. The happier he feels, the more likely he will be to follow your instruction again. To start with, you want to reward even the briefest pause. You will then make him wait longer and longer as training progresses.
Application
Practice this every day for a few minutes, slowly increasing the length of time you leave him waiting. Then, start using it whenever there is a cat around. Issue the command and have him wait, you can then lead him away. After a while, he will form a habit of stopping whenever he sees cats naturally.
Cat flaps
Try and choose cat flaps that are small enough that your cat can get through but your dog cannot. If your dog is small enough to get through, use baby gates instead. Cats will be able to jump over them, but your little dog will not. This should separate the two foes if they live under the same roof.
Pull him away
Whenever you see your dog approach a cat, take him by the collar and lead him away. As soon as you see his body go stiff, it's time to act. You can also give a firm 'NO' to reinforce the point.
Water spray bottle
For a stronger deterrent, give a quick spray of water near his face each time your dog shows any interest in a cat. You want him to associate going near cats with negative consequences.
Yard and home security
Set up your home and yard with feline safe havens. A cat tower for climbing and perching upon can be used both inside and outdoors.
Consistency
You must be consistent if you want swift results. Each time you let him chase without consequences, you will push back the end result. So, make sure everyone in the house is on board and reacts every time.
By James Barra
Published: 01/15/2018, edited: 01/08/2021
---