How to Train Your Older Dog to Stay Away from the Road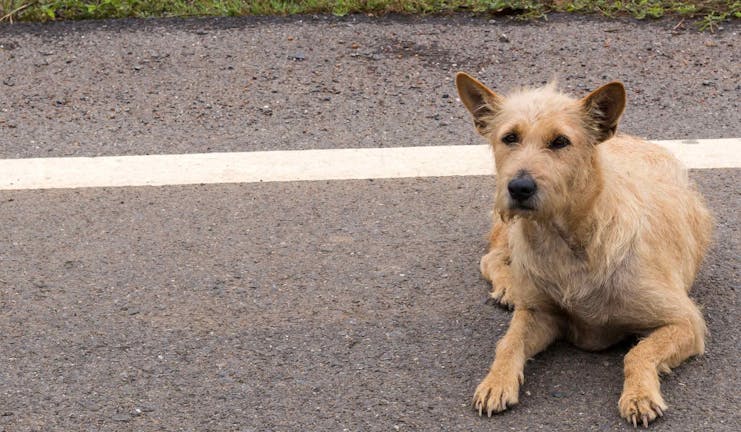 Introduction
He's been an integral part of your life for many years now. He's been around longer than some of your furniture and he's comfier than most of it too. In his youth, your dog always had a mischievous streak running through him. He'd charge across fields after dogs on the horizon. He could cause a serious mess on your kitchen floor too. He's mellowed out as he's gotten older though. 
Having said that, he has retained one bad habit, dancing with death by playing around on roads. You aren't sure if he can sense you are nervous and that's what makes it so exciting for him, or whether he's just a big fan of cars. Either way, the older he gets, the slower he becomes and the less likely it is he will run out of the way in time. Training him to stay away from the road though, could well save his life.
Top
Defining Tasks
Training any dog to stay clear of the road can be difficult. The challenge is even greater if he is older. Firstly, the habit will have formed over many years so it is harder to break. Secondly, he won't be as responsive to training as he was when he was a puppy. Fear not though, training can still prove successful. The first thing you need to do is take a number of steps to prevent him from getting too close to the road. You will then need to find an incentive for keeping him clear. Obedience training and commands will also play a role in asserting your control.
Depending on how stubborn he is, training could take anywhere from one week to six. The more consistently you train, the sooner you will see results. Get this training right and you won't need to worry about him causing an accident or the hefty vet bills that come along with a collision. 
Top
Getting Started
Before you get to work, you'll need to get a few bits together. A short training leash will be required. You may also want to use a body harness if he is big and strong. This will reduce strain on his neck while affording you greater control.
Set aside a few minutes each day for training. You can also train while you are on your daily walk. Make sure you have a decent supply of treats or his favorite food broken into small chunks.
Once you have the above, just bring patience and a positive attitude, then work can begin!
Top
Road side
Whenever you take him out of the house and you are near a road, make sure you are road side. Acting as a physical barrier will help you keep him away and should also block his view, making the road less tempting.
Short leash
Keep him on an extremely short leash, especially around busy roads. If he's strong and you give him too much leash he could pull you onto the road before you know it. Once you have broken the habit, you can extend his leash freedom.
'NO'
Whenever he shows any interest in the road, issue a firm 'NO' command. Make sure he knows you mean business.
Firm pull
At the same time as you give the verbal disapproval, give the leash a yank towards you. Pull him close to your side and away from the road. It's important you react every single time he shows an interest in the road. Consistency is key.
Water spray
Take a water spray bottle with you on walks. Whenever he shows an interest in the road or heads towards it, give him a quick spray near the face. He will soon start associating the road with negative consequences and give up on the dream altogether.
Treat lure
Whenever you are out near a road, have him on a leash. Also, hold a treat out at your side, near his face. Don't let him get to it, but make sure he knows it is there. You want to distract him from the road.
Walk
Hold his attention for twenty yards or so with the treat. Then, if he hasn't shown any interest in the road, you can hand it over. Give him some verbal praise too. The happier he feels, the more likely it is he will walk calmly by your side again.
Stop & repeat
If he pulls you towards the road or loses interest in the treat, stop. Stand still for thirty-seconds and wait for him to re-focus, then try again. If he continues to lose interest in the treat, try a different, more enticing reward. Cheese is often effective.
Increase the distance
Next time, walk thirty yards holding the treat by your side. Again, as long as he shows no interest in the road, hand over the treat at the end. Gradually increase the distance each time. The idea is to get him in the habit of walking calmly by your side, away from the road.
Lose the treats
Once he has the hang of it and you can walk without him trying to pull you into the road, you can slowly phase out the treats. It may take several weeks to get to this point, so be patient.
The Traffic Etiquette Method
Short leash
Whenever you are out of the house and around roads, keep him on a short leash. Until his road roulette habit is under control, you need to keep him close to your side.
'Sit'
When you approach a road you need to cross, have him sit next to you. Issue the command just once. If he doesn't sit straight away, hold out a treat and use that to get him to sit.
Wait
Now keep him waiting in the sit position for a few seconds. Hold the treat close to his face to keep him stationary. Then when the road is clear, start walking across with him closely by your side. Continue to hold the treat close to his face to keep his attention.
Reward
Once you have crossed the road, have him sit again, then hand over the treat. You can also shower him in verbal praise. The greater the reward, the more eager he will be to repeat the behavior.
Consistency
It may be time-consuming, but you must do this every time you cross a road. You must also keep him on a short leash when you walk near a road. You are drilling into him strict discipline and road etiquette. It may take a while to stick, especially because he's older, but this new attitude around the road will eventually become habit.
By James Barra
Published: 01/15/2018, edited: 01/08/2021
---