How to Train Your Older Dog to Stay Out of the Kitchen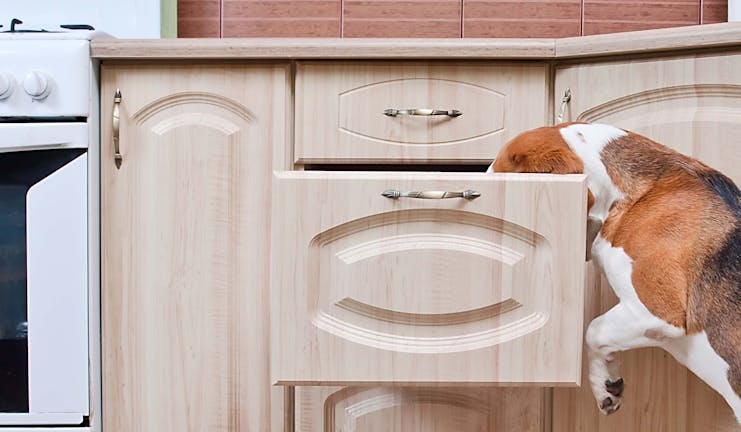 Introduction
Your dog may have been around longer than some of your kids. The only difference is, he complains far less and on the whole, makes less mess too. As he's getting older though, he is becoming increasingly clingy. This was cute to start with, but when you have guests over or you're trying to cook after a busy day of work, well then you don't want to be tripping over him. It's also making him more dependant on you and may risk his separation anxiety getting worse. You don't want him whining when you are out at work each day.
Training your older dog to stay out of the kitchen is an effective way to give you some peace and quiet. But also, it means he can have his own territory where he won't be disturbed. Not to mention it will stop him jumping him up on the counters trying to steal your food.
Top
Defining Tasks
Training a dog to stay out of a kitchen that is full of wonderful and exotic smells is never going to be a walk in the park. It's even harder if he's spent many years being able to wander in and out as he pleases. Older dogs are also usually harder to train. Having said that, this type of training is often still effective so don't be put off. You'll need to use a number of deterrence measures to keep the kitchen dog-free. You'll also need to find a way of occupying and distracting him outside the kitchen.
If he's still an eager-to-please canine you could see results in just a week. If he's stuck in his ways and stubborn, then be prepared to invest up to three weeks into training. Succeed and you won't have to worry about his aging and not so resilient bladder giving way on your clean, new kitchen floors.
Top
Getting Started
Before you can get to work, you'll need to gather a few items. Baby gates, a deterrence collar, and a water spray bottle will be needed for one of the methods. You'll also need food puzzles and toys. A decent stockpile of treats or his favorite food broken into small chunks will also be required.
Try and find a few minutes each day to dedicate to training. You can use this time to practice obedience commands, so opt for a time where you won't be too distracted.
Once you've ticked all those boxes, you're ready to get to work!

Top
'NO'
Whenever your dog steps foot in the kitchen, rush over and give a firm 'NO'. While you don't want to petrify him, you do want him to know you mean business. You can then lead him out of the kitchen by his collar.
Water spray bottle
If the firm 'NO' doesn't do the trick, you can upgrade to the water bottle. Give a quick spray near his face whenever he enters the kitchen. He will soon think twice before stepping over the threshold.
Deterrence collar
These remote controlled collars emit an unpleasant spray of citronella whenever you hit the button. So, stay vigilant and hit the button each time he enters the kitchen. He will soon start associating the kitchen with negative consequences and avoid it.
Baby gates
If none of the above measures are working after a week or two, you can consider fitting baby gates. They are quick and easy to install and they will fully prevent him entering the kitchen.
Consistency
It is important you sit down with everyone in the house and get them on board with training. Your dog needs to be deterred every time he steps foot in the kitchen. Each occasion he is allowed in without consequence, will further push back the end result.
Move his bed
Make sure his bed and toys are not in the kitchen. You need to show him the kitchen is no longer his territory. Try and put his bed in a spot where there are three walls around him, so he has some privacy.
Exercise
He may be getting old, but he will still need regular exercise. Take him out for a long walk each day. Throwing a ball as you walk is also an effective way to tire him out. The sprinting will see him napping when he's home, instead of causing trouble in the kitchen.
Food puzzles
Distract him by giving him a food puzzle to get through. They can keep dogs occupied for hours on end and keep the kitchen off his mind. He'll soon be comfortable spending time outside the kitchen.
Dedicated play time
Make sure you spend a few minutes giving him attention. His following you around in the kitchen may be attention seeking behavior. So, if you send a few minutes stroking him and giving him the love he needs, he may be more inclined to give you some kitchen privacy.
Tug of war
Spend a few minutes playing tug of war each day. This game will sap him of energy. So, instead of trespassing in the kitchen, he'll spend his evenings napping outside where it's quiet.
Head for his bed
Firstly, make sure his bed is kept outside of the kitchen. You are going to train him to go to his bed. That way you can instruct him to leave the kitchen each time he tries to enter. Some time doing that and he'll give up trying to come in the kitchen completely.
'Bed'
Stand just a couple of steps away from his bed and then issue a 'bed' command. Give it in a clear but playful voice. Dogs learn best when they think they are playing a game. As you give the instruction, point and look at the bed.
Throw a treat
He will probably naturally make his way to the bed. However, if he doesn't, you can hold out a treat and then throw it onto his bed. This is bound to get the message across.
Reward
Make sure as soon as he steps foot on his bed that he gets the treat. You can now practice this again, but this time stand a little further away and instruct him to go his bed. Continue doing this, but gradually increase the distance you are from his bed each time.
Use in the kitchen
Keep practicing this command until he goes to his bed whenever you instruct him to. Now you can use it whenever he tries to enter the kitchen. He will soon catch on and give up on the kitchen all together.
By James Barra
Published: 01/10/2018, edited: 01/08/2021
---