How to Train Your Small Dog to Stay Out of the Pool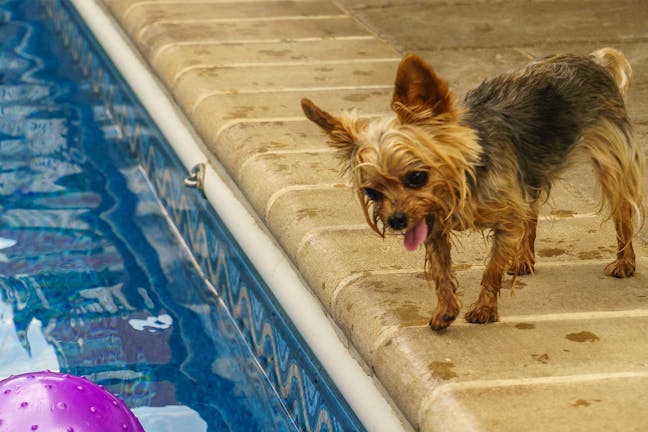 Introduction
In many ways, you love that your dog is small. It means you can pick him up and cuddle him with ease. He can sit on your lap while you watch the Kardashians without turning your legs numb. It also means he doesn't scare strangers and other pets. It isn't all plain sailing though, there are some downsides. The biggest of which is that he can fit through small gaps. This is a skill he has mastered and uses to jump into your clean swimming pool. Nobody wants to swim in a pool that's full of dog hair, even if he is the cutest dog in the neighborhood. 
Training him to stay out of the pool will seriously reduce the amount you have to clean the pool. It will also prevent him running wet paw prints around your house, not to mention the chlorine he will walk into your new carpets.
Top
Defining Tasks
If a dog loves water, then training him to keep clear of it can be challenging. This is especially the case with swimming pools, where they can see people having fun right before their eyes. Because of his size, training your small dog to stay out of the pool will first require taking a number of steps to limit his access. You will also need to channel his energy into something more productive, through obedience training.

If he's a puppy, then his love for the pool may be relatively new and you should be able to stamp out the habit in just a couple of weeks. If he's older and spent many years being allowed in there, then you may need up to six weeks. Succeed and the pool will be a strictly canine-free zone, where your kids can splash to their hearts' content.
Top
Getting Started
Before you get to work, you will need a few things. Some secure fencing to separate him from the pool will be needed, as will a motion sensor. Toys, food puzzles and treats will also be required. For one of the methods, a long leash, deterrence collar, and a water spray bottle will be needed.
Try and allocate 10 minutes each day to training. It will help to be vigilant and around him as much as possible, especially at the beginning of training.
Once you have the above, just bring patience and a proactive attitude, then work can start!
Top
Boundaries
Secure him to a leash in the morning and evening and walk him around the perimeter of his area, excluding the pool. This will reinforce where his territory begins and ends.
Encouragement
It's important you reward him and encourage him to come away from the pool. So, if you see him wandering and around taking an interest, try and call him away with a treat in your hand.
Fit a motion sensor
You can get motion detectors that trigger an alarm when they detect movement in the water. This will allow you to retrieve your little canine friend swiftly. The longer he is allowed in the pool without consequence, the further back you push the end result.
A tight cover
You can get pool covers that are firmly anchored to the ground. These stretched covers will prevent even a small dog sneaking under. This will remove the temptation and his dreams of diving will soon fade from memory.
Never punish him
It is important you don't punish him if you catch him in or near the pool. If he becomes terrified of you, then he may be even harder to control. Positive reinforcement is far more effective.
Exercise
The first thing to do is make sure he gets plenty of exercise each day. Throw a ball for him on your daily walk and the short sprinting will tire his little legs out. If he's napping at home he won't be interested in the pool.
Play time
Spend 10 minutes each day messing around and playing with him. He may be following you to the pool because he craves attention. So, make sure that box is ticked and he may give you some privacy when you're by the pool.
Obedience commands
Spend some time teaching him a range of tricks and commands. 'Roll over', 'paw' and 'wait' can all be fun and will channel his energy into something more productive, distracting him from the pool.
Food puzzles
On particularly hot days when everyone is around the pool, give him a food puzzle to keep him distracted. If there is one thing dogs love more than water, it's food. They will keep him content for hours.
Minimize temptation
If you leave toys and balls around the pool area where he can see, he will naturally want to go over there. So, you need to keep anything tempting out of sight if possible.
Secure fencing
The easiest way to train him not to go in the pool is to secure the pool area. If he's small, that may mean swapping out bushes for secure fencing with no gaps. Also, a fence that blocks his view will make the pool far less tempting.
Long leash
You can also consider tethering him to a long leash when he's in the yard. Give him enough space to roam around, but not enough that he can get in the pool.
Pull him away
Whenever you see him show any interest in the pool, rush over and lead him away by the collar. You don't have to wait for him to actually jump in. You can also give a firm 'NO' when you pull him away.
Water spray bottle
If the firm 'NO' doesn't get the message across, give him a quick spray of water near his face. The short, sharp shock will make him think twice whenever he heads towards the pool.
Deterrence collar
They can be bought from a range of online stores, just hit the button whenever he approaches the pool area. An unpleasant spray of citronella will be emitted. He will soon start associating the pool with negative consequences and stay away.
By James Barra
Published: 01/16/2018, edited: 01/08/2021
---