How to Train Your Dog to Stay Within Boundaries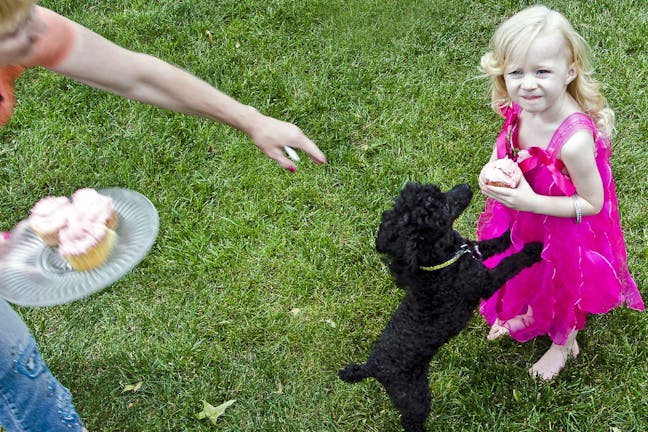 Introduction
You work hard for most of the year to grow your own vegetables. It wasn't something you ever thought you'd care about when you were younger, but now your garden means a lot to you. So when you see your canine pal leap onto your strawberries and eat your green beans, well it's hard to keep your cool. Alternatively, perhaps you have a swimming pool that is strictly not to be filled with doggie hair, yet he insists on trying to leap into it at every given opportunity.
Training your dog to stay within boundaries could save you serious heartache. If he refuses to stay within the yard, he could get out into the road and cause a serious traffic accident. He may lose his life or cause someone else to lose theirs. Enforcing boundaries then is essential!
Top
Defining Tasks
While it may sound difficult, this training is straightforward if you are consistent. If you consistently drill into him where your dog is and is not allowed to go, he'll soon get the message. You can use treats to keep him inside the boundaries and deterrents to keep him crossing the boundaries. If he's young then he's probably still learning the ropes and could respond to training in just a week or two. If he's older and spent years going where he likes, then breaking that habit and reinforcing new boundaries may take a few weeks.
If this training yields results, you will have strict boundaries that you will no longer need to police. You could save him escaping and getting lost. You could save him hurting himself or getting in any danger, which in turn could save you from hefty vet bills.
Top
Getting Started
Before your military regime kicks off, you'll need several things. Treats or his favorite food will play an important role. They will help motivate him to stay within the boundaries. You will also need a water spray bottle and deterrent collars for some of the methods below.
The other main component needed for this training is time. You need to commit 10 minutes a day, every day, to this training. Consistency is key if you want swift results.
Once you've got all of that, it's time to get to work!
Top
The Reinforcing Boundaries Method
Secure him to a leash
Every morning and evening, walk him on a leash around the boundaries. Imagine there is an invisible line and walk him to it every time. By doing this every day, you are drilling into him where his territory ends.
React swiftly
If on the walks he goes past this invisible line, quickly pull him back and say 'NO' in a firm voice. If you do this for a week or two he will instinctively know where that line is.
Reward system
After a week, lose the leash and walk him around off the leash. If he goes towards the invisible line, call him over and use a treat to tease him away if necessary. When he comes over, make sure you give him the reward and lots of praise. By rewarding him for coming away from the boundary, he'll be more inclined to stay clear of it again.
Be consistent
Walk every day, twice a day, for at least a week or two. It will take a while to become habit, so you need to be patient. He will soon get the message, so don't lose faith if he slips up a couple of times.
Get everyone on board
This training only works if everyone stops him crossing the boundaries. If you're working hard each day on training but your partner lets him cross the invisible line, then he won't learn. Get everyone to work together to ensure consistency. When you think he's got the hang of it, you can stop walking him around the boundaries each day, he knows not to cross them now.
The water spray bottle
Keep a vigilant eye on him and keep a water bottle close. As soon as you see him approach the boundary, quickly go over and spray near his face. If this unpleasant experience happens every time, he'll soon associate crossing the boundary with undesirable consequences.
Consider a collar
You can get remote controlled collars that spray a burst of citronella or give emit an unpleasant high pitched sound. They can be bought online and from pet stores and will help you reinforce the rules. When he approaches the line, hit the button.
A long leash
You can also secure him to a leash in the house or yard that lets him get just to the boundary. If you keep him on this each day for a couple of weeks, he will naturally think his territory ends where the leash ends when you take him off it. Then you can use the other steps to correct any lapses.
Reward
If you do see him approach the boundary but then come away, be sure to rush over and give him a treat and praise. If you reward him from coming away from the boundary, he'll be more likely to back away from it again in future.
Patience and persistence
This training takes time. You need to create and develop a whole new habit. So make sure you stick to the steps above religiously for at least a couple of weeks. The more consistent you are, the quicker he will learn. When you think he's finally got the hang of it you can stop using the above measures.
Find a quiet space
Make sure you won't be distracted, then get his attention with a handful of treats. You're going to teach him to wait so you can stop him dead in his tracks if he approaches any boundary.
'Wait'
Standing in front of him, issue the command in a clear voice. Take just one quick step back and then call him over. You need to keep the distance really short to begin with. Try and keep it playful though, he'll be more eager to learn that way.
Praise and reward
As soon as you've taken a step back call him over and give him a treat. Really show him he's done a good job. Then carry on practicing this for 10 minutes a day, each day. As you practice, increase the distance you walk away before you call him over. Do this until you can leave the room and he'll stay still.
The real deal
Now, keep a close eye on him over the next few days. As soon as you see him approach the boundary, issue the 'wait' command. Then call him over and give him a treat. You need to do this every time he approaches the boundary. By continuously doing this, he will learn how far he can go before he's told to stop. This will be time-consuming and you must be vigilant; each slip up will slow the learning process.
Lose the treats
After weeks of training and when you've stopped having occasions where he crosses the boundaries, stop giving him treats. At this point he'll know where he can and can't go and the treats shouldn't be needed. Soon enough you won't have to tell him to 'wait' either. The invisible lines will be engrained into his brain.
By James Barra
Published: 10/18/2017, edited: 01/08/2021
---