How to Train Your Dog to Stop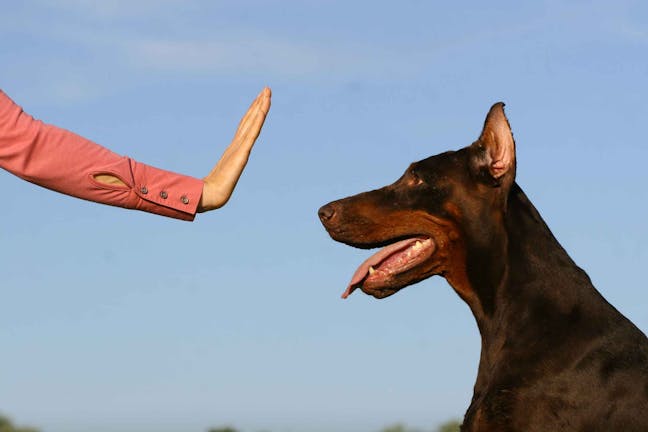 Introduction
You're about to cross the road with your trusty canine companion by your side, when what does he do? He leaps into the road, narrowly avoiding the oncoming truck. It isn't the first time he's gambled with his life on the busy roads around your house and it probably won't be the last. If you could train him to 'stop', you could have him wait patiently for dangerous traffic. 
Your dog may also be quite big, so when you have guests over and he bounds over to them desperate to lick their face, he doesn't half scare them. He's only trying to be friendly, but it would be helpful if you could reign him in when these situations arise. Succeed with training him to 'stop' and you'll have a newfound control over him that will regularly come in handy.
Top
Defining Tasks
The training itself isn't overly complicated. The challenge comes at the initial stage when you try to show him what it is you want him to do. Once he understands the behavior you expect, you just need to reinforce it with tantalizing treats. If he's a puppy he should be receptive and could be stopping on command in just several days to a week. If he's older with a lifetime of bad behavior on his rap sheet then you may need a couple of weeks before you start seeing results.
However long it takes, it will be more than worthwhile if it means you can stop him from being run over one day. Plus, if it allows you to stop him scaring strangers then it's a command everyone around you will be grateful you've mastered. 
Top
Getting Started
Before you can get to work, you'll need to gather a few things. A long stick will be required for one of the methods. Most importantly though, you'll need treats or his favorite food. The more he loves the reward, the more eager he will be to please, and the quicker you'll see results.
Find a quiet space so you can practice training, it could be indoors, in a large yard or on your normal walk. Then you'll just need to set aside 10 minutes a day for the next couple of weeks.
Once you've got all of that, just bring a positive attitude and you're ready to get going!
Top
Head out for a walk
Go about your walk as you normally would, but find a relatively narrow space like an alley or an enclosed path. Make sure you have a long stick with you and some tasty treats.
'Stop'
Issue the command in a clear and firm voice. You can use any word you like for the command, just try to keep it relatively short. As you give the command, stop walking yourself and hold the stick out to the side at your dog's height. The stick needs to be positioned as a barrier so he can't walk any further.
Reward
As soon as he stops, give him a treat and shower him with praise. It's important he gets the reward as soon as he stops moving so he associates the action with the mouth-watering treat. Practice this for 10 minutes a day for the next few days. Remember to be firm when you command and quick to praise when he halts.
Lose the stick and change it up
After several successful days, you can try the command without the stick. By this point he will know what is expected of him when he hears the word so the stick shouldn't be needed. Try it when he's playing at home or running in the yard. If he stops as instructed, then great news! You can move onto the next step. If he doesn't halt, go back to using the stick for a few more days to reinforce the point.
No more treats
When you're confident he reacts correctly each time you instruct him to, regardless of the situation he is in, you can gradually reduce the number of treats you give him. Eventually you can stop giving him treats altogether.
The Traffic Signal Method
Take him to a quiet space
Have some treats in your pocket and his attention on you. Then instruct him to wait for you.
Walk ahead
While he's waiting, walk several steps ahead, then turn around and look above his head. If you look at him in the eyes, he will take that as a signal he can move again. So be sure to avoid his gaze.
Hand gesture and verbal cue
After a couple of seconds you can look at him and smile, signalling to him that he can head towards you. As soon as he starts moving, take a step towards him, hold up your palm in front of his face, and say 'stop'. Most dogs don't like things moving quickly towards them so he'll automatically halt.
Reward
As soon as he does halt, throw him a treat and give him some verbal praise. It's vital he gets the treat as soon as he stops moving. Repeat this again and again. Spend 10 minutes a day for the next few days following this technique.
Slowly lose the props
As he gets the hang of it, you can stop stepping forward, just give the command and the hand signal. After a couple of days of that, you can stop using the hand signal too. By this point he'll associate the command with the action and that's all that will be needed. Then when you're confident he's fully into the swing of it you can lose the treats too.
Start your walk
Go out for your daily walk as you normally would. Have some treats in your pocket and have your dog securely leashed. You may also want to have him in a body harness--this will reduce strain on his neck.
'Stop'
Give a 'stop' command in a firm voice. You don't want to scare him but you do want him to know you mean business. You can use any word or phrase you like, dogs can learn over 1,000 different commands!
Stand still
As you give the command, stop moving. Don't encourage him to stop moving too, just give the command and then wait patiently for him to stop. The first few times it may take a while before he looks round to see what's going on.
Tasty treat
As soon as he does stop moving, throw him a treat and go over to him to give him praise. Never let him come to you, you must always go to him, that way it's you who tells him when he can move again. Make sure he receives his treat promptly and he'll swiftly learn it's stopping that earns him it. Practice this religiously each day.
Introduce distractions
After several days, you can try using the phrase in some more challenging situations. Try giving the command when you're about to cross a road and when he's playing with other dogs and people. When he responds correctly in all of those situations, you can stop rewarding him with food. He knows what's expected of him now!
By James Barra
Published: 10/24/2017, edited: 01/08/2021
---