How to Train Your Dog to Not Have Opposition Reflex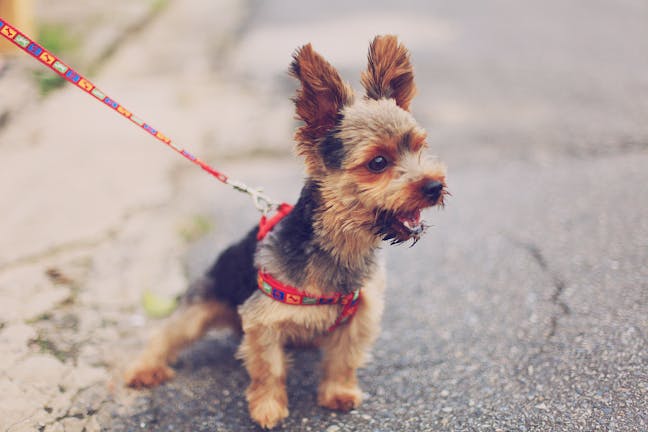 Introduction
Going for a walk with your pooch is a pleasant experience, providing exercise and fresh air for both of you.
But if you have a dog who pulls, the outing can turn from something you look forward to, to something you dread.
When a dog pulls or resists direction, it is often called an opposition reflex. Although the action is not a reflex like shaking a leg almost uncontrollably when a favorite spot is scratched, the behavior is called opposition reflex because your dog is struggling against what you have in mind.
And that is a pleasurable walkabout the neighborhood.

Top
Defining Tasks
Teaching your dog to relax with the leash and let the adventure come as it may isn't always an easy task. Many dogs like to pull naturally because they are in a rush to get going to whatever exciting destination you have planned.
Dogs are always ready to explore with all of their senses, keeping their nose to the ground and their eyes and ears wide open. Opposition reflex has also been described as freedom reflex, simply a desire to be free to check out the world!
Top
Getting Started
Go ahead and use your dog's usual collar and leash. No prong collars or special harnesses are needed. You'll teach your pupster that walking calmly and nicely at your pace is a lot more fun than pulling, which can possibly hurt or injure the neck. Of course, make sure your pooch is well exercised before you start training and bring along some tasty treats.
Top
Grab treats
Grab some of your pup's favorite tidbits (such as training treats) and head to a location where there are no distractions. This is not a training session for the park. Start in the backyard, which must be enclosed since you are training off-leash. Let your dog know you have the treats and hold them in your left hand, against your leg.
Left leg
Have your dog come to your left side. Praise your pooch for the arrival and attention, and happily hand over one of the treats.
Heel command
Say the command "heel" and start to walk. All the while, the treats are still in your left hand at your side. At five-second intervals, give a treat to keep your pupster by your side. Don't stop, though. Continue walking as you give the treats.
Focus on treat
Give the heel command as you turn right. Pat your leg, so your curious canine remains focused on the treat. When your dog catches up after the turn, give another treat.
Make a turn
Try turning left as you continue the same method. Say heel, give treats as your dog complies, and praise for the great work. Practice this every day for a few weeks, until your dog is heeling without question. Then, you can add the leash and try it on a walk. There should be no opposition reflex.
Expect control
This method involves halting when your pooch pulls. Start with expectations of control and listening before you even begin the walk. Have your dog sit to get their leash on. Walk to the door, have them "sit and stay" as you wait to open the door. When they are calm, go ahead and step outside together.
Another door
If your dog continues to pull in excitement at the door, continue the practice but work at another door they do not usually exit the house from. Train them until they are calm as they leave.
Halt
Proceed to the yard. Walk around the yard, and when your dog pulls forward, pull the leash upward and halt. Once your dog stops, release the tension and move forward again, repeating as necessary.
Forward and halt
If your dog's opposition reflex is to resist the leash and the walk by pulling back as you are moving forward, halt. Then with a slack leash, encourage them to follow by giving them a treat. They should learn that not pulling means a treat and continuation of the walk.
Practice the halt
After a few weeks of practice, you should not have an issue. When your dog does pull forward or pull back, give the leash a tug up, halt, and proceed. Keep practicing in a distraction-free area until your dog gets the idea.
Quiet area
As with the other methods, start the training for the Name Method in an area that is quiet and free of other people and dogs. Once you feel your dog is getting the idea, you can move to the street and practice as you walk there.
Yard walk
Begin the walk in the yard. When your dog pulls, take a step forward to release the tension enough that your dog notices.
Say their name
Say your furry buddy's name with a cheerful voice. The combination of the slack on the leash and you saying their name should encourage your pup to stop and look at you. Give your pooch a treat.
No pulling
Practice this in the yard until your dog stops using the opposition reflex when walking. Hearing your voice and getting the occasional treat should be enough to move onto the street with success. With the relaxation of the leash, they will soon lose the desire to pull in the opposite direction you have in mind!
By Darlene Stott
Published: 03/09/2021, edited: 03/09/2021
---