How to Train Your Dog to Understand 'No'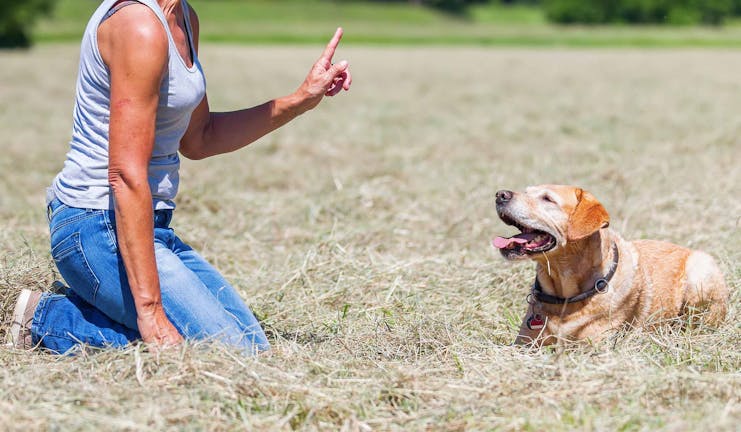 Introduction
Of all the words your dog needs to learn, none is as important to his safety and your sanity than simply, "No!" When you bring a puppy into the house, it is imperative that you teach him the rules of the house, including what he can and cannot do. After all, he is just like a kid, he has no idea what the rules are until you teach them to him. This should be one of the first commands you teach your dog.
It is also one of those commands the average dog tends to learn as he goes along. Think of it this way, if you tell your dog "No" often enough, he will figure it out on his own over the course of time. But, if you are like most dog owners, you need him to learn this particular command sooner rather than later. 
Top
Defining Tasks
There are many reasons why you need to teach your dog to obey the 'no' command. The most important of these is for his own safety. For example, if your dog suddenly gets it into his head to run towards traffic, telling him 'no' should bring him to a dead stop. Or, maybe your dog is headed to the litter box for a snack--being able to respond to the 'no' command can put an end to his naughty nibbling.
However, you should not have to yell at your pup to get him to follow this command. You need to work with him until he will happily respond to this command in much the same way as he does any other command. While this is a basic command, it is also one that will take a while for your pup to master and one you will use with him all the rest of his life. 
Top
Getting Started
You can teach any dog to respond to the 'no' command, regardless of age as long, as you are willing to put in the necessary work. Younger dogs tend to learn faster and some older dogs "forget" how it works. Since this is one of the first commands you will be teaching your pup, there aren't any real prerequisites. But you will need a leash and a large supply of your pup's favorite treats. The rest is all up to how much time and effort you are willing to put into his training. 
Top
Start with a hungry dog
Since this method uses plenty of treats, you need your pup to be hungry when you start, or he may not want the treats.
Hold the treat
Hold the treat out in front of you, flat on your hand, approximately 6 inches from his nose where he can see it and, more importantly, smell it.
When he goes for it
Your dog is naturally going to wait a few seconds and then try to grab the treat. When he does, say "No!" in a firm voice and close your hand up into a fist. If he keeps sniffing your fist for too long, pull it back and reset back to the beginning. Keep working with him until he no longer tries to get the treat.
Teach 'okay'
Now that you have your pup responding to the "no" command, it's time to teach him when it's okay for him to take the treat.
Working with the command
With your pup sitting in front of you and the treat folded up in your hand, slowly open your hand. As you do so, say "Okay." If he lunges for the food, quickly make a fist so he can't get to the food and try again.
Repeat both sides
Work your pup through both commands for as long as it takes for your pup to fully understand that "No" means no and "Okay" means yes or go ahead. Once he has learned to apply this command to the treat, he will learn that when you tell him "no" about anything else, he is not to keep doing whatever it was he was doing.
The Starts with Treats Method
Grab treats
If you don't already have a ready supply of your pup's favorite treats, run out and pick some up, you are going to need them. You will also need some form of rattle like a soda can filled with pebbles.
On the floor
Choose a room to train in that has plenty of open floor space and place one of the treats in the center of the floor.
When he goes for it
When your pup makes a move towards the treat, use the rattle to make a sudden loud noise and remove the treat at the same time saying, "No!"
Association time
Over time your pup is going to associate the noise that startles him with being told 'no'. This is called negative action reinforcement. In other words, he associates the rattle with doing something he shouldn't be and with being told 'no'.
Keep it up
Keep practicing this until your pup will stop with just the command so that you no longer need the rattle, safe in the knowledge your pup understands the meaning of the word "No" and what is expected of him.
The Hand and Treat Method
Start with treats
For this method, you need to put some of your pup's favorite treats in your pocket.
Call your dog
Call your dog over and let him see the treat in your hand. As you close your hand, say "No!". Let him lick and sniff, but do not give him the treat. When he finally gives up and backs away, praise him and give him the treat.
Repeat
Repeat the above step several times until your pup figures out he gets the treat only when he obeys the 'no' command. Be sure to use the right body language; an upright stance with an authoritative voice will get the best results.
Pay attention to me
Along with training your pup to stop what he is doing when you tell him "No", you also want him to immediately turn to you seeking further instruction. To do this, the next time you work on 'no' training when your pup turns away, don't move or say anything. When your pup turns and looks up at you to see what's going on, then give him the treat.
More repetition
The only thing left is to keep repeating the training until every time you tell your pup "No", he turns and looks at you. Once you have him doing this, mission accomplished.
By PB Getz
Published: 01/19/2018, edited: 01/08/2021
---