How to Train Your Dog to Visit Nursing Homes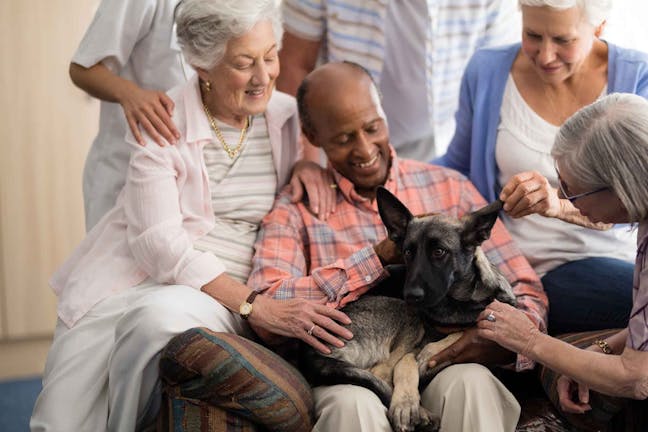 Introduction
Think your dog has what it takes to be a therapy dog and become a popular visitor in your local nursing homes? Before this can happen, your dog has to meet certain training standards and be approved by the facility you plan to visit. Many nursing homes have very specific requirements that include registration and certification.
You may also need to have liability insurance issued by providers such as The Delta Society or Therapy Dogs International. At a minimum, most will require your dog to have passed the American Kennel Club's Canine Good Citizen (CGC) Test. There are some nursing homes and senior centers who do not require certification, only that your pup prove that he is well-behaved. Be sure to check with your local nursing homes to see what their requirements are before you take your pup in for a visit. 
Top
Defining Tasks
If you are going to take your pup to visit the residents of your local nursing home, he must be very well-behaved. Of course, if you are planning to take your pup for visits, he must be very people-friendly and have a very laid-back demeanor. The main role of a therapy dog is to provide a range of support, affection, and comfort to those he visits with.  In order to be considered for the role of therapy dog for nursing homes, your dog must:
Like meeting new people

Have no history of nipping or biting

Be capable of following the basic commands, 'sit','stay', 'come', 'down'

Not be startled by new sounds, smells, and environments
Be capable of remaining calm and sitting still throughout the visit
Before getting started, you should be aware that training your dog to be a therapy dog can be a lot of work and take quite a bit of time. This is a job for your dog and as such, he should like doing this type of work. Dogs that are trained to herd or track may not be ideal, but those breeds who are known to be highly intelligent are much better suited. 
Top
Getting Started
There are several behaviors your dog must learn before he is considered safe and ready to put a smile on the faces of the many elderly people he will visit. While you may not need much in the way of actual supplies for this training, you will need a few things:
The right dog: not all breeds or individual animals are best suited for this.

Treats: you always need plenty of treats to give out as rewards.

Various places to train: you need several environments to get your dog used to noise and people.

Patience: getting your dog ready to visit a nursing home is going to take plenty of time and patience

Getting your pup ready to work as a therapy dog is no easy task, even if your dog is good with people. He still needs to be trained to behave at all times and must be capable of following commands without question, no matter how many distractions there happen to be. 
Top
The Get Used to Strangers Method
Grab those treats
Grab a bag of your dog's favorite treats.
Meet the crowd
Your dog must learn to be comfortable around strangers, so you will need to take him places where there are lots of strangers, like the local dog park, the beach, and your local city park (if they allow dogs).
Walkthrough
With your dog on a leash, start walking him through the crowds of people, letting him get used to the sights, sounds, smells, and the people in general. Take your time here and give him a few treats along the way.
Let him start meeting people
As your pup starts to get used to people, let him start meeting them slowly by allowing people to hand him a treat and then pet him. Take all the time you can and repeat this process as frequently as possible until your pup starts walking up to people to say 'hi'. Make him sit while people are petting and fussing over him. Be sure to give him plenty of treats along the way.
To the nursing home
Now it's time to introduce your pup to the nursing home environment. You need to do this slowly, giving him plenty of time to get used to the smells and noises before he is allowed to meet people.
Meet and greet
Once he is used to the noises and no longer spooks, you can let him meet some of the guests. Do so slowly, starting out with no more than one or two residents at first. Your pup will soon come to love his nursing home visits where he gets fussed over by so many people. Be sure to give him lots of treats as he gets used to his new job.
Gather the tools
For this training, you will need several helpers and a range of items that can be used to create noisy distraction, such as metal rolling carts (you could substitute a shopping cart), maybe a person in a wheelchair, and several people your pup does not know.
Create the environment
Now you need to create an environment for your pup where he is exposed to each of these individually at first and then in increasing amounts. This will allow him to slowly get used to being exposed to the distractions.
Walkthrough
Walk your pup through the training grounds, giving him plenty of time to get used to them. Start out with a small course and as he gets used to it, add more distractions. You may need to do this for several weeks until he becomes inured to them.
Add commands
Now that you can walk him through the "distraction obstacle course", it's time to start working on behavior. As you walk along with your assistants talking and generally carrying on, try giving your dog commands such as 'sit', 'come', and 'down'. Once he has reached the point at which he instantly obeys, you are ready to move on to the final step.
In the nursing home
Start by taking your pup to the nursing home and letting him get used to the new environment and the many distractions. You may need to do this several times before he is ready to meet the residents.
Introduce your pup
Finally, you can slowly start to introduce your pup to the residents. Let him slowly meet them, make him sit while they say hello and pet him. Have treats ready to reward him and be ready to give the 'down' command if he starts to get excited. You and your pup are sure to become the hit of your local nursing home.
The Sitting Politely Method
The right place
For this training, you need a place where you can gather up several people your dog is not familiar with. It can be your backyard with a number of your friends your pup hasn't met or a park full of people--anywhere your dog can be in a crowd.
Go for a walk
Take your dog for a walk through the crowd, letting him get used to all the people, the noise they make, the smells, the sights... everything.
The 'sit' command
At frequent intervals, give your dog the 'sit' command. When he obeys, give him a treat and have one of the strangers pet him and fuss over him.
Move on
Continue walking through the crowd and letting your dog earn the right to be petted by strangers. You may even want to give the stranger a treat they can give your pup when he sits for them to pet.
In the nursing home
It may be best to visit one or two guests at a time at first to give him time to get used to the new environment before you take him into common areas where there are more people. Have those treats handy and be sure your pup sits before the residents are allowed to pet him. They are sure to love seeing the two of you on a regular basis.
By PB Getz
Published: 11/16/2017, edited: 01/08/2021
---