How to Train Your Young Dog to Walk Down Steps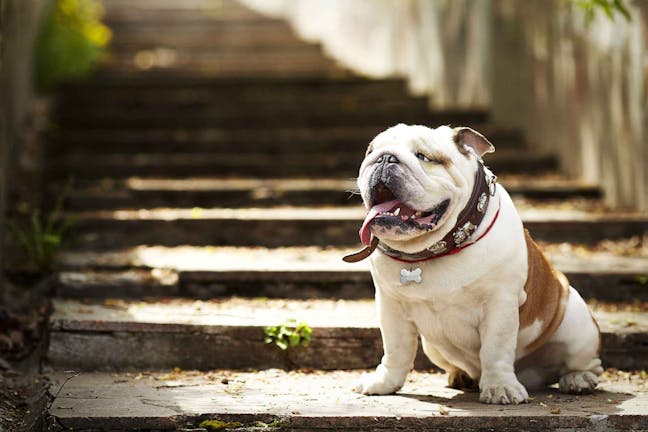 Introduction
Tackling the staircase can be quite scary. This is especially true if you are just a little puppy. This task might look a lot like standing at the top of a mountain thinking if you take a step forward you were going to tumble head over toe all the way down. So you might try things like lying on your stomach and sliding down to avoid tumbling. Or you may not try it at all. 
This is how your puppy feels standing at the top of your staircase or even the top step of a three-step porch. You can teach your dog how to walk down the steps. There are bonus opportunities that come with training your dog to do something like walk down steps. Not only do you know he is safe and sound and knows how to do this task, but he also earns a little of your trust each time you help him succeed with the tasks such as this. 
Top
Defining Tasks
Training a dog to walk down the steps is helpful when he is tall enough to land one step at a time without falling over. Offering your dog treats is going to help encourage him while also building the trust your dog has with you. This is going to take some time and some practice. You may want to start on steps that are low such as steps walking up to a patio or into your home from outside rather than a tall staircase. If you only have a tall staircase to work on, start on the first few steps just a couple of steps up, so if your dog falls he doesn't have very far to go. Always position yourself in front of your dog. In the event he falls, you can catch him. 
Top
Getting Started
You'll need a few steps, some hardcover books if you try the book method, and some tasty treats to reward and entice your young dog to walk down the steps. Have patience and take this training slowly. Your puppy will grow a bit over the course of the training, and you'll both be amazed at how much easier this task will be with a little growth. 
Top
First step
Place your dog on the first bottom step and sit on the floor just below him.
Treat
Hold a treat out near your pup's nose and encourage him to come down to get it.
Sniff
Your dog will want to sniff the treat. Pull it out away from him a bit to get him to move forward. He'll hesitate and step backwards onto the step. Continue to encourage with the treat.
Patience
Be patient while your pup tries to figure out just how to get to the treat. Do not pull him down. You can pet him and reassure him of his safety, but don't pull him down. Just be patient, he'll try to move down the step to get to that treat.
Front paws
To get to the treat, your pup will likely place his front paws over the step while lying down. This puts him in a vulnerable position. Once his paws are dangling over the step, give him the treat and offer another one. This will help keep him in position, reward him for trying so far, and slow him he can earn more.
Step or slide
With patience and encouragement, your pup will try to slide or step down to get that second treat. Once he does, be prepared for a tumble or fall. You may need to guide him so he doesn't get hurt or scared by tumbling down.
Reward
Once he makes it down, even if you are stopping him from tumbling, give him the treat he earned.
Repeat
Repeat these steps until you can place your dog on that bottom step and watch as he masters this step.
Move up
After practicing this first step several times, move your pup up one step and have him try two steps. Continue this until he can handle the steps on his own before you leave him alone to do steps without supervision.
The Leash and Harness Method
Attach a harness
Attach a harness to your pup. This harness should have a leash clip on the back.
Attach leash
Put a leash on your dog and walk him around the house a bit. Offer a treat once your walk reaches the staircase.
Bottom step
Lift your dog and place him on the bottom step.
Treat
Offer a treat to your dog from below, asking him to come down the step.
Hesitation
Your pup will hesitate if he is fearful, but get him interested in the treat.
Trying
When he tries to move down, tighten the leash so as he tries you can gently lift him with the leash and harness so he does not fall. Only do this if he appears to lose his footing and may fall. This will give him the confidence to keep trying without getting hurt.
Reward
Once he makes it down, give him the reward.
Repeat and practice
Continue to repeat these steps until you no longer need to help with using the harness. After some practice, he should be able to take this step down without guidance using the harness and leash.
More steps
Once he tackles this first step, move him up a step and work on going down two steps and then three using this process until he is comfortable going down all the steps.
The Stack of Books Method
Against a wall
Gather a few hardcover books and put yourself, the books, your pup, and some treats near a wall. You will use the wall for support to keep the books from sliding.
One book
Place a hardcover book on the floor up against the wall and put your pup on it. Call him with a playful voice, encouraging him to step off the book. If he comes to you, give him a treat. If he's anxious, offer him a treat. Make this first book low enough for him to want to step off immediately and come to you.
Two books
Once your dog steps off the first book without being coaxed with a treat, add a second book to make a stack of books against the wall.
Place pup
Put your pup on top of both books and entice him to come down with a treat just as you did with the first book. Give him the treat one he is successful.
More books
Continue stacking books and encouraging your pup to step off them by using treats to entice and reward. Remember you only need a stack of books as high as a step. This could be three or four books or more depending on how thick the books are. There is no need to make the stack higher than the height of a step.
Steps
Once your dog has mastered the first stack you can make two steps using another stack of books or you can take your pup to a staircase and practice starting on the bottom step before moving your dog up more steps.
By Stephanie Plummer
Published: 12/07/2017, edited: 01/08/2021
---