Is Weruva's Grain-Free Canned Cat Food Best For My Cat?
Is Weruva's Grain-Free Canned Cat Food Best For My Cat?

By Emily Gantt
Published: 03/19/2021, edited: 12/17/2021
Save on pet insurance for your pet
You don't have to choose between your pet and your wallet when it comes to expensive vet visits. Prepare ahead of time for unexpected vet bills by finding the pawfect pet insurance.
Published: 03/19/2021 | Updated: 8/27/2021

Determining the right cat food can be a difficult task that often involves trial and error. Some pet foods might have great ingredients but be unpalatable for your cat, whereas others may taste great but upset your feline's stomach. If you're reading this, you're probably wondering if you should try Weruva cat food. 
While we can't give you a definitive answer as to whether this is best for your cat, we can give you the information you need to make that choice for yourself. We'll address the cost, ingredients, and ratings from other cat parents to help you determine if Weruva's grain-free formula is best for your cat.
Overview
Weruva is a homegrown pet food brand out of Massachusett that prides its products as an all-natural pet food made to human-grade standards. Weruva grain-free food is food-quality certified by the British Retail Consortium, an institution dedicated to food manufacturing safety standards. 
There are four main lines within the Weruva cat food brand: True Luxe, Weurva Classics, Cats in the Kitchen, and BFF. Each of these formulas are free of grain, gluten, and carrageenan. Certain recipes within these lines are also starch-free, but not all. Now that we've covered the recipes, let's take a look at the cost.
Cost
Three-ounce cans of Weruva cat food cost around $1.50 to $2, whereas a single 5.5 ounce can is around $2 to $3.For bulk buyers, a case of 24 six-ounce cans of Weruva grain-free for cats will run you between $60 and $70. A case of the three-ounce cans is generally between $30 and $35. Keep in mind the exact price will depend on the retailer and location.

Ages
Due to the high protein content, Weruva grain-free food is suitable for feeding cats of all age groups. While none of the product labels specifically state they are kitten or senior formulas, they have all the nutrients these life stages require.

Breeds
Weruva's Grain-Free Canned Cat Food is designed for all breeds and life stages.

Ingredients
Weruva praises itself in having whole ingredients "that you can see" in the food. So, what ingredients can you expect to see in their blends?
Meats
Grain-free Weruva for cats is known for using premium meats like boneless skinless chicken, beef salmon, lamb, tuna, and duck in their recipes.
Fruits and veggies
Some Weruva cat foods contain veggies like potato, peas, pumpkin, sweet potato, carrots, and tomatoes.
Oils and starches
Many Weruva pet food products contain oils and thickening agents for processing like sunflower seed oil, potato starch, xanthan gum, and guar gum.
Ratings
Weruva has an A+ rating from the Better Business Bureau but is not accredited by the company. There is only one complaint about this company on the Better Business Bureau page, which states their feline would not eat the food. 
It's important to mention that all cats are different, and what works for one may not suit another. If you decide to transition your cat to Weruva, it's crucial you do so slowly. Add a bit of the new food to the old food and gradually increase the ratio until your kitty is just eating the new food. A gradual transition will minimize stomach upset and help your cat to tolerate the new food better.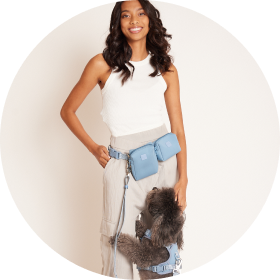 Need to upgrade your pet's leash?