Dog Trainers in Agoura Hills
Book personalized training sessions with a local dog trainer
How dog training works
Find your match
Browse local dog trainer profiles and select your favorites so we understand your preferences
Meet & greet
Meet your dog trainer! Start creating a unique plan over in-app chat before your first session
Practice makes perfect
After the meet & greet, request your trainer again, or work with someone new
What is Wag!?
Wag! is the nation's fastest-growing network of pre-screened and insured dog walkers, sitters, and trainers. In less than 15 minutes you can book a nearby dog sitter, daycare provider, or dog walker, who'll take complete care of your loved one - at their place or yours.
Meet trainers near you
"See you on the dog walk!"
Hello! I'm Maria, I have had way more experience from my first years of walking dogs. I started back in 2018, only 18 years old and trying to make some money with doing something I love. Wag! Had opened many opportunities for me, and I have since moved on. To think that I had only started with such a small business of walking. I am now a dog trainer! Certified to help your pups for about a year now. If you're ever interested in learning more with me, I'd be happy to educate. Thanks!
Background Checked
High Demand
Top Pet Caregiver
Training Provider
Training Exam Complete
Specialties
Can run with dogs, Senior dog care, High energy dogs, Dogs who pull, Puppy care, Training experience, Obedience training, Behavioral training, Socialization training, Potty training, Therapy training, Service training, Puppy training
Hi, I'm Lexy! I am super excited about meeting your furry best friend! I have been working with animals for about 6 years now by volunteering at shelters and vet clinics. I also graduated America's Teaching Zoo in the specialized program of Exotic Animal Training and Management. This training program makes me very well adapted to any animal and any situation. I am a certified animal trainer and currently work at a holistic vet clinic. I am so ready to meet you and your dog in the future!
Background Checked
High Demand
Training Provider
Training Exam Complete
Specialties
Oral medicine administration, Injected medicine administration, Senior dog care, Dogs who pull, Puppy care, Training experience
About Dog Training in Agoura Hills, CA
Training Fun Fact #1:
Did you know that Border Collies are the busiest dogs ever? They are hardwired for work and constant action. Pet parents of this breed have advice for those who have super-energized dogs: amp up the fitness! Enroll your active family addition in extra-curricular sports like dock jumping and scent tracking. Busy the brain and tire out the body for a happy and content pooch.
Training Fun Fact #2:
Dogs have an incredible sense of smell. Putting this innate trait to good use makes absolute sense and gives the eager to work canine a job to do – which they love! Detecting gluten, for example, provides a dog with a powerful sniffer an important task to do. Teaching your tail-wagger to distinguish scents is the first step to gluten detection training.
Training Fun Fact #3:
Do you have a dog who doesn't know how to play with you without getting nippy and even aggressive? Teaching them manners is possible. Arm yourself with toys for distraction and hide a treat or two in your pocket as well. Distract them from the aggressive play each time they cross the line between nice and slightly nippy. Be sure to exercise your pooch a lot every day. A tired dog will play more calmly.
Average Cost of Dog Training in Agoura Hills, CA
Looking to train your dog to have manners, so they are welcome wherever they go? With Agoura Hills being such a pupperific town for pooches, you'll want to bring them along at every opportunity! 
Start your canine sidekick off on the right paw by teaching them basic commands like "sit" and "stay." This can be easily accomplished with private in-home training. In Agoura Hills, you can hire a trainer for between $100 and $175 an hour. Sometimes the instructor will require a consultation before starting training, so expect extra fees for that. Group classes will cost around $150 for a 4 to 6 week session, and involve a weekly commitment. Lessons typically build upon the previous week, which means regular attendance is essential.
But do same day, same time group lessons work for your schedule? Can you keep a weekly obligation? Not all training clubs have the staff to offer make-up classes, so this is an essential factor to keep in mind.
Find a flexible option with a knowledgeable trainer by booking on the Wag! app to teach your pupster right at home. Agoura Hills dog trainers with Wag! are ready to train when you are, so you can enjoy every minute of teaching your dog the ropes. For just $60 per one-hour session, your pup can learn at home. Chat and pay on the Wag! app to set a date and time for the first lesson.
Going Off-Leash in Agoura Hills, CA
Is your pooch four months old? Once they reach that age, it's law that they are registered and licensed in Agoura Hills. You'll need to show proof of vaccination against rabies to obtain the license, so see the vet to get that done and ensure that your pooch is in excellent health.
Your four-legger is now ready for off-leash enjoyment at pooch-approved parks! Give your well-behaved dog the freedom they deserve by letting them run in Simi Dog Park. Just a hop, skip, and doggo jump from Agoura Hills, this park is a puptastic destination that every dog wants on their beat. Three acres of good times await, and with separate spaces for dogs big and small, every pup feels at ease here.
Is your dog a trekker? Satisfy their love of sniffing and exploring by heading to Wildwood Park Santa Rosa Loop. It's a poochie haven fur sure, with over 4 miles of moderately challenging trails. Your dog does need to be leashed for the duration, but that's just a minor detail. This outdoor adventure offers both you and your tail-wagger a chance to climb some hills for pawsome views! If your dog is older, this trail may prove tough. In that case, a stroll around the neighborhood will do just fine.
Dog Training in Agoura Hills, CA
Is your dog trail ready? How about attuned to good behavior on neighborhood streets? Dog trainers in Agoura Hills are equipped with the know-how to get your dog in shape for socialization and fun! Local dog trainers will teach both you and your dog basic obedience commands, and lots more.
Doggos in Agoura Hills are at the top of their game when it comes to dog training. You'll see furry pooches of every size at the local dog park. From the German Shepherd to the tiny Yorkshire Terrier, smart canines want to get moving in this picturesque city! 
The portly and often-comical Bulldog enjoys exploring hills and valleys. Despite the sometimes opposing appearance, the Bulldog is a loyal and good-natured dog. They'll be keen to explore but will want to keep the trekking sessions short and not too strenuous!
The Pomeranian is a perky dynamo who loves to let you know they've arrived. They'll announce everyone else's arrival, too! The Pom is a vocal pup, and they don't miss a thing! Take them on a spin around the block, and they'll make you proud.
Ready to unleash your clever dog's potential? Connect with a local dog trainer with Wag! and book your pup's first lesson today.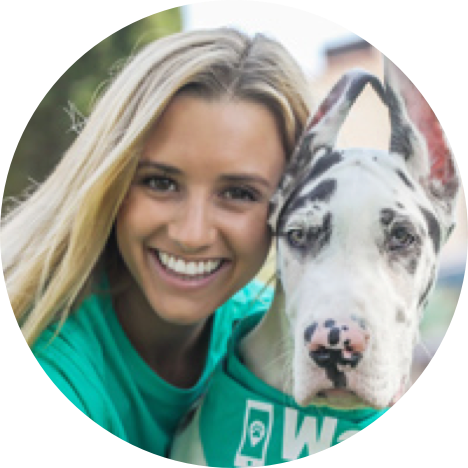 Get the app