Dog Trainers in Fresno
Book personalized training sessions with a local dog trainer
How dog training works
Find your match
Browse local dog trainer profiles and select your favorites so we understand your preferences
Meet & greet
Meet your dog trainer! Start creating a unique plan over in-app chat before your first session
Practice makes perfect
After the meet & greet, request your trainer again, or work with someone new
What is Wag!?
Wag! is the nation's fastest-growing network of pre-screened and insured dog walkers, sitters, and trainers. In less than 15 minutes you can book a nearby dog sitter, daycare provider, or dog walker, who'll take complete care of your loved one - at their place or yours.
Meet trainers near you
Hi! My name is Rachel and I am so excited to meet you and your pooch! I have been an Animal Trainer extraordinaire for over a decade now and my passion has taken me all over the world. Most recently, I've had the pleasure of training and caring for marine mammals, penguins, flighted birds, horses, herding dogs, and farm animals. I have several years experience caring for fur babies all over the country. Make sure to let me know what your puppy's favorite things are; chances are they're mine too!
Background Checked
High Demand
Top Pet Caregiver
Training Provider
Training Exam Complete
Specialties
Oral medicine administration, Injected medicine administration, Senior dog care, Special needs dog care, High energy dogs, Dogs who pull, Puppy care, Training experience, Obedience training, Behavioral training, Socialization training, Potty training, Puppy training
"Service Dog Trainer of 7 years with vet exp"
Professional dog trainer of +7 years. I have been training service dogs for over 5 years. I also have experience working in a vet office, and I used to work at Elaine's. I currently have personal dogs and cats that live with me, I am able to accommodate needs of your dog.
Background Checked
High Demand
Training Provider
Training Exam Complete
Specialties
Oral medicine administration, Injected medicine administration, Senior dog care, Special needs dog care, High energy dogs, Dogs who pull, Puppy care, Training experience, Obedience training, Behavioral training, Socialization training, Potty training, Therapy training, Service training, Puppy training
About Dog Training in Fresno, CA
Training Fun Fact #1:
Did you know that some states have an official dog breed? You might be surprised to learn that California's state dog isn't a breed at all — rescue dogs proudly represent the Golden State! Rescues have unique training needs due to a tragic history of abuse, neglect, or mistreatment. Training your rescue dog to come when called might be a little tricky at first, but with an upbeat attitude and a treat or two, your new roommate will learn recall in no time. Consider starting out in the living room and encouraging your dog to come to you using the "here" command.
Training Fun Fact #2:
While California might not have a specific state dog, certain breeds reign supreme, and the Poodle is toward the top of the list. These elegant pooches excel at a wide variety of canine sports. But before they can test their mettle at agility competitions and dock diving contests, you'll need to train your Poodle to be obedient. Introduce verbal commands first and reward desired behavior with treats and praise. Over time, you can pair hand signals with verbal commands. Poodles are highly intelligent dogs who can learn basic commands in as little as 4 weeks, provided you're consistent and positive.
Training Fun Fact #3:
Some of the best beaches on the West Coast are an easy drive from Fresno. Treating your dog to a beach day is a quintessential experience every dog should enjoy at least once in their short lives. Apart from a strong foundation of obedience training, particularly solid recall, you might also like to teach your dog the "whoa" command. Commonly used in gun dog training, this command will teach your dog to freeze in place and hold a stay. While it's not necessary for a successful beach day, it's a great addition to your dog training toolbox.
Average Cost of Dog Training in Fresno, CA
The price of dog training in Fresno, CA differs depending on your dog's age and training needs. Some Fresno dog trainers charge by the hour, with rates starting at $75. Instead of offering individual training sessions, many Fresno dog trainers bundle multiple sessions into packages with a set price. These packages range from $300 to $600, which translates to $100 to $200 per hour. Training packages are set up differently depending on the trainer's preferences. Some sessions may consist of several hours of training in one sitting, while others comprise multiple sessions.
Pet owners may also incur hidden fees and encounter other issues with this training option. Several trainers charge extra fees for travel. Cancellation fees can also become a problem if a dog owner needs to opt out. Additionally, some in-home dog training packages in Fresno, CA are time-sensitive. This means that sessions may expire if not used within the allotted time.
Considering group classes or boarding and training? You can expect to pay $140 on average for group obedience training classes in Fresno. Additional deposit fees may apply to secure your dog's place. Board-and-train is one of the most expensive Fresno dog training options. Pet parents could pay anywhere from $1,300 to over $3,000 for a program lasting 1 to 3 weeks.
Seeking an alternative without hidden fees or obligations? Prefer to avoid classes with set times that may clash with your busy schedule? Look no further — the Wag! app offers the flexible, affordable solution you've been searching for. You determine the time, date, and place of your sessions, making it easier than ever to fit your dog's training routine around work, kids, school, and everything else in between. 
The process is simple: download the app, sign up for an account, set the time and date of your session, and choose your trainer. Chat away through in-app messaging to create a custom training game plan for Gizmo. You'll get all this and so much more for rates starting as low as $60 per hour-long session!
Going Off-Leash in Fresno, CA
Ready to romp at Fresno's off-leash dog parks? First things first: reading up on the rules and regulations. Pet parents who don't follow the city ordinances could face hefty fines, so it's important to know the fine print. As is standard at most dog parks, visitors are responsible for their dogs' behavior. Pet owners must keep their dogs in sight and under voice control. Aggressive behavior is prohibited — dogs behaving aggressively will be required to leave the park. All dogs must be licensed with the city and wear current vaccination tags.
Open seasonally from May to November, Basin AH1 Dog Park is a great place to beat the heat. Complete with a doggy paddling pool, this park provides ample opportunities to make a splash and meet some new canine compadres. You can expect a crowd at this popular pup playground. Is Sparky a little shy? Team up with a Fresno dog training professional for advice on socializing your dog before visiting this park.
Roeding Dog Park is an ideal destination for bashful barkers or first-timers. Thanks to separate areas for large and small dogs, you don't have to worry about your woofer roughhousing with dogs of all shapes and sizes. Not ready for an off-leash excursion? Keep the leash attached as you sniff your way around the rest of the park, which features open fields, a lake, a pond, and playgrounds.
If Ranger could use a refresher course on their leash manners, why not link up with a Fresno dog trainer near you? With enough practice, you two will be playing the day away at the dog park in no time.
Dog Training in Fresno, CA
Finding a dog trainer through Wag! grants you the ultimate freedom to plan your dog's training around other obligations. It also gives you some time and space to think about what you'd like to work on with your trainer. Need a helping paw teaching your puppy the ins and outs of the house rules? Got a stubborn fur-teenager who needs an attitude adjustment? Or is your rescue having trouble adjusting to their "furever" home? No matter your needs, Fresno dog trainers have the expertise and skills you're looking for in a dog trainer. Many trainers with Wag! are pet parents themselves, which means they've been there and done that.
What breeds are trainers working within Fresno? The proud Poodle takes center stage in Fresno and many other parts of California. Just as energetic as they are elegant, Poodles are eager to please, but their rambunctiousness can sometimes overwhelm their owners. Obedience training and socialization provide a solid start but make sure to satisfy your Poodle's boundless energy with a diverse range of sports. They're sure to excel at anything they put their minds to, whether it's dock diving, hunting, or retrieving.
Frenchies, more formally known as French Bulldogs, on the other paw, are cuddly couch puptatoes. This small breed doesn't need much exercise, but obedience training is imperative — Frenchies are known to nip, gnaw, and chew just about anything they can sink their little teeth into. One good trick for training your French Bulldog not to bite or chew is to act hurt whenever they scratch or bite you. Even if it's not painful, you want to show them that nipping means playtime is over. Once they've got the basics down, Frenchies can level up to learn agility and rally obedience.
Whether you've got a gentle giant or a feisty fur-baby, all dogs benefit from a little extra training time. In-home training goes a long way toward solving behavioral issues at their source. With the help of a Fresno dog trainer, Fresno dog trainer, Buddy will be on their best behavior in just a few sessions.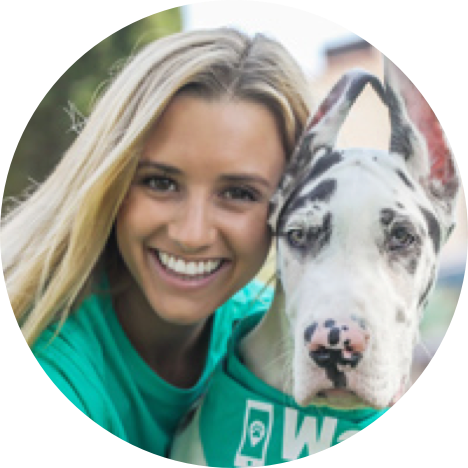 Get the app