Dog Trainers in Gardena
Book personalized training sessions with a local dog trainer
How dog training works
Find your match
Browse local dog trainer profiles and select your favorites so we understand your preferences
Meet & greet
Meet your dog trainer! Start creating a unique plan over in-app chat before your first session
Practice makes perfect
After the meet & greet, request your trainer again, or work with someone new
What is Wag!?
Wag! is the nation's fastest-growing network of pre-screened and insured dog walkers, sitters, and trainers. In less than 15 minutes you can book a nearby dog sitter, daycare provider, or dog walker, who'll take complete care of your loved one - at their place or yours.
Meet trainers near you
"Playful & Fun Learning for Dogs and People <3"
I am primarily a dog trainer and people teacher & I only use science based, positive reinforcement training methods. I love helping people connect with their companions & create a harmonious home together. I have been professionally walking, training, boarding, and connecting with dogs for 8 years. I also love to take photos and videos! I am comfortable with all shapes, sizes, age, special needs, medical conditions, and anxious, shy, or other unique personality types.
Background Checked
High Demand
Top Pet Caregiver
Training Provider
Training Exam Complete
Socially Distanced Pet Care
Specialties
Oral medicine administration, Injected medicine administration, Senior dog care, Special needs dog care, High energy dogs, Dogs who pull, Puppy care, Training experience, Obedience training, Behavioral training, Socialization training, Potty training, Therapy training, Puppy training
"I will make your dog sit and listen"
I love training dogs. I spent 5 years in the circus and make dogs sit, lay down, roll over, dance between your legs when you walk and many other fun things. It takes time but I can help you create the best behaving dog you'll ever own.
Background Checked
High Demand
Training Provider
Training Exam Complete
Specialties
Oral medicine administration, High energy dogs, Dogs who pull, Puppy care, Training experience, Obedience training, Behavioral training, Socialization training, Potty training, Therapy training, Puppy training
About Dog Training in Gardena, CA
Training Fun Fact #1:
 Brushing your dog's pearly whites is just as important as keeping your own teeth clean. Start early, and your dog will soon learn to love the vet-approved beef-flavored toothpaste! Get some help the first few times around and even start with a special finger covering that acts as a doggo toothbrush. Start with just a couple of teeth in the front. Once your dog is accustomed to the sensation, move toward the side, and then polish the back molars.

Training Fun Fact #2:
Not all dogs know how to swim from instinct. Despite what we sometimes think, the doggy paddle isn't always a natural movement. It's important for a woofer to know how to manage themselves in the water if you have a backyard pool or a house on the lake. The life jacket method works well with many dogs because it gives them a sense of assurance. Another technique is the synchronized swim method, where you are your dog's partner in the water as they learn.
Training Fun Fact #3:
Administering eye drops is all about the positioning. If you have your small furry sidekick on your lap, it is easier to position their head up and back so you can put the drops in. Larger dogs will do better with the resting chin method. It's a combo of comfort and relaxation that makes giving your pooch eye drops a breeze. Consistency in how you do it, constant reassurance, and a treat work wonders, too.

Average Cost of Dog Training in Gardena, CA
Is your pupster getting out of hand now and then? Do they pull on the leash or pretend they don't understand the command to sit? It's time for dog training if that's the case! Most dogs love training because they get to use their keen and active minds.
Dogs in Gardena have several options for learning. Pet parents with busy schedules may opt for private lessons at a time that suits them. Prices vary depending on what needs to be learned and the preferred techniques of the instructor. Travel fees can be a factor if the trainer needs to drive any distance. Expect to pay between $100 and $200 for a one-hour session.
Board and train is a popular option. Doggy boot camp is another term, with pooches packing their bags and heading off to the trainer's home or facility for instruction that lasts between a week and sometimes even a month. A consultation to assess your dog will determine the fee structure and time needed. For a week of training, the cost will be around $1,600. Group classes in Gardena will cost around $150 for between 4 and 6 weeks of training.

Do you have a dog who is on the timid side? Is your busy work life keeping you back from taking your dog to training? Look to in-home dog training with Wag! for convenient and affordable classes tailored to the needs of your best buddy. Download the Wag! app, chat with the best trainer for you, and book the first lesson. With average prices ranging between $57 and $63 per one-hour session, this bargain is something to bark about!
Just need a quick refresher course? For pups and people on the go, digital dog training with Wag! is a "grrreat" alternative to in-home dog training. Average prices start at just $27 per 30-minute lesson, so you'll have more to spend on toys and treats to reward Rufus for their progress! Once you select your dog trainer, you'll receive a final quote and the ability to chat with your Pet Caregiver before and during your session.

Going Off-Leash in Gardena, CA
Gardena is a haven for doggos who love to socialize and to eat! Dog-friendly restaurants are abundant and it's a common occurrence to see happy pooches relaxing on a restaurant patio in the shade. To be included in the pack, Gardena requires all dogs be licensed and vaccinated for rabies.

Fuel up at a local diner before a day on the trails. After a feed of pancakes, along with dog-approved mini pancakes for Fido, head to North Hollywood. Tranquility awaits at Tujunga Wash Greenway, and so does an incredible art installation. The Great Wall of Los Angeles stretches half a mile along the trail and includes the work of hundreds of artists.
Stop at Huntington Dog Beach on the way home to get cooled off in the surf. This beach is a favorite with water-loving canines and can get busy. Well-behaved dogs are always welcomed! Bring along fresh water and a snack, as well as a large umbrella for shade. This beach does not have many trees.
The last stop of the day can be Hickory Park in Torrance. A space with acres of grassy play areas is just the ticket for fetch-loving pooches. End the day with a dog training session and a homemade treat as a reward.
Dog Training in Gardena, CA
Is your pupster wagging their tail in readiness for dog training? Other polite pooches in Gardena train to be on their best behavior as well.
The German Shepherd is a fan favorite in this doggo-friendly town. Noble and intelligent, they make ideal service dogs, as does the Golden Retriever. These extra-keen canines love to learn and have an innate sense of wanting to help others.
Other popular canine kiddos on the block include Pugs and Shih Tzus are popular canine kiddos on the block with their spunky attitudes and winning ways. These dogs need training so they don't try and rule the roost! Kind, yet firm training goes a long way and helps them to respect everyone and be their best. They are no stranger to being at the top of the dog training class when they want to be. And with consistent practice from their pet parents as well, of course.
Busy Californians like a dog who can keep up with them, and the Boxer is the ideal candidate. Always ready for fun and activity, the Boxer is athletic and likes to hang out with the crowd.
Is your favorite furry companion ready to start dog training? Book their first lesson with Wag! today and watch them shine!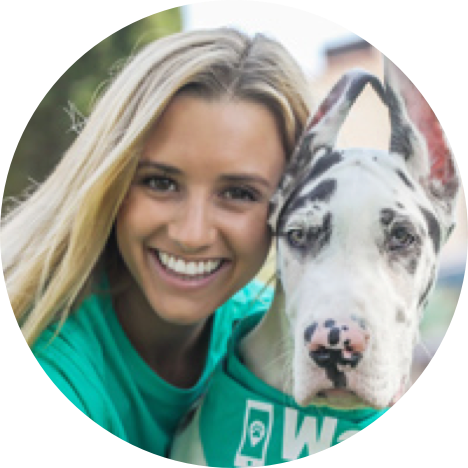 Get the app